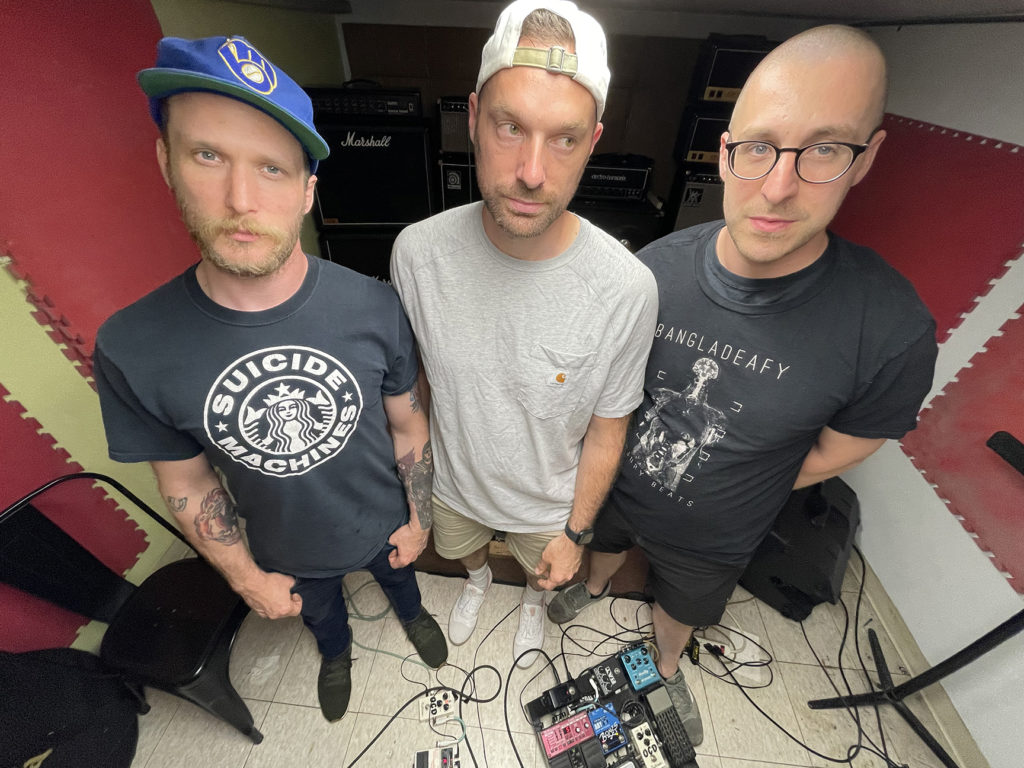 Nefarious Industries presents a new release from New York trio LACES OUT, confirming the Roger Podacter EP for July release and issuing the new single "Steady."
LACES OUT sounds like licking dirt with tiny granules of sugar scattered throughout. Hailing from Orange County, New York, the band features members of Warwick-based post-punk quintet Pigeon, as well as acts Mandark, Veneer, and others. Drummer Steve Delucia and guitarist Ed Ciarfella have been playing together in various projects for nearly twenty years. Longtime friend and local scene veteran Ray Wasnieski joined the duo in Pigeon and continued onward with them in LACES OUT.
Dynamics and angular progression drive their sound, which is heavily influenced by noise from the '90s. Listeners can expect to hear elements of Fugazi, Unwound, At The Drive In, Jesus Lizard, Pissed Jeans, BVS, Young Widows, Drive Like Jehu, and Nirvana from their songs.
The band's first material since 2017, Roger Podacter was recorded by LACES OUT and Jeff Rendano at Boomstick Recording, Monroe, New York, engineered and mixed by Rendano. The tracks were mastered by Eric Castillo and the EP was completed with artwork by Joe Kelley.
With the album's details, the single "Steady" has been issued. Ciarfella writes, "The song is about impulse control, a personification of addiction and inner chaos."
Stream LACES OUT's "Steady" at THIS LOCATION.
Nefarious Industries will release Roger Podacter July 15th, digitally and in a run of 100 cassettes. Preorders are available at the label webshop HERE.
Roger Podacter Track Listing:
1. Steady
2. Brick By Brick
3. Consequences
4. Ox
The LACES OUT crew has been writing steadily throughout the pandemic and the new EP is just the tip of the iceberg. The band will release a full-length LP through Nefarious Industries late this year among other sporadic singles and releases to see release over the months ahead.
LACES OUT:
Steve DeLucia – drums
Ray Wasnieski – bass
Edmund Ciarfella – guitar, vocals
https://lacesouttheband.bandcamp.com
https://www.facebook.com/lacesouttheband
https://www.instagram.com/lacesouttheband
https://nefariousindustries.com
https://nefariousindustries.bandcamp.com
https://facebook.com/nefariousIndustries
https://instagram.com/nefarious_industries
https://twitter.com/nefariousInd