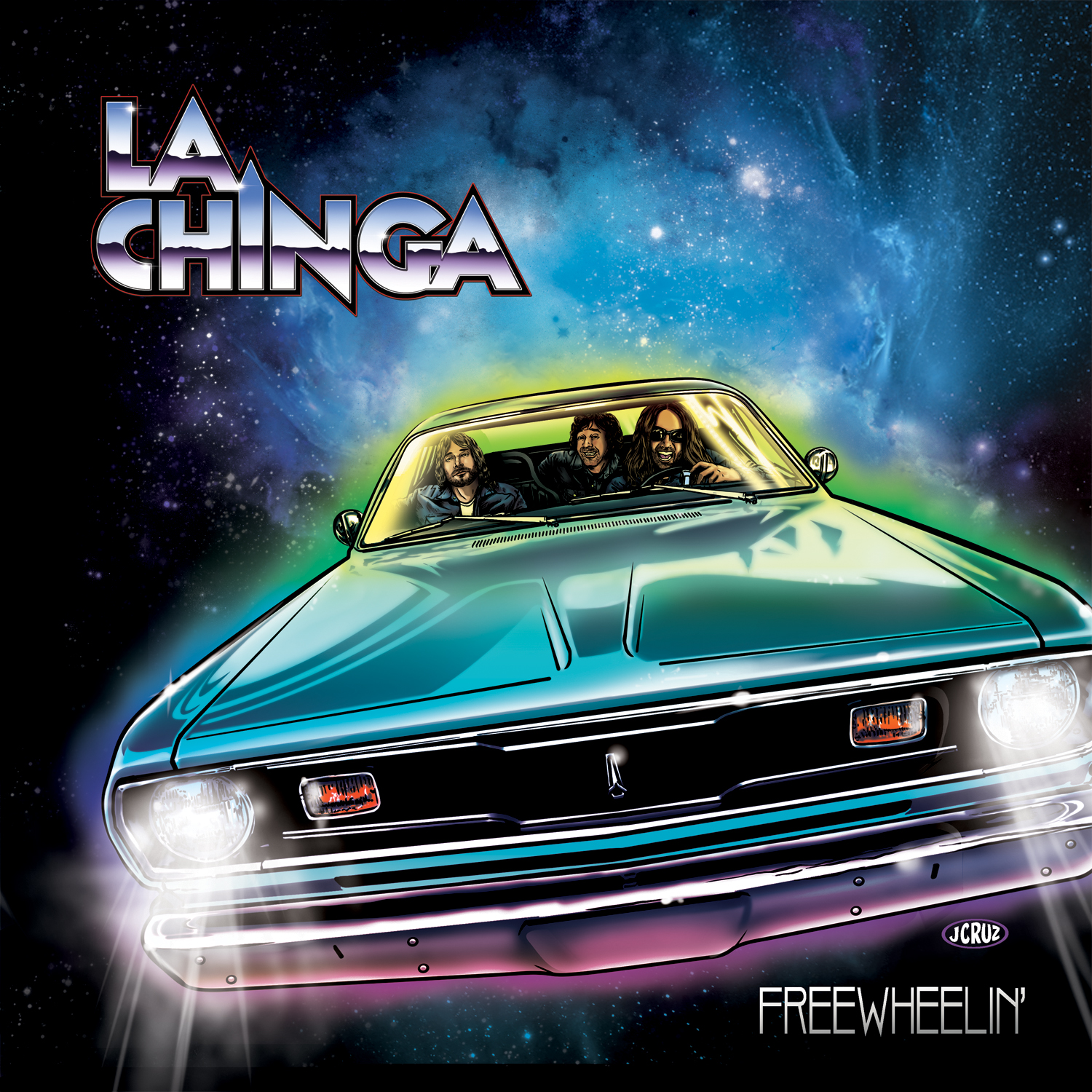 "… it's all ball sweat and cheap denim and the siren's call of '76 for ever and ever…" – Team Rock
The Vancouver-based riff rockers in LA CHINGA will release their Freewheelin' full-length later this month. Recorded and produced by drummer Jay Solyom in his home studio with the tracks "K. I .W." and "Right On" captured by Eric Neilson and mastered by Chris Goosman (Acid King, Dixie Witch, Solace, Sasquatch et al), the ten-track Freewheelin' will see release via Small Stone Recordings on March 25th on CD, digitally and limited vinyl with preorders available at THIS LOCATION.
In advance of its release, today the band wage their '70s styled jams overseas with live dates through Spain, Portugal and France.
LA CHINGA:
3/11/2016 Rocksound – Barcelona, ES
3/12/2016 Matadero – Azkoitia, ES
3/13/2016 Xurrut – Gorliz, ES
3/14/2016 Dabadaba – Donostia, ES
3/15/2016 Fun House – Madrid, ES
3/16/2016 Casino Acapulco – Gijon, ES
3/17/2016 Sala Son – Cangas De Morrazo, ES
3/18/2016 Club Clavicembalo – Lugo, ES
3/19/2016 Sala Moon – Santiago D.C., ES
3/20/2016 Porto Rio – Porto, PT
3/21/2016 King Creole – Estepona, ES
3/22/2016 La Gramola – Orihuela, ES
3/23/2016 La Ley Seca – Zaragoza, ES
3/24/2016 Void – Bordeuax, FR
3/25/2016 Black Out – Montpellier, FR
The band recently unleashed "Gone Gypsy" for public adoration. Written and recorded in a single day at the LA CHINGA headquarters, the tune, "is the story of a man who cannot stand still, who feels the pull of the road, the moon in his head and the sea in his veins. He knows he needs to get away and to hell with the consequences…he tries to say he is sorry to those he leaves behind, but his apologies are as thin as his wallet. Merle Haggard called it 'White Line Fever' and he was right. It is a sickness that lives in the hearts of many…but few are the ones crazy or brave enough to answer it's lonesome and wild call."
Sample "Gone Gypsy," as well as "White Witchy Black Magic" below.

Sample "Right On," still streaming courtesy of The Obelisk at THIS LOCATION.
Already reaping the mass approval of critics for its feel-good jams, in an 8.5 review, Hellbound.ca elaborates, "Free Wheelin' comes rolling outta the gate with 'Gone Gypsy,' which sounds like early Aerosmith with some Robert Plant worshipping vocals. This song belongs in the soundtrack for that new HBO series Vinyl. 'Mother Of All Snakeheads' has a bit more of a laid-back, Black Crowes vibe, albeit with a very up-tempo chorus. 'White Witchy Black Magic' sounds like The Eagles on speed, with that Joe Walsh swagger dialed up to James Gang. 'Stoned Grease White Lightnin" kicks out the jams–a mid-paced, heavy roller with a coupla Mountain-sized riffs thrown in for good measure. If this band ain't tailor made for Small Stone, I don't know who is…" In an 8/10 verdict, Team Rock gushes, "Songs like 'White Witchy Black Magic' and 'Stoned Grease White Lightnin'' speak for themselves… the boys toss in a Four Horsemen-esque pseudo-ballad called 'Mountain Mama' – which may feature a mandolin, so brace yourself – and a 10-minute stoner-prog closer perfect for wandering into a forest in an antihistamine haze… otherwise it's all uppercuts, jagged edges and midnight kicks, Funkadelic wah-wah and arena-rock sprawl, all ball sweat and cheap denim and the siren's call of '76 for ever and ever. Also, if you don't get it on purple wax you'll probably never get laid again." The Obelisk writes, "In some ways, the cover says it all. Contributed by Jason Cruz, the artwork for Freewheelin' is as rife with classic ideas as the album itself. You get the trio…rocking out in a muscle car in space. I'll be damned if that's not exactly what these songs sound like. Written with a strong sense of structure, the tracks leave pretense to the earthlings and take off for boozy good times and unshakably resolve to kick ass. And so they do. Like many who've swaggered through the hallowed halls of Small Stone Records, LA CHINGA don't couch their appreciation for '70s heavy in retro production or hyperstylized vintage-isms. They remind across the span of Freewheelin' that rock's glory days aren't some bygone nostalgia fodder, but they're happening right now, probably in some bar, probably at unreasonable volumes. If that doesn't scream 'muscle car in outer space,' I don't know what does." Two Guys Metal Reviews concurs, "LA CHINGA are the product of their influences – but unlike many of their peers they actually understand what they are trying to do with it and have a clear artistic vision… LA CHINGA get the spirit of rock and roll and for better or worse that has led to them putting out some gnarly fuckin' tunes that have their own well-deserved place in the rock 'n' roll canon."
Forged in 2013, through their music the LA CHINGA collective traveled back in time to year UR, where they became wild and their manes grew shaggier. And through this transmogrification their vision became clear, the seas of bullshit parted before them and they were free to shuffle off the chains of modern society and raise a stubby and musk-tinged middle finger to the craven new world.
Expect additional conquests across North America and Europe as LA CHINGA ascends to new heights of rock and roll supremacy, distorting minds and guitars alike as they once more hand-deliver audiences their own collective ass.
http://www.facebook.com/La-Chinga
http://www.smallstone.com
http://www.facebook.com/smallstonerecords