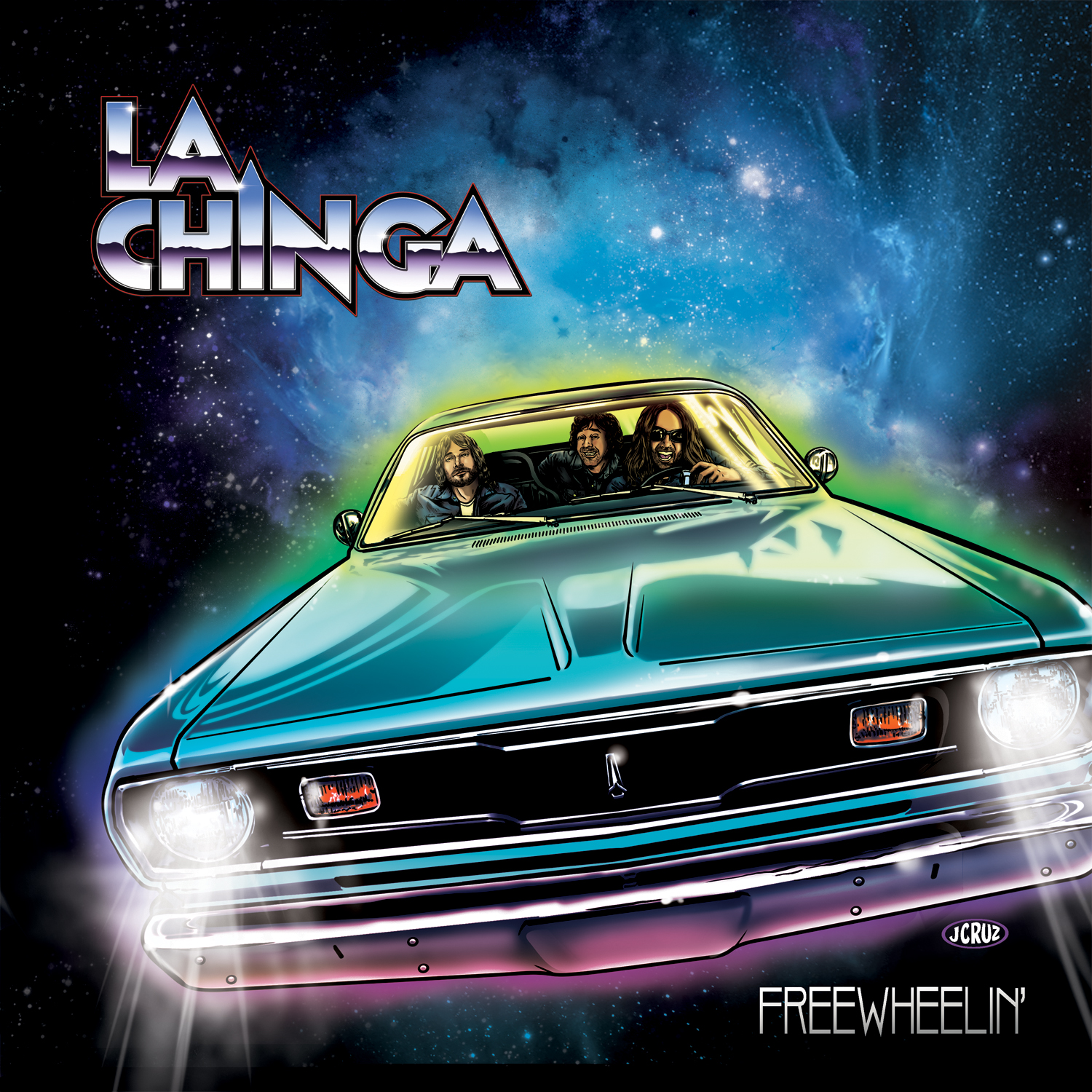 "The song is red eyed look back at our youth in suburban basements, at 'bush' parties, food courts and arcades. It is also a call to arms, for the future people…to continue the greasy, rock 'n' roll ways for they are a must in the LA CHINGA way of life. Party in the night forever!" – LA CHINGA on "Right On"
Vancouver-based heave riff rockers LA CHINGA will release their Freewheelin' full-length next month via Small Stone Recordings. As a precursor to its release, today the keepers of all things volumized at The Obelisk kick off the weekend with a stream of ninth album cut "Right On" issuing of the track, "it follows a zig-zag through the righteous sections of rock and roll history – AC/DC hooks and brazen swing abound – and is every bit the soundtrack to the age in which one might wish one lived. Good luck getting the chorus out of your head before the album shows up in March." The esteemed blog further elaborates on the album overall, "In some ways, the cover says it all. Contributed by Jason Cruz, the artwork for Freewheelin' is as rife with classic ideas as the album itself. You get the trio – bassist/vocalist Carl Spackler, guitarist/backing vocalist Ben Yardley (also theremin, mandolin and lead vocals on 'Faded Angel') and drummer/engineer Jason Solyom – rocking out in a muscle car in space. I'll be damned if that's not exactly what these songs sound like. Written with a strong sense of structure, the tracks leave pretense to the earthlings and take off for boozy good times and unshakably resolve to kick ass. And so they do. Like many who've swaggered through the hallowed halls of Small Stone Records, LA CHINGA don't couch their appreciation for '70s heavy in retro production or hyperstylized vintage-isms. They remind across the span of Freewheelin' that rock's glory days aren't some bygone nostalgia fodder, but they're happening right now, probably in some bar, probably at unreasonable volumes. If that doesn't scream 'muscle car in outer space,' I don't know what does. "
You can check out "White Witchy Black Magic" below.
Recorded and produced by drummer Jay Solyom in his home studio with the tracks "K. I .W." and "Right On" captured by Eric Neilson and mastered by Chris Goosman (Acid King, Dixie Witch, Solace, Sasquatch et al), the ten-track Freewheelin' will see release via Small Stone Recordings on March 25th on CD, digitally and limited vinyl with preorders available at THIS LOCATION.
It was 2012 in the dark wilderness of Vancouver, British Columbia where lost youths teemed in search of the true power of rock; three men chosen by occult forces too sinister to name rose up in answer to that dire and baleful call. LA CHINGA was born!
With their electric black magic unleashed and in full flight, they bonded with the children of the forest over Cro-Magnon riffery, pounding drums, banshee wails, bell bottoms, boogie vans and the sweet miracle of tequila. Through sheer stupidity, brutality, violence and volume they honed their primordial craft into a sonic axe of stone, opening skulls with deadly precision for as far as the pterodactyl flew. They would meet regularly, when the moon was full, filling their bellies with intoxicating wild berries, their faces wet with lizard blood as they summoned an unholy frenzy of orgiastic riffage, bashing out pagan odes to long forgotten Bronze Age deities.
Through their music the LA CHINGA collective traveled back in time to year UR, where they became wild and their manes grew shaggier. And through this transmogrification their vision became clear, the seas of bullshit parted before them and they were free to shuffle off the chains of modern society and raise a stubby and musk-tinged middle finger to the craven new world.
Their name became their war cry: LA CHINGA! Their mission: to vanquish all foes. A righteous weapon in the battle against mediocrity, their first album arrived from the ether in 2013 under their own banner and 2016 brings the second wave of their attack – Freewheelin'!
Expect conquests across North America and Europe as LA CHINGA ascends to new heights of rock and roll supremacy, distorting minds and guitars alike as they once more hand-deliver audiences their own collective ass.
http://www.facebook.com/La-Chinga
http://www.smallstone.com
http://www.facebook.com/smallstonerecords