"It might seem like a fiesta of bad taste assembled by a dementia-stricken Kenneth Anger, but we urge you to look closer… Here you will find an act of pure videomancy aligned to the travel of the stars…"
Beyond The Sky – the forthcoming full-length from LA CHINGA — will see release in September via Small Stone.
A hard rock power trio with psychedelic powers sitting on the world's edge in Vancouver, Canada, LA CHINGA draws from Black Sabbath, Led Zeppelin, MC5, and their own bad habits to conjure the forty-five minutes of sublimely confident freedom rock that comprises Beyond The Sky. Sometimes meaty and beaty ("Mama Boogie," "Death Rider"), sometimes glam-handed ("Killer Wizard"), and occasionally even dirtbag pretty ("Keep On Rollin'), when it all melts into a puddle of phased goo in the final bars of "Warlords," the listener has been rolled, boogied, and otherwise supernaturally conveyed well beyond the sky.
In advance of the record's its release, Echoes And Dust is pleased to undrape the band's super rad video accompaniment to "Killer Wizard." Notes Georgia Straight's Adrian Mack of the clip, "As above, so below. At precisely this time last year, a solar eclipse plunged an entire dying Empire into darkness. Above our heads right now, Mars hurtles like a revenge-hungry monster into a long and merciless retrograde. And in the city at the edge of the world — colloquially known as Vancouver — the Three Hosers of the Apocalypse ride again. Behold 'Killer Wizard' by LA CHINGA! It might seem like a fiesta of bad taste assembled by a dementia-stricken Kenneth Anger, but we urge you to look closer… Here you will find an act of pure videomancy aligned to the travel of the stars and launched on the heaviest space weather of our new and terrible Aeon. Consider it a guide, for those with the power to see. As with so many other things in the mysterious universe of these proudly Born Losers, 'Killer Wizard' arrives from Beyond The Sky — LA CHINGA's latest and greatest album."
View "Killer Wizard" at Echoes And Dust HERE.
The follow-up to LA CHINGA's 2016 critically-lauded Freewheelin' full-length was captured at Vancouver's fabled Warehouse studio with no-less-fabled producer Jamey Koch (DOA, Copyright, Tragically Hip).
Beyond The Sky will see release September 7th, CD, LP, and digital formats via Small Stone. For preorders go to THIS LOCATION where "Nothin' That I Can't Do" can be streamed.
LA CHINGA was forged in 2012, although in reality it was conceived about a year earlier when bassist/vocalist Carl Spackler was surfing in Southern California and his Chicano beach buddies kept hailing each other with the mysterious phrase: "La chingaaaaa!" It was then that Spackler's dream of a hard rock power trio built on erogenous funkadelic rhythms and a devotion to life's more sublime pleasures – chief among them: tequila – was now embodied inside a beautifully obscene two-word incantation.
Drummer/vocalist Jay Solyom and guitarist/vocalist Ben Yardley – also a noted professor of Theremin – were conscripted shortly after, both veterans of Vancouver's notoriously dead-end music scene, both beautifully obscene in their own right. LA CHINGA's self-titled debut record was rushed out of a makeshift studio in 2013 on nothing but fumes and the liberating force of not giving a shit, landing like a hairball crossed with a stink bomb inside a world of yoga pant commerce, condo developments, and Macbook "musicians." This was a revolutionary act, or maybe a devolutionary one, at least.
Meanwhile, Spackler was busying pouring all off his demented '70s obsessions into wild three-minute homemade music videos, finding the visual language of fuzz itself inside shitty horror films as he furnished the great infernal drive-in of his mind. Somehow, miraculously, this charming brew conspired to make LA CHINGA the hottest bunch of stoned ape groovers to hot wheel out of the Pacific Northwest since forever. Freewheelin' followed in 2016 on Small Stone, and so did unhinged tours of Europe, more year-end accolades, and festival slots (420 Fest, Sasquatch). In late 2017, LA CHINGA entered Vancouver's Warehouse studio with producer Jamey Koch. The result is Beyond The Sky, available this fall via Small Stone. This is how it feels to get chinga'd, amigos. Surf's up.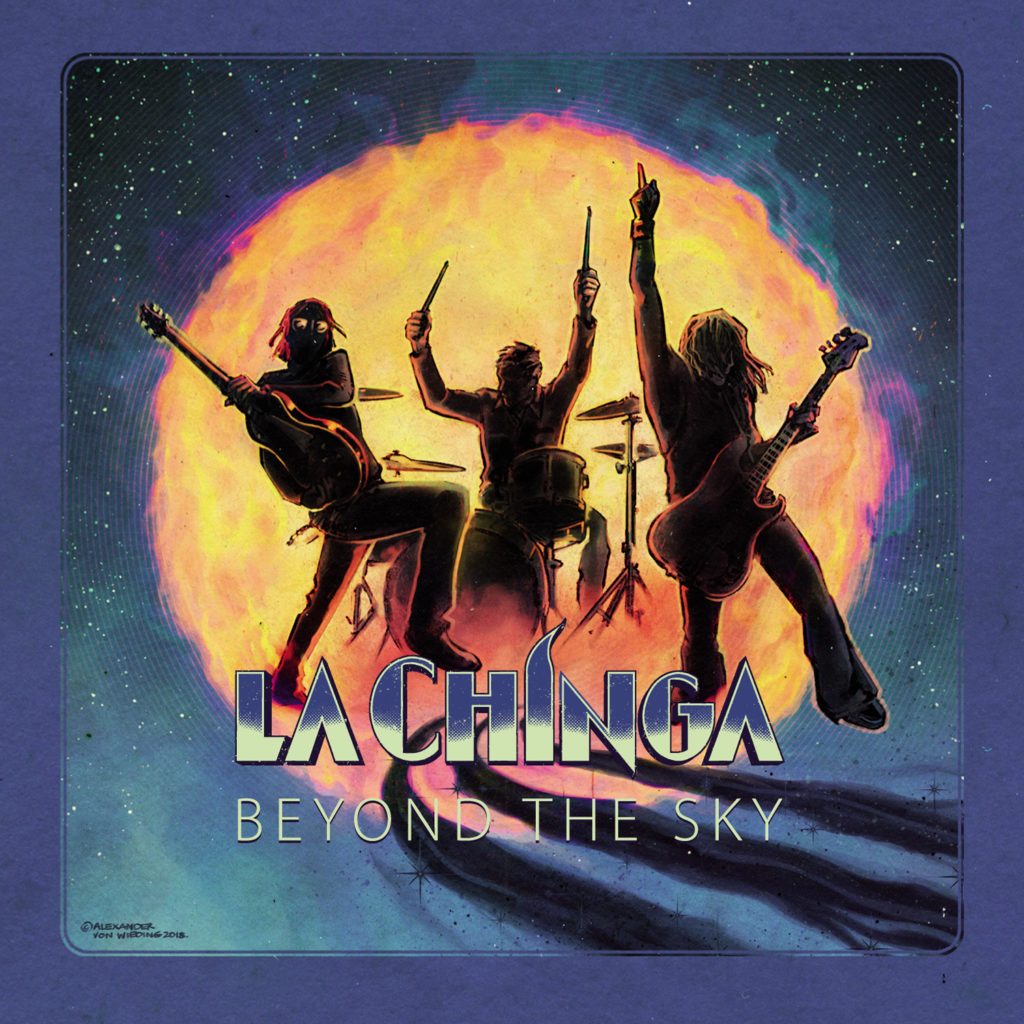 http://www.facebook.com/La-Chinga
http://www.smallstone.com
http://www.facebook.com/smallstonerecords