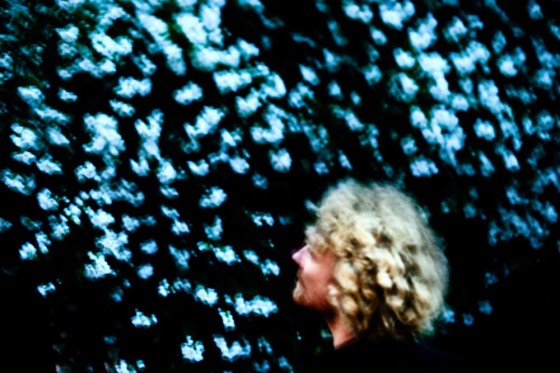 Inspired by sufi-music, mali-blues, Western low-fi pop and avant-garde, Danish-born KRISTIAN HARTING crafts his own auditory portrayals of life's pitfalls and rebirths through tales that are coarse and sometimes bizarre and are all yet strikingly melodious, culminating in diverse electronic and acoustic trips.
Set for North American release on March 4th, KRISTIAN HARTING's profoundly personal debut solo album, Float, exorcises the demons he's clashed in his recent past. With a very personal approach, the album's title refers to the artist's survival-strategy in a period of his life characterized by extreme personal, emotional and financial turmoil, so chaotic and exhausting that it nearly devastated him.
Today, BrooklynVegan releases a new single from the looming Float, by way of the album's third of ten tracks, "Queen Of The Highway." Listen now AT THIS LOCATION.
Also hear the previously-leaked track "Feathered Ghosts" RIGHT HERE.
Float will see release via CD, LP and digital delivery on March 4th via proud new label home, Germany's eclectic Exile On Mainstream. In conjunction with its release, KRISTIAN HARTING will be performing live across Europe, with tour dates for the Spring already coming together. See his confirmed gig schedule below, including a May European tour supporting American acts Future Islands and Ed Schrader's Music Beat, and stand by for updates in the coming weeks.
KRISTIAN HARTING w/ Future Islands, Ed Schrader's Music Beat:
5/07/2014 Electric Ballroom – London, UK
5/08/2014 Sound Control – Manchester, UK
5/10/2014 The Great Escape – Brighton, UK
5/14/2014 Gleis 22 – Münster, Germany
5/17/2014 Cafe Glocksee – Hannover, Germany
5/18/2014 Beatpol – Dresden, Germany
5/19/2014 Conne Island – Leipzig, Germany
5/20/2014 K4 – Nürnberg, Germany
5/21/2014 Palace – St. Gallen, Switzerland
5/22/2014 Südpol – Luzern, Switzerland
5/23/2014 Hafen 2 – Offenbach, Germany
5/25/2014 Gebäude 9 – Köln, Germany
5/26/2014 Feierwerk – München, Germany
5/28/2014 Flex – Wien, Austria
https://www.facebook.com/kristian.harting
http://www.mainstreamrecords.de