Following the release of their demoralizing second LP, Mechanical Christ, through Cold Spring Records in May, Australian harsh noise/post-industrial trio KOLLAPS confirms an extensive European tour for the late summer and beginning of fall.
KOLLAPS' Mechanical Christ LP is a conceptual continuation of its predecessor, Sibling Lovers, which sees the band further their exploring the inherent societal sickness of our times, one that manifests itself in the debasement of individual morality. Themes of exploitation, vengeance, drug addiction, paranoia, and slave labor are part of a dissonant, inverted morality play. A testament to the band's evolving conceptual depth are the overarching themes of love, life, and death, which offer a sense of shared experience in the discomfort of the universal human experience. Known for their violent and nihilistic stage performances, this recording encapsulates with harsher clarity the visceral confrontation that is the KOLLAPS live act.
In support of the album, KOLLAPS – the revised lineup comprised of Wade Black, Damian Coward, and Michael Banting – will embark on a forty-four-date tour of Europe, beginning in Hamburg, Germany on August 27th and running all the way through October 12th. Throughout the trek, KOLLAPS is slated to perform at several prestigious festivals, including Tower Transmissions in Dresden, Autistic Campaign Festival in Rouen, and Drone To The Bone Festival in Geneva. KOLLAPS will be performing alongside US noise artist Lingua Ignota, Polish industrial legends Jude, and Icelandic Eurovision contestants Hatari on select dates throughout the tour.
Mechanical Christ is out now on CD, LP, and digital formats via Cold Spring Records, streaming at Bandcamp where the video for "Fleshflower" is also playing HERE, and via the label webshop HERE.
KOLLAPS – Mechanical Christ European Tour 2019:
8/27/2019 MS Stubnitz – Hamburg, DE
8/28/2019 Tape – Aarhus, DK
8/29/2019 Nalen Klubb – Stockholm, SE *
8/30/2019 Blå – Oslo, NO *
8/31/2019 Mayhem – Copenhagen, DK
9/01/2019 Skjulet – Gothenburg, SE
9/03/2019 U Bazyla – Poznan, PL **
9/04/2019 Desdemona – Gydnia, PL
9/05/2019 Teatr MaÅ'y – Szczecin, PL
9/06/2019 Klub Dom – Lodz, PL **
9/07/2019 D.K Luksus – Wroclaw, PL
9/08/2019 Chmury – Warsaw, PL **
9/09/2019 Warsztat – Kraków, PL **
9/10/2019 Collosseum – Kosice, SK
9/11/2019 Venster 99 – Vienna, AT
9/12/2019 Kapu – Linz, AT
9/13/2019 Urban Spree – Berlin, DE
9/14/2019 Conne Island – Leipzig, DE
9/15/2019 Kubik – Trnava, SK
9/16/2019 Klub Fuga – Bratislava, SK
9/17/2019 Klub Gromka – Ljubljana, SI
9/18/2019 Robot Bar – Budapest, HU
9/19/2019 Underdogs' – Prague, CZ
9/20/2019 Tower Transmission Festival – Dresden, DE
9/21/2019 Klub Umbo – Zurich, CH
9/22/2019 Ziggy's Club – Torino, IT
9/23/2019 Mikasa – Bologna, IT
9/25/2019 Motown – Brussels, BE ***
9/26/2019 Tour A Plomb – Brussels, BE
9/27/2019 Het Bos – Antwerp, BE
9/28/2019 The Dev – London, UK
9/29/2019 Nice N' Sleazy – Glasgow, UK
10/01/2019 West Street Live – Sheffield, UK
10/02/2019 The Fleece – Bristol, UK
10/03/2019 The Pit's – Kortrijk, BE
10/04/2019 La Malterie – Lille, FR ***
10/05/2019 Autistic Campaign Festival – Rouen, FR
10/06/2019 Kinky Star – Ghent, BE
10/07/2019 Mc Daid's – Le Havre, FR
10/08/2019 Café Méliès – Rennes, FR
10/09/2019 L'International – Paris, FR
10/10/2019 Drone To The Bone Festival – Geneva, CH
10/11/2019 Extrapool – Nijmegen, NL
10/12/2019 OCCII – Amsterdam, NL
* w/ Hatari
** w/ Jude
*** w/ Lingua Ignota
KOLLAPS creates a unique brand of primitive noise "intended for degenerates and outsiders," as per the members. The band's distinctive primordial tones are created using appropriated waste materials like scrap metal, raw plastics, and steel plates, combined with blistering percussion, bass, and vocals. This is no empty "industrial" gesture; for the band, this process of creation facilitates the literal use of postmodern society against itself.
A seven-song journey into the desperation and lack of resolve that is both the crux of modern social ills and at the very heart of the human condition, Mechanical Christ delivers seven tracks of blistering harsh noise akin to acts such as Swans, Whitehouse, Khanate, and Pharmakon. The album was recorded and mixed over a two-month period at Aviary Studios by Mike Deslandes, except "Ankara" which was recorded, mixed, and produced by the band's Wade Black. The tracks were mastered by James Plotkin at Plotkinworks (Khanate) and the record completed with photography by Kazimierz Zdzieblo and design by Ligeia Black.
"As you may expect from a band named after an Einsturzende Neubauten album, KOLLAPS make industrial/noise in a way that's abrasive but not unapproachable. The album's lyrically bleak, and in addition to making use of traditional bass, vocals, and percussion, the trio used things like scrap metal and raw plastics to aid the confrontational sound." – BrooklynVegan
"Clearly, given the contemporary context of its social criticism, Mechanical Christ has the potential to be one of the most relevant and important post-industrial releases in many years." – Heathen Harvest
"This is noise rock that stabs at the corrupt dark heart of modern times, and it's blistering and addictive." – Cvlt Nation
"KOLLAPS love to revel in their primativism, extracting the maximum impact from relatively simple material. Yet there is a subtlety to their performance that draws out layer upon layer of nuance. If aural torture is the first impression upon hearing Mechanical Christ, repeated listens will reveal further levels of despondency and depravity. The only question is why we keep coming back for more." – No Clean Singing
"They take this album further and examine themes of love, life and death within a person. These themes show KOLLAPS has evolved by adding these underlying themes that explore experiences and feelings that are universal to humanity… a thirty-six-minute journey of distorted sounds that is sure to make the skin crawl." – New Noise Magazine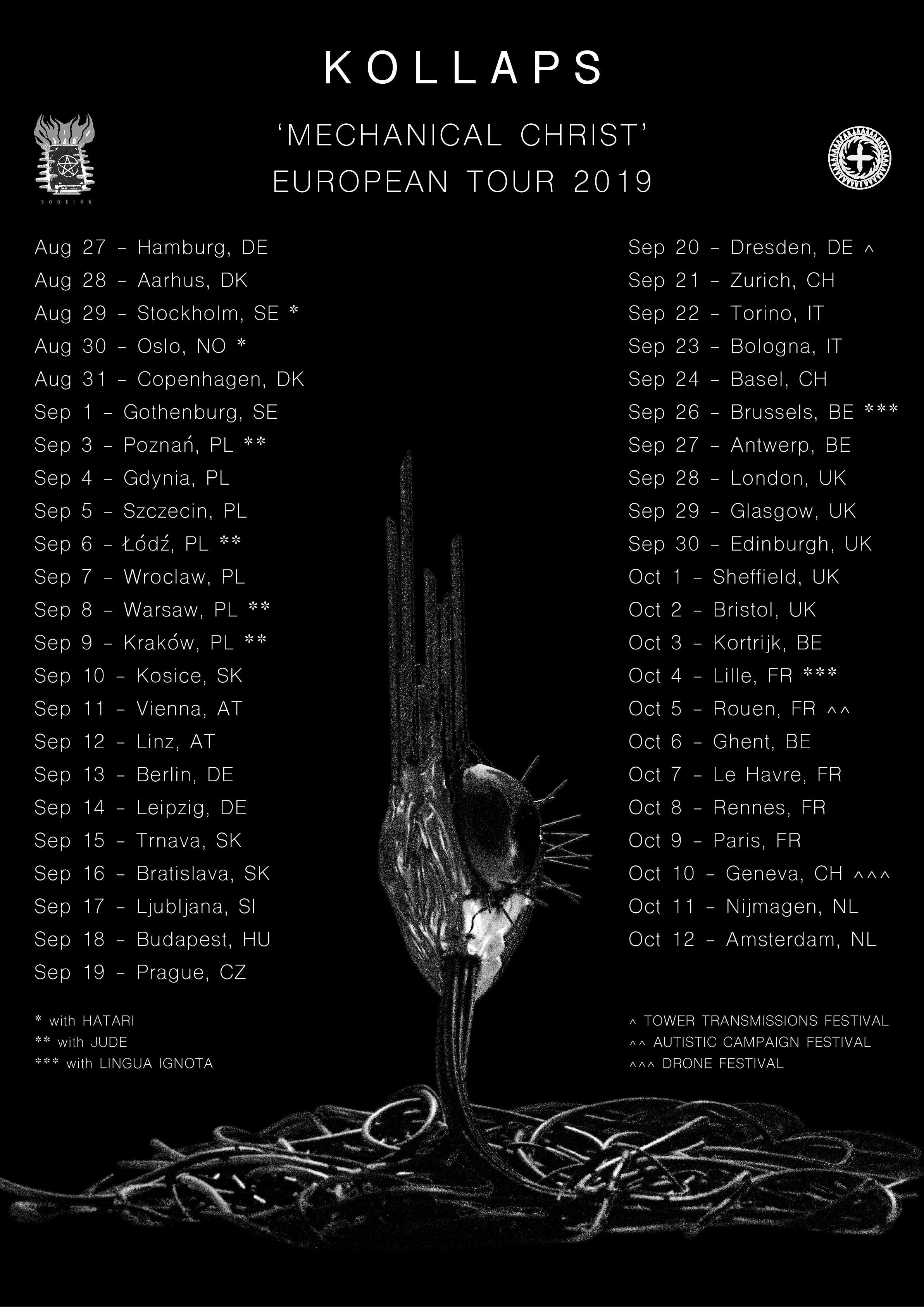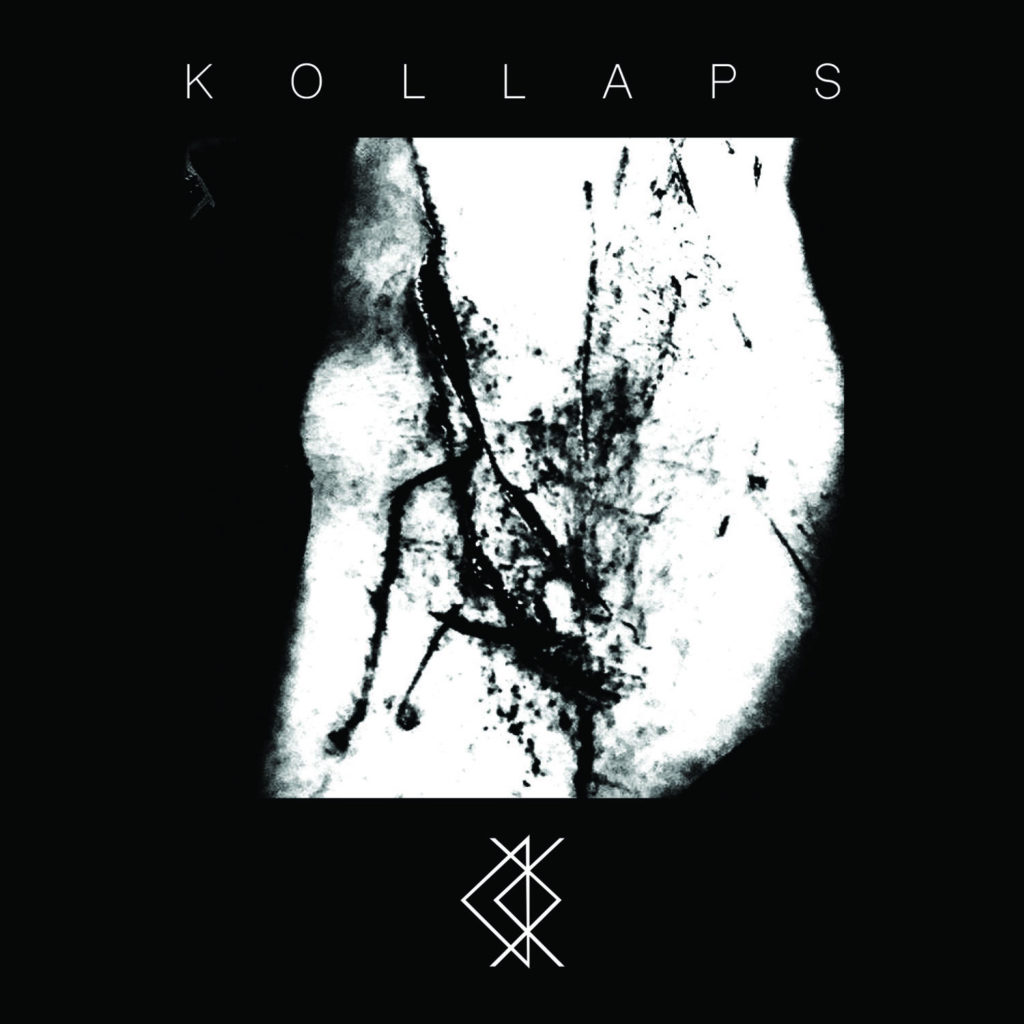 https://www.facebook.com/Kollapsmusic
https://kollaps-noise.bandcamp.com
http://www.coldspring.co.uk
https://twitter.com/coldspringhq
https://coldspring.bandcamp.com
http://www.facebook.com/coldspringhq
http://www.soundcloud.com/coldspring