Brooklyn-based five-piece heavy doom rock unit KINGS DESTROY drops a brand new EP, None More, TODAY January 13th, on limited-edition cassette via War Crime Recordings and digitally through streaming services. The follow-up to 2015's critically-lauded self-titled full-length, None More is a fourteen-minute epic is broken down into six parts. The track showcases KINGS DESTROY's myriad influences, combining elements of doom, sludge, psych, rock, and metal into one sprawling, dynamic composition. It's spaced-out, fuzzed-out, maxed-out, rock 'n' roll doom.
Notes The Obelisk in an extended investigation of the record: "None More moves through its extended but brief stretch, flowing not like a disjointed assemblage of parts, but with a careful and patiently executed arc. It's not the first time KINGS DESTROY have told a story in their work, but it's the first time they've put so much into the telling."
Sample None More in full alongside an in-depth examination of the offering at THIS LOCATION. Order None More via War Crime Recordings RIGHT HERE.
None More Track Listing:
I. Rise Of The Betrayer
II. The Blood Waters
III. The Battle
IV. Requiem
V. The Awakening
VI. Rise of the Betrayer (reprise)
KINGS DESTROY will begin their latest North American tour on January 18th, supporting Sweden's Truckfighters, before returning to the studio to record their fourth full-length in the spring of 2017.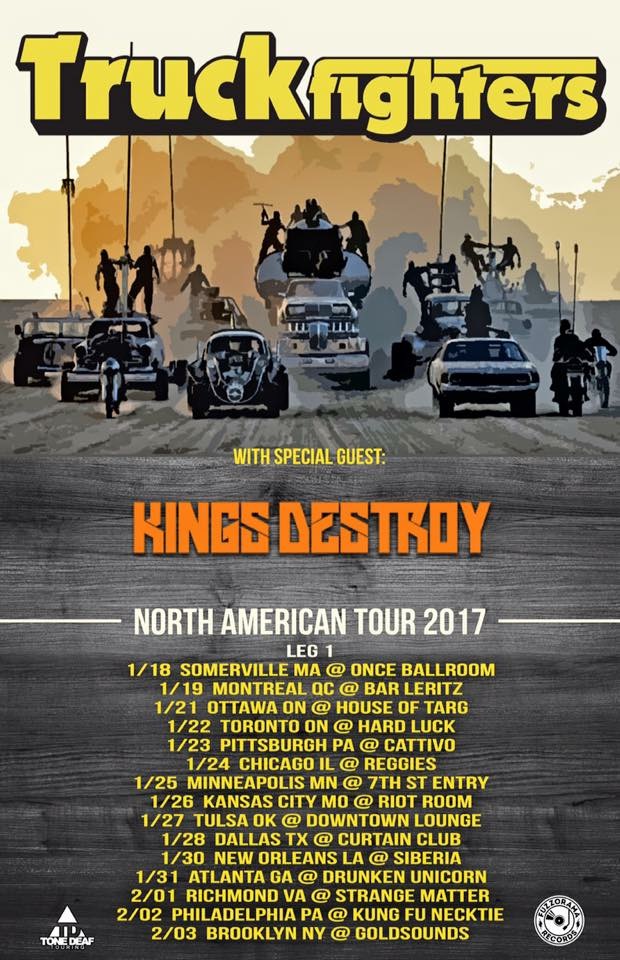 KINGS DESTROY w/ Truckfighters:
1/18/2017 Once Ballroom – Somerville, MA
1/19/2017 Bar Leritz – Montreal, QC
1/21/2017 House Of Targ – Ottawa, ON
1/22/2017 Hard Luck – Toronto, ON
1/23/2017 Cattivo – Pittsburgh, PA
1/24/2017 Reggies Rock Club – Chicago, IL
1/25/2017 7th St Entry – Minneapolis, MN
1/26/2017 Riot Room – Kansas City, MO
1/27/2017 Downtown Lounge – Tulsa, OK
1/28/2017 The Curtain Club – Dallas, TX
1/30/2017 Siberia – New Orleans, LA
1/31/2017 The Drunken Unicorn – Atlanta, GA
2/01/2017 Strange Matter – Richmond, VA
2/02/2017 Kung Fu Necktie – Philadelphia, PA
2/03/2017 Goldsounds – Brooklyn, NY
End Tour
2/18/2017 Saint Vitus – Brooklyn, NY w/ Yob (Sold Out)
http://www.facebook.com/KingsDestroy
http://www.kingsdestroy.com
http://www.facebook.com/WarCrimeRecordings