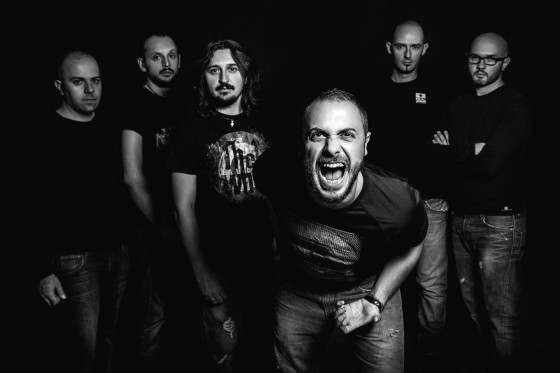 Rome, Italy's progressive metal masters, KINGCROW, have wrapped up the final touches on the band's valiant sixth album, Eidos, and is preparing to release it through Sensory Records this June.
Describing the band today is quite a difficult task, but one could state that the influence of such artists as Porcupine Tree, Riverside, Opeth, Anathema, Pink Floyd, Meshuggah, Radiohead, King Crimson and Massive Attack are all present in the music of KINGCROW. With each release, the band has taken a step further away from their original roots as a classic hard rock/metal band, and is today one of the most personal and exciting bands that Italy has to offer the scene.
Following the success of their In Crescendo album released through Sensory in February 2014, KINGCROW returns this year witih Eidos, a new conceptual album about choices, consequences, dealing with regret and disillusion. After their album, Phlegethon, dealt with childhood, and In Crescendo about the end of youth, Eidos can be considered the third part of a trilogy about the path of life. Musically it sees the band exploring new territories and pushing the extremes of its complex soundscape with a darker atmosphere and a more progressive attitude. With over an hour of new material, Eidos is the next logical progression in the evolution of KINGCROW, and will open the next doorway for what lies in wait for them next.
Also responsible for the release of KINGCROW's In Crescendo album, Sensory Records — the metal subdivision of progressive music collective, The Laser's Edge — will unveil Eidos worldwide on June 23rd. Additional album details and audio samples will be released in the very near future.
Initially formed in 1996 under the moniker, Earth Shaker, the collective of Rome-based musicians formed the name KINGCROW out of inspiration from Edgar Allan Poe's poem "Raven," and being driven by a will of change. Through a multitude of personnel changes, directional shifts, and a constantly morphing and evolving approach, the band released a plethora of recordings, including several EPs and singles amidst four full-length albums, while touring across Europe in support of internationally known acts, and performing at massive European music festivals. Having caught the ear of Sensory Records, KINGCROW signed with the top-tier American progressive metal label in 2013, and in February 2014 released their In Crescendo album to worldwide acclaim within the genre and beyond. This led to the band's first voyage to North American shores, touring the East Coast in support of Pain Of Salvation, and performing at Progpower USA and more.
View some of KINGCROW's videos from In Crescendo here:
http://www.kingcrow.it
http://www.facebook.com/Kingcrowband
http://twitter.com/kingcrowband
http://www.lasersedgegroup.com/labels/sensory-records
http://www.facebook.com/TheLasersEdge
http://twitter.com/thelasersedge