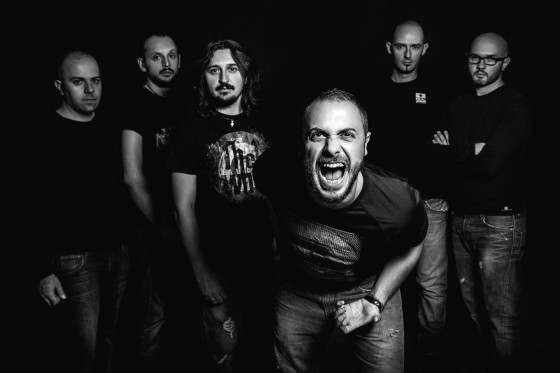 Eidos, the anxiously awaited sixth studio album from Rome, Italy-based progressive metal champions, KINGCROW, is out today, a priority title for Sensory Records. In celebration of the album's official release date, the grand, explosive album is now playing in its entirety through a stream at Heavy Blog Is Heavy.
KINGCROW's Eidos is a colossal, conceptual album which sees the sextet exploring new territories and pushing the band's sound to more ill-omened realms. Boasting over an hour of material which closes the path-of-life saga of their prior two albums — Phlegethon dealing with childhood, and In Crescendo about the end of youth — Eidos carries a more foreboding, ominous edge than KINGCROW's prior releases, enhanced in part by guest saxophone provided by Stefania Bentivoglio and piano by Fred Colombo of Spheric Universe Experience. Mixed by Giampiero Ulacco and mastered by Alan Douches at West West Side Music in New York, the stunning production of the album is matched by visionary artwork by Cristian Nastasi/Devilnax. In commemoration of its official release, Heavy Blog Is Heavy champions Eidos with a full stream of the album.
Be engulfed by KINGCROW's commanding sixth album, Eidos, through Heavy Blog Is Heavy RIGHT HERE.
KINGCROW's video for "The Moth" — created by Gastón Viñas, widely known for his videos for Radiohead and more — is also playing HERE.
Eidos is now officially available worldwide through Sensory Records; the metal branch of the progressive Laser's Edge Group, also responsible for KINGCROW's prior album, In Crescendo, which saw the band conquer US soil on tour for the first time. Orders for Eidos on CD can be placed HERE; digital orders can be placed via Bandcamp HERE and iTunes HERE.
Watch for new tour dates for the band in the coming months as the passion of Eidos fully sets in.
http://www.kingcrow.it
http://www.facebook.com/Kingcrowband
http://twitter.com/kingcrowband
http://www.lasersedgegroup.com/labels/sensory-records
http://www.facebook.com/TheLasersEdge
http://twitter.com/thelasersedge