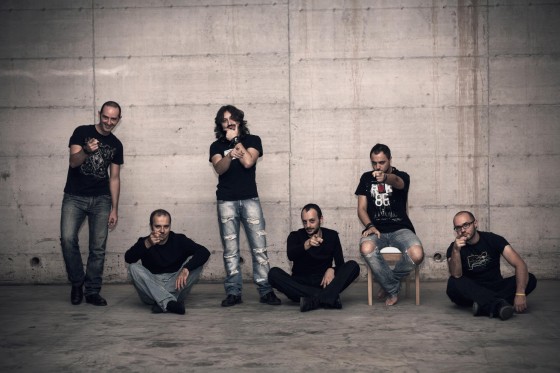 The progressive metal aficionados at New Jersey-based Sensory Records this week announce the pending release of the newest album from Italy's KINGCROW, In Crescendo
While working in a mostly progressive metal direction in the earlier days, KINGCROW has increasingly expanded the scope of their sound to encompass elements of rock, nowadays rounded-out in a culmination of strong atmospheric component similar to Riverside, Porcupine Tree and Pink Floyd but also bearing a heavier, metallic semblance to Opeth and Dream Theater. This is boldly present on the band's fifth studio full-length, In Crescendo, the new album encompassing nearly an hour over eight epic movements. Produced by the band's own Diego and Thundra Cafolla at Sound Under Pressure in Rome, the massive album was then mixed by Giampiero Ulacco and mastered by Alan Douches at West West Side Music.
Over the past two years KINGCROW has expanded the band's fanbase through European tours in support of both Redemption and Jon Oliva, in addition to performances at ProgPower Europe and ProgPower USA. Plans for a U.S. tour are being devised for 2013 in support of In Crescendo.
Sensory Records, a division of The Laser's Edge, will release In Crescendo in North America on February 12th. Stay tuned for further updates as the new album nears release and as KINGCROW takes to the road in the New Year. Review copies and coverage opportunities will be available in the coming weeks via Earsplit.
In Crescendo Track Listing:
1. Right Before
2. This Ain't Another Love Song
3. The Hatch
4. Morning Rain
5. The Drowning Line
6. The Glass Fortress
7. Summer '97
8. In Crescendo
KINGCROW Lineup:
Diego Cafolla – guitars
Ivan Nastasi – guitars
Diego Marchesi – vocals
Thundra Cafolla – drums
Francesco D'Errico- bass
Cristian Della Polla – keyboards
http://www.kingcrow.it
http://www.lasersedgegroup.com
https://www.facebook.com/TheLasersEdge