[photo by Rebecca Lader]
Long Island hardcore quintet KING NINE breaks their silence between albums with their impending second LP, Death Rattle, set for release through Closed Casket Activities on November 16th. As a precursor to the album's decimating landing, the opening track "Paradise" has been premiered through Kerrang Magazine, and preorders for the record have been issued.
Four years after the release of their debut full-length, Scared To Death, KING NINE comes back hard with Death Rattle, a brutalizing, groove-laden album which treads in the image of classic brutal NYHC outfits through a modern lens. With stomping breakdowns intermingled in the calculated, mid-paced drive, Death Rattle is indisputably the deadliest output from KING NINE to date. Produced and engineered by Arthur Rizk (Cavalera Conspiracy, Power Trip, Inquisition) and finished with artwork by Sam Octigan, this album delivers eleven metallic hardcore tracks powered by raw aggression. Fans of Bulldoze, Sheer Terror, Merauder, Closed Casket cohorts Incendiary, Judiciary, Criminal Instinct, and other straightforward, streetwise hardcore are advised to seek out Death Rattle.
As the LP's opening song, "Paradise," is debuted, KING NINE vocalist Dan Seely states, "Every man carries a circle of hell around his head like a halo. Every man has to go through hell to reach his paradise."
With their debut of "Paradise," Kerrang offers in part, "Make no mistake, 'Paradise' has plenty of killer riffs and burly swing to it, but it's the song's use of empty space – riffs that end and hang in the air over steady drums, eerie Pantera-esque guitar howls, and the slow build-up to the song's final breakdown – that makes it something a little scarier than your average sonic mugging. While fans of traditional hardcore will love how hard KING NINE go in the paint, metalheads who dig on bands like Power Trip and Black Breath will also find plenty of simmering darkness here to enjoy."
Stream KING NINE's "Paradise" at Kerrang RIGHT HERE.
KING NINE's Death Rattle will see release through Closed Casket Activities on CD, LP, and all digital platforms on November 16th, the CD in a deluxe six-panel digipak, and the LP on 160-gram vinyl cut at 45RPM housed in a 350gsm semi-gloss gatefold jacket with a 200gsm printed inner sleeve with a download card, with runs of 250 copies on orange/blue mix (US store exclusive), 250 on oxblood/bone split (European store exclusive), 400 on piss splatter, and 400 on purple with metallic cold splatter. Preorders are now available HERE.
KING NINE's debut album was released on CD and LP 2014 through Mass Movement Records, which was followed by their The Art Of War 7″ single which came out in 2016 via Closed Casket Activities. The band has Toured the US and Europe with acts such as Code Orange, Terror, God's Hate, Trapped Under Ice, and Criminal Instinct, and has performed at notable festivals including This Is Hardcore, United Blood Fest, Sound And Fury Fest, Black N Blue Bowl, New England Metal Fest, FYA Fest, and more.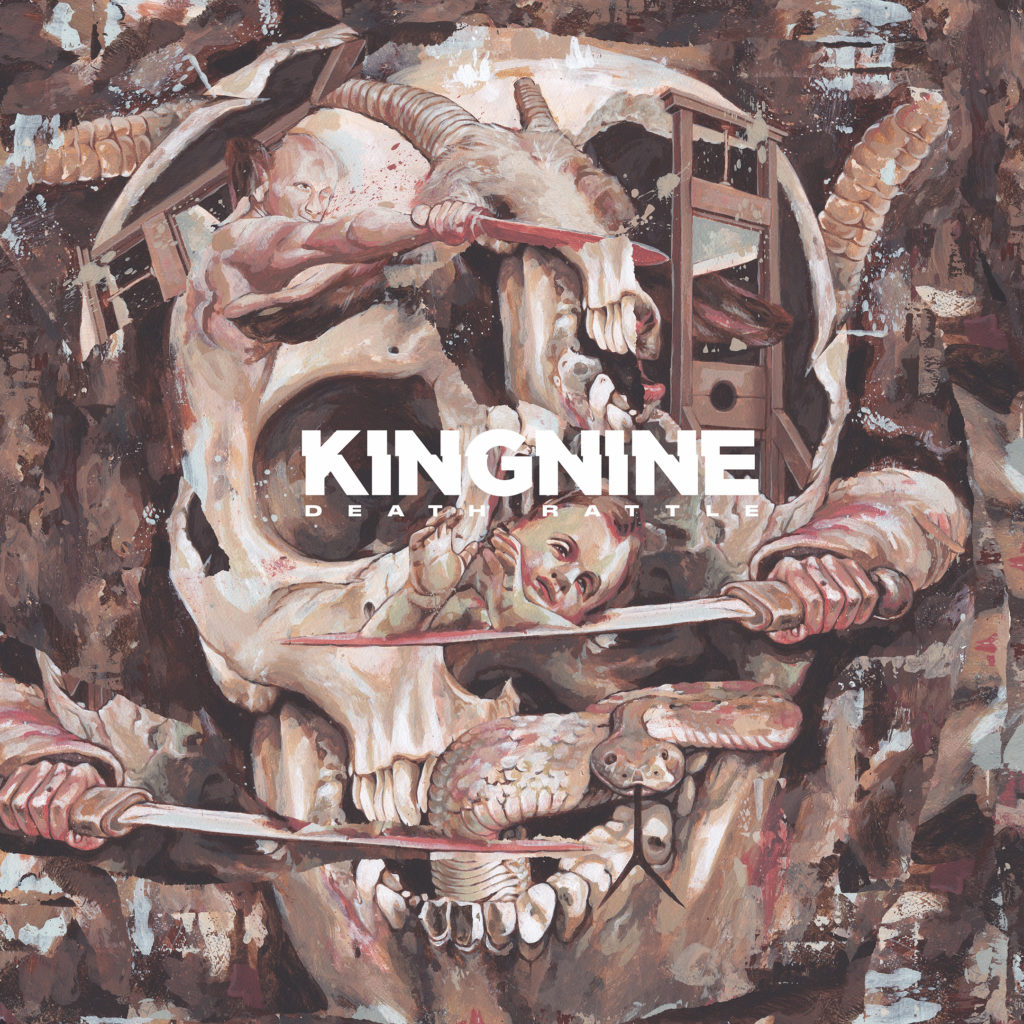 Death Rattle Track Listing:
1. Paradise
2. Happiness Is…
3. Twisted Thoughts
4. Art Of War
5. V.R.C.F.
6. Gift Of Life
7. Death Rattle
8. Blue Lotus
9. Cowards Run Pt. II
10. Second Nature
11. No Dreams
KING NINE:
Dan Seely – vocals
Gian Farahani – guitar
John Bang – guitar
Brian Rutter – drums
Chris Smith – bass
https://www.facebook.com/KINGNINENYHC
https://twitter.com/KingNineNYHC
https://kingnine.bandcamp.com
http://www.closedcasketactivities.com
http://www.closedcasketactivities.bandcamp.com
http://www.facebook.com/closedcasketactivities
http://www.twitter.com/closedcasketact