[photo by Rebecca Lader]
"The 'Gift Of Life' is nothing but a joke. One day we will strip ourselves of the gift we never asked for." – Dan Seely
As Closed Casket activities prepares for the release of Death Rattle, the new LP by Long Island hardcore outfit KING NINE, the album's brutalizing "Gift Of Life" makes its public debut through Decibel Magazine.
Produced and engineered by Arthur Rizk (Cavalera Conspiracy, Power Trip, Inquisition) and finished with artwork by Sam Octigan, KING NINE's Death Rattle delivers eleven metallic hardcore tracks powered by raw aggression.
Vocalist Dan Seely offers of the band's new "Gift Of Life" single, "This song is about the state of humanity and our eventual demise at our own hands. The only fate we can fulfill is extinction. We poison everything we touch and cannot control our urges to murder and pillage from the next man. The 'Gift of Life' is nothing but a joke. One day we will strip ourselves of the gift we never asked for."
Decibel writes with the song's premiere, "Anyone with a penchant for fast, groovy hardcore will find it hard not to move to 'Gift of Life,' which is sure to be one of the most mosh-worthy songs you hear this week.."
Experience KING NINE's "Gift Of Life" at Decibel Magazine RIGHT HERE.
Death Rattle will see release through Closed Casket Activities on CD, LP, and all digital platforms on November 16th, the CD in a deluxe six-panel digipak, and the LP on 160-gram vinyl cut at 45RPM housed in a 350gsm semi-gloss gatefold jacket with a 200gsm printed inner sleeve with a download card, with runs of 250 copies on orange/blue mix (US store exclusive), 250 on oxblood/bone split (European store exclusive), 400 on piss splatter, and 400 on purple with metallic cold splatter. Preorders are available HERE.
Celebrating the album's street date, KING NINE has booked a double-release show with Regulate on November 24th, a brutal hardcore gig with Death Threat, Billy Club Sandwich, Criminal Instinct, Hangman, and Rule Them All also set to play. Watch for additional shows to be announced into the winter months.
KING NINE Live:
11/24/2018 Amityville Music Hall – Amityville, NY *release show w/ Regulate, Death Threat, Billy Club Sandwich, Criminal Instinct, Hangman, Rule Them All [info]
KING NINE's debut album Scared To Death was released on CD and LP 2014 through Mass Movement Records, which was followed by their The Art Of War 7″ single which came out in 2016 via Closed Casket Activities. The band has Toured the US and Europe with acts such as Code Orange, Terror, God's Hate, Trapped Under Ice, and Criminal Instinct, and has performed at notable festivals including This Is Hardcore, United Blood Fest, Sound And Fury Fest, Black N Blue Bowl, New England Metal Fest, FYA Fest, and more.
KING NINE comes back hard with Death Rattle, a brutalizing, groove-laden album which treads in the image of classic brutal NYHC outfits through a modern lens. With stomping breakdowns intermingled in the calculated, mid-paced drive, Death Rattle is indisputably the deadliest output from KING NINE to date. Fans of Bulldoze, Sheer Terror, Merauder, Closed Casket cohorts Incendiary, Judiciary, Criminal Instinct, and other straightforward, streetwise hardcore are advised to seek out Death Rattle.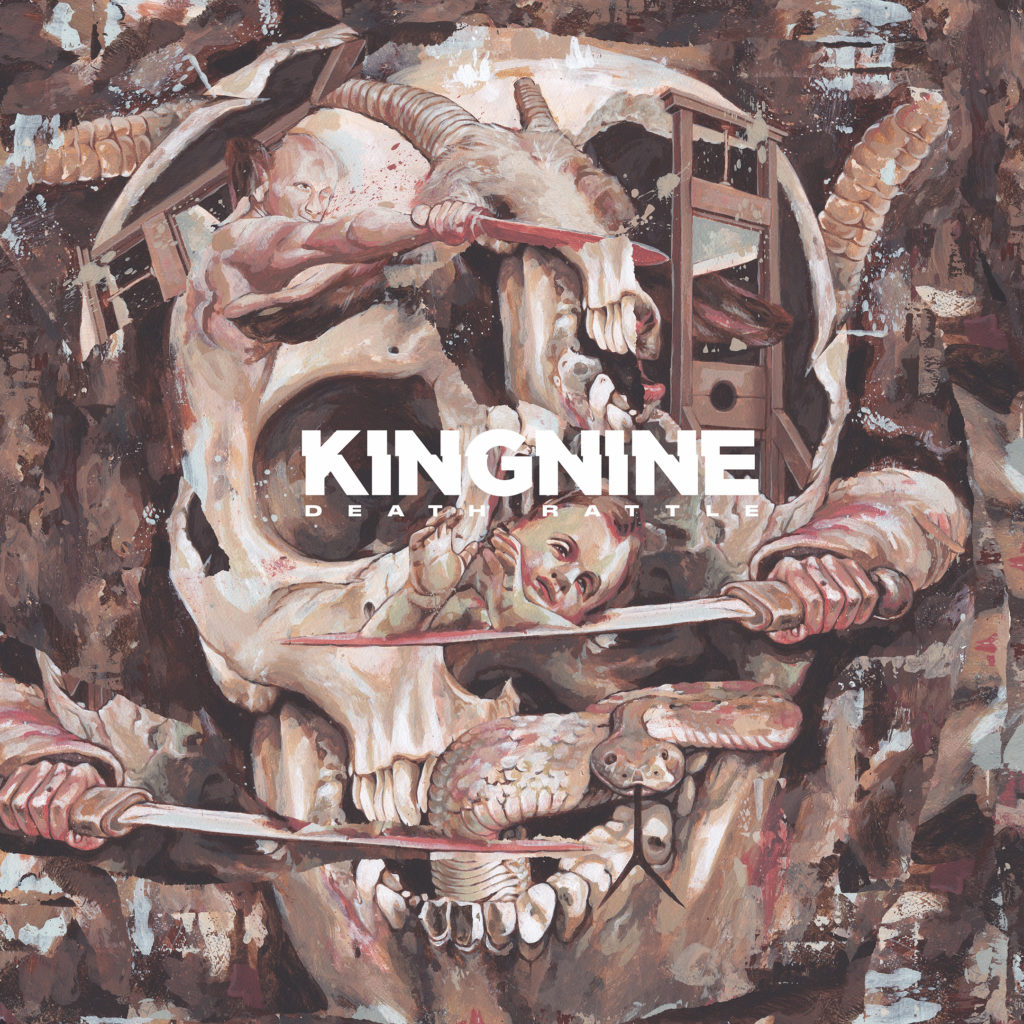 https://www.facebook.com/KINGNINENYHC
https://twitter.com/KingNineNYHC
https://kingnine.bandcamp.com
http://www.closedcasketactivities.com
http://www.closedcasketactivities.bandcamp.com
http://www.facebook.com/closedcasketactivities
http://www.twitter.com/closedcasketact