Heirs Of Discord, the anxiously awaited and indisputably monolithic new EP by extreme metal quartet GRAVEN, is now streaming in its entirety through Invisible Oranges on the eve of its release. Founded by several former members of Swarm Of The Lotus, guitarist/vocalist Peter Maturi, drummer Chris Csar, and vocalist Jason Borowy are now joined by bassist Teddy Patterson of Burnt By The Sun, Human Remains, Gridlink, and more on this EP.
GRAVEN makes a destructive return in 2018, ending a nearly five-year hiatus with Heirs Of Discord. With members currently residing in Arizona, Maryland, New Jersey, and Florida, GRAVEN recorded Heirs Of Discord in multiple studios over nearly an entire year. The record features five original tracks as well as a cover of "Human" from Human Remains' seminal album Using Sickness As A Hero. With a scathing, grinding, pulsating attack, GRAVEN explodes with unhinged wrath and delivers a monstrous sounding release. The blasting grooves and volatility that drew such critical acclaim to Swarm Of The Lotus is here revisited and magnified to explosive new levels, delivered with top-tier production values.
Invisible Oranges streams the entire EP just ahead of its release, noting in part, "With this new EP, the band seems like they have gotten angrier over time. This is evident with a frantic pace that approaches nearly grindcore levels of intensity during 'A Failed Mask' and especially 'Backwards To Oblivion,' and how Borowy comes off as someone who grew up on hardcore but appreciated death metal as well."
Stream GRAVEN's punishing Heirs Of Discord through Invisible Oranges at THIS LOCATION.
Heirs Of Discord will see release through the band's own Negative Grade Records on all digital platforms including Spotify, iTunes, and more tomorrow, Friday, November 2nd. The record will also see an extremely short run of lathe-cut vinyl versions. A 20% discount on any single item will be offered to all customers via GRAVEN's Bandcamp page. Enter code "discount" at checkout. Offer starts today and expires at 11:59pm on day of release, November 2nd. A variety of preorder limited merch options are available HERE.
Following the disbanding of Swarm Of The Lotus in 2010, three of its members established GRAVEN, reworking the lineup and moving forward with a more extreme approach, bridging the crushing sludge/metallic hardcore explosiveness of the former act with more guttural death, grind, and doom devastation. GRAVEN began to play live in various lineup incarnations in 2011, and self-released their first EP, The Filth Will Cleanse, in November 2012. They recorded two songs for a three-way split release with Burn Everything and Reckoner for Dullest Records which was released in May of 2014, however GRAVEN went on hiatus in late 2013, leaving at least five songs on the table which were never recorded. Some of this material has been resurrected and reworked and will finally see the light of day as part of Heirs Of Discord.
The majority of Heirs Of Discord's vocals, all guitars, and some bass were tracked at Mana Recording Studios in St Petersburg, Florida with Engineer Art Paiz, who also handled all mixing and editing. Most of the bass was tracked at Backroom Studios in Rockaway, New Jersey with engineer Kevin Antreassian (The Dillinger Escape Plan). Most of the drums and some vocals were recorded at Pristine Audio And Video in St. Petersburg, Florida with engineer Dee Blume, and additional drums were recorded at Audioconfusion in Mesa, Arizona with engineer Jalipaz Nelson. Heirs Of Discord was then mastered by Alan Douches at West West Side Music in Hudson, New York, and completed with artwork by Unexpected Specter and layout by Nicole Maturi.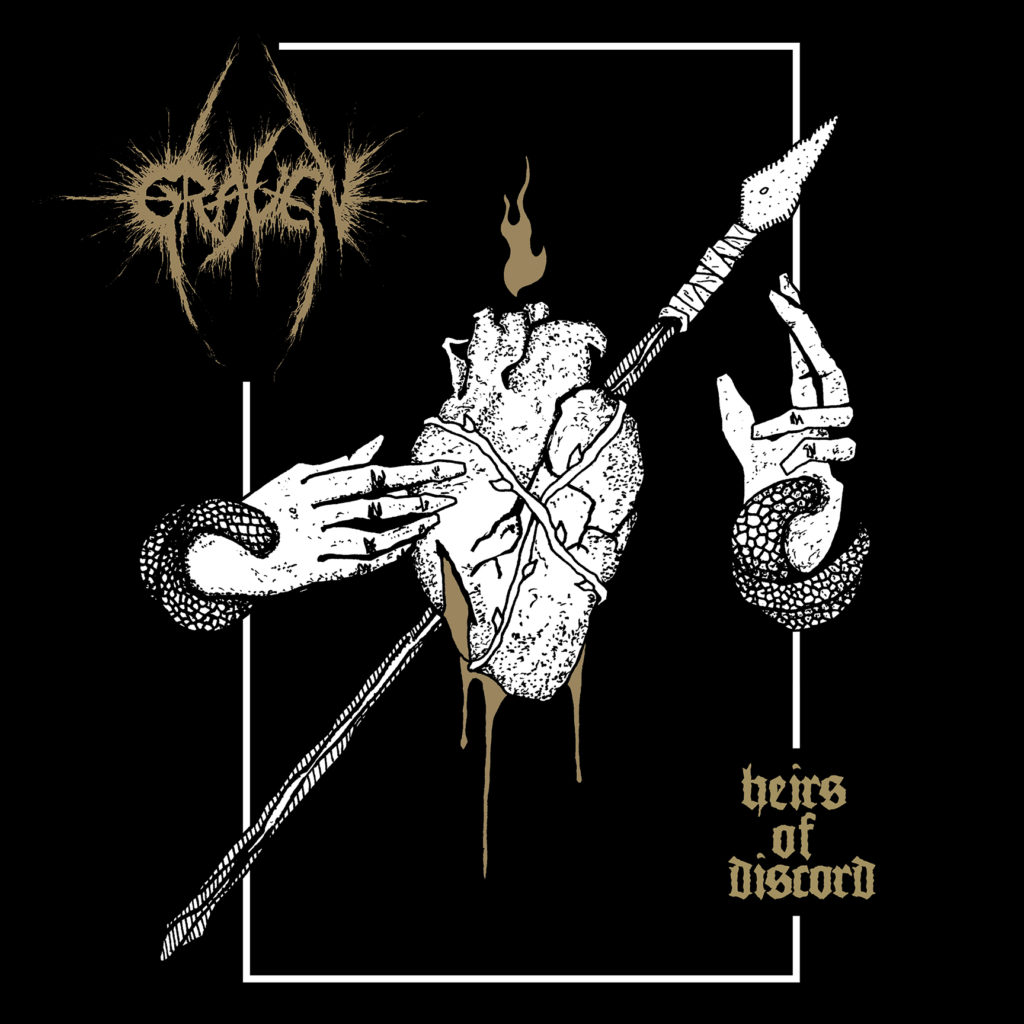 https://gravensound.bandcamp.com
https://www.facebook.com/GRAVENSOUND
https://www.instagram.com/gravensound