Fronted by UK transplant Pete the Roadie along with current and former members of Neurosis, Dystopia, and Operation Ivy, KICKER plays UK-meets-East Bay punk rock inspired by the output of Crass, Bluurg, Mystic, and early Dischord and SST releases. The band will unleash their long-awaited third full-length Pure Drivel via Tankcrimes next month. Following up 2016's Rendered Obsolete, Pure Drivel boasts eleven rambunctious tracks in twenty-six minutes recorded at House Of Faith by Bart Thurber (Spazz) and features cover art by Andrei Bouzikov (Municipal Waste) as well as inner gatefold art by Skinner (High On Fire, Mastodon).
Comments the band, "We're here to pogo, drink your lager, and eat your chips (and indulge in a full English breakfast in the morning)."
Pure Drivelwill be released digitally and on limited-edition vinyl formats in four color variations — 100 x "Dave Ed's Hair" (pink in clear; a Tankcrimes exclusive), 100 x black, 100 x half coke bottle (a Pirates Press exclusive) and 700 x coke bottle — on February 8th. For physical preorders go to THIS LOCATION. For digital orders go HERE.
In the meantime, sample KICKER's "Wankers On The Bus" in its riotous glory below.
In conjunction with the release of Pure Drivel, KICKER will play a set at the Tankcrimes Takeover, an eight-band rager celebrating the label's local roster of talent. Set to take place at The Oakland Metro February 2nd, the all-ages event will find the band playing alongside the likes of Ghoul, Necrot, Brainoil, Mortuous, Connoisseur, Deathgrave, and Los Huaycos. The band will also play Bob Fest in the UK this April with additional shows to be announced in the coming weeks. See all confirmed dates below.
KICKER:
2/02/2019 Tankcrimes Takeover @ The Oakland Metro – Oakland, CA [info]
4/18-22/2019 Bob Fest 2019 – Bath, UK [info]
Pure Drivel Track Listing:
1. Good Evening (Intro)
2. Mrs. Arnold
3. Monte Rio
4. I Can't Sleep
5. Shit Song
6. Oxycontin And Vodka Pills
7. Wankers On The Bus
8. TL;DR
9. Down To The Bunker
10. Pure Drivel
11. Goodnight And Fuck Off
KICKER was forged in 2010 one rainy night at 924 Gilman. They took refuge in the brewery bar across the street. Guitarist Mauz (Dystopia), had a room full of musical equipment and an idea for a band. Bassist Dave Edwardson(Neurosis) was looking for a new project. Pete the Roadie – who for over thirty years has roadied for the likes of Subhumans, Amebix, Jello Biafra, Neurosis, and everyone in between – swore he would never cross over to the dark side. Somehow though, he was convinced. They were all looking for something more than everyday life can provide; aging Bay Area/UK punks adapting to new pressures of modern life resilient enough to let go of the (dis)comfort of the past but bored as fuck with the present. The union would see them through three West Coast tours (including one in 2016 with the Subhumans), one European/UK tour in 2013, one East Coast/Canadian tour in 2014 .and three shows in Cuba in 2017. Nine years and three records in, KICKER is still restless as ever! Pure Drivel features new drummer Dave Mello (Operation Ivy) and will see release via Tankcrimes this February.
KICKER:
Pete the Roadie – vocals
Dave Ed – bass
Mauz – guitar, keys, samples
Dave Mello – drums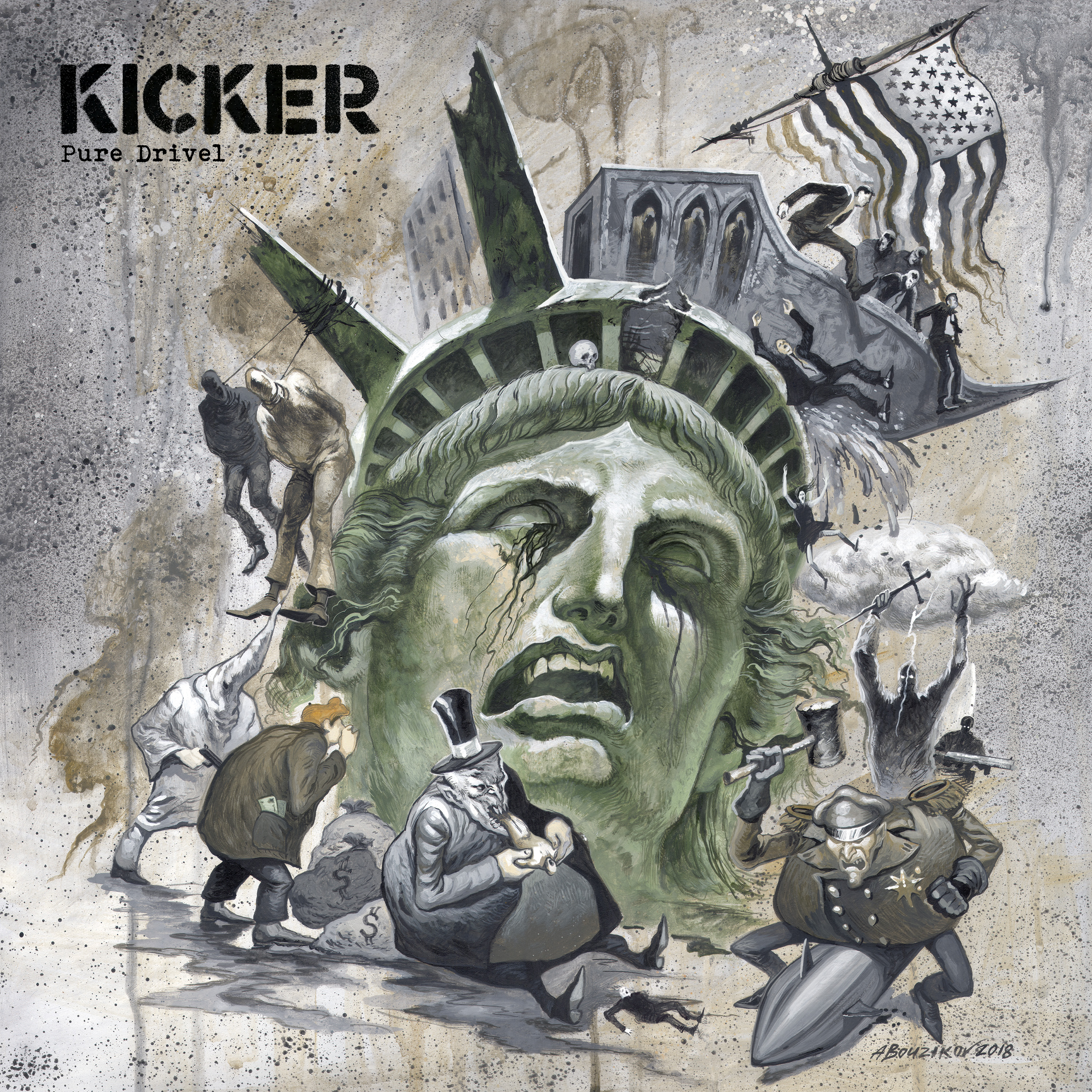 http://www.facebook.com/kickerpunks
http://www.tankcrimes.com
http://www.facebook.com/tankcrimes