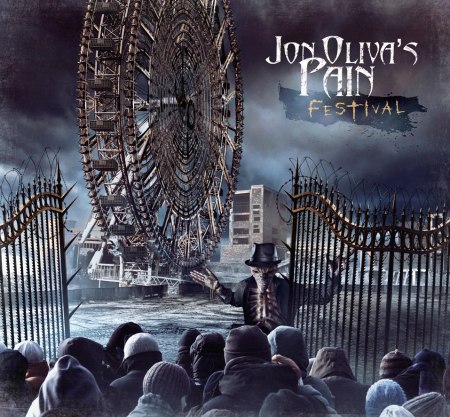 Festival, the fourth full-length from JON OLIVA'S PAIN, will be released in North America on April 12, 2010 via AFM Records! The CD, issued in Europe on February 19, entered the German Media Control chart at position No. 87. Festival was recorded at Morrisound Recording with Tom Morris. Check out video footage of OLIVA commenting on the recording and the first three tracks here:
Festival track-listing:
01. "Lies"
02. "Death Rides A Black Horse"
03. "Festival"
04. "Afterglow"
05. "Living On The Edge"
06. "Looking For Nothing"
07. "The Evil Within"
08. "Winter Haven"
09. "I Fear You"
10. "Now"
In related news, the Savatage mastermind and his bandmates — guitarist Tom McDyne, former Circle II Circle members Matt LaPorte (guitar), Kevin Rothney (bass), John Zahner (keyboards) and Chris Kinder (drums) — have begun to announce their headlining Fall tour in support of the new release. Highlighting the trek will be the live-DVD concert filming at the 013 in Tilburg, Holland on October 15. Tentatively due in early 2011, it will mark the first official live DVD release with OLIVA handling all the vocal duties. It promises to be a once-in-a-lifetime show featuring an assault of Savatage classics and the four JON OLIVA'S PAIN CDs.
The band has two US dates confirmed later this month with more TBA. The JOP summer festival season is also taking shape with Graspop and Bang Your Head confirmed (and more to come).
4/24/2010 Bourbon Street Nightclub – New Port Richey, FL
4/30/2010 – 5/01/2010 Triton Power Cruise
5/15/2010 – 5/16/2010 Wacken Rock Brazil (Sao Paulo)
6/26/2010 – 6/27/2010 Graspop Metal Meeting Festival (Belgium)
7/06/2010 – 7/07/2010 Bang Your Head Festival (Germany)
10/01/2010 Prog Metal Night, Bamberg
10/02/2010 Turock – Essen, DE
10/05/2010 New Ballroom – Hamburg, DE
10/06/2010 Colos-Saal – Aschaffenburg, DE
10/09/2010 Kaminwerk – Memmingen, DE
10/10/2010 Werkstatt – Köln, DE
10/12/2010 Grillen – Colmar, FR
10/13/2010 Z7 – Pratteln, CH
10/15/2010 013 – Tilburg, NL
10/16/2010 Biebob – Vosselar, BE
http://www.jonoliva.net
http://www.myspace.com/jonoliva
http://www.afm-records.de