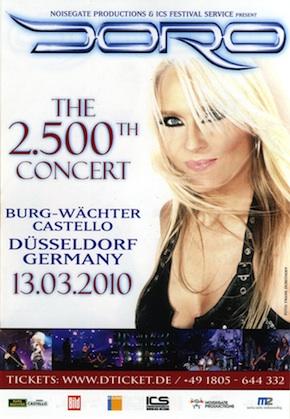 Legendary German metal queen DORO PESCH celebrated her 2,500th concert on March 13, 2010. The landmark performance took place at the new Burg-Wächter Castello Arena in her hometown of Düsseldorf, Germany in front of 2,500 raging fans and included guest appearances from Destruction mainman Schmier, Krokus vocalist Marc Storace, and Holy Moses frontwoman Sabina Classen, among others. "A huge heartfelt 'Thank You' to everyone for [their] continued support," the singer gushed, "especially for making the 2,500th concert such a night to remember! What a special time we all had…The crowd kept it strong until the end and the lucky few even more at the after-party. The band could have played all night had the venue not kicked us out! And thanks to all of our guests, including Krypteria, Luke Gosser And Marc Storace, Schmier , Sabina and Andy [Classen] and Burn Bitch Burn."
Photos from the historic event can be viewed at The-Pit.de: http://tinyurl.com/ycbrbgp
Check out live footage and news clips (in German) from the event here: http://tinyurl.com/ydlxueo
In conjunction with the performance, the metal maven was recently featured in Germany's Metal Hammer magazine. The story focuses on the former Warlock frontwoman's history (and her past 2499 shows). Check out some vintage photos from the piece here:
http://www.metal-hammer.de/Doro_History_1984_bis_heute_Bilder_Galerie.html#
DORO and co are currently gearing up for a headlining performance at the Walpurgisschlacht Festival later this month [http://www.walpurgisschlacht.de] as well as several shows throughout Germany in May and a host of summertime festival appearances. Confirmed dates thus far include:
4/30/2010 D – Bostalsee, Freizeitzentrum, Walpurgisschlacht Festival
5/01/2010 D – Aschaffenburg, Colos-Saal
5/07/2010 D – Bruchsal, Fabrik
5/08/2010 D – Naunheim, Festplatz
5/09/2010 D – Regensburg, Theaterzelt
6/06/2010 D – Euskirchen, Festival
6/25/2010 BE – Dessel, Graspop
7/09/2010 D – Ballenstedt, Rockharz – Festial
7/17/2010 D – Balingen, Bang Your Head
7/18/2010 CZ – Vizovice, Masters of Rock
7/29/2010 D – St. Goarshausen, Rock Arena Festival
8/15/2010 UK – Derbyshire, Bloodstock Open Air
PESCH's most recent full-length, Fear No Evil, was released in Europe on January 30, 2009 via AFM Records and in North America on June 2, 2009 via AFM/Dismanic/Ryko Distribution. The record entered the German Media Control chart at #11, DORO's highest chart entry in her home country in nearly two decades.
http://www.doropesch.com
http://www.doromusic.de
http://www.myspace.com/doroband