[photos by Amy Ha]
As their first tour through Japan wraps up this week, Philadelphia-based metallic hardcore outfit JESUS PIECE announces a run of late-January West Coast North American dates in support their vicious debut LP, Only Self, which saw release through Southern Lord in August.
JESUS PIECE recorded Only Self at Bricktop Recording Studio in Chicago with Andy Nelson (Weekend Nachos, Like Rats, Dead In The Dirt), after which the album was mastered by Brad Boatright at Audiosiege (Integrity, Nails, Xibalba) and completed with artwork by Dom Pabon. The album has ranked with the year's heaviest hardcore releases and is now appearing on year-end lists abroad, including being crowned the #1 hardcore album of 2018 by Stereogum.
JESUS PIECE has toured mercilessly alongside Darkest Hour, Comeback Kid, Burn, Knocked Loose, Terror, Vein, Year Of The Knife, and many more across North America, Europe, and Japan this year. The new set of West Coast Demonstration 2019 tour dates is booked from January 22nd through 27th, with shows in Vancouver, Portland, Berkeley, Fullerton, and Las Vegas. JESUS PIECE will be joined by Gag and Vamachara on the US dates.
Only Self is out now on CD, LP, and digital formats through Southern Lord. Find physical order options at the label shop HERE and digital at Bandcamp HERE, iTunes HERE, and through all other digital providers.
JESUS PIECE West Coast Demonstration 2019:
1/22/2019 333 – Vancouver, BC
1/23/2019 Watershed PDX – Portland, OR w/ Gag, Vamachara
1/25/2019 924 Gilman – Berkeley, CA w/ Gag, Vamachara
1/26/2019 Riff Mountain – Fullerton, CA w/ Gag, Vamachara
1/27/2019 American Legion Post 8 – Las Vegas, NV w/ Gag, Vamachara
JESUS PIECE is quickly developing a reputation as one of the heaviest, most uncompromising acts both on record and on the stage. With the brutalizing grooves of Disembodied, Turmoil, Harm's Way, and labelmates Xibalba, the band incorporates elements of noise, ominous tones, and haunting atmospheres into their dynamic songwriting. With crushing, modern production, the eleven new tracks on their Only Self debut LP place JESUS PIECE among the scene's darkest and heaviest acts and delivers one of the most anxiously-awaited albums of the hardcore/metal underground this year.
"JESUS PIECE rage at the nexus of hardcore, death metal, industrial, and '90s metalcore. They're part of a new metalcore movement that proves that experimentation and succinct, clobbering riffs can not only coexist, but make for natural partners. On their first full-length, Only Self, they make the case that such should be the new tradition." – Pitchfork
"Through clenched teeth, vocalist Aaron Heard sounds like an unhinged animal, ferociously tearing through drop tuning, d-beats, blasts and exaggerated breakdowns to create the ideal pied piper to lead us all down this path of hate and frustration." – Revolver Magazine
"It's unclear what's in the American water these days (or perhaps the current political tenor makes it quite obvious…), but the United States is producing some of the best hardcore the country ever has. And Philadelphia's JESUS PIECE might as well be the poster boys for the movement." – Kerrang
"They've got a fat, bass-heavy attack that favors pure brutality over complexity. It's the kind of thing that can seem like it exists just so angry kids have an excuse to go to a show and slam their bodies into each other for twenty minutes, but further listens reveal Only Self to be an album that's a little more tasteful than that." – Brooklyn Vegan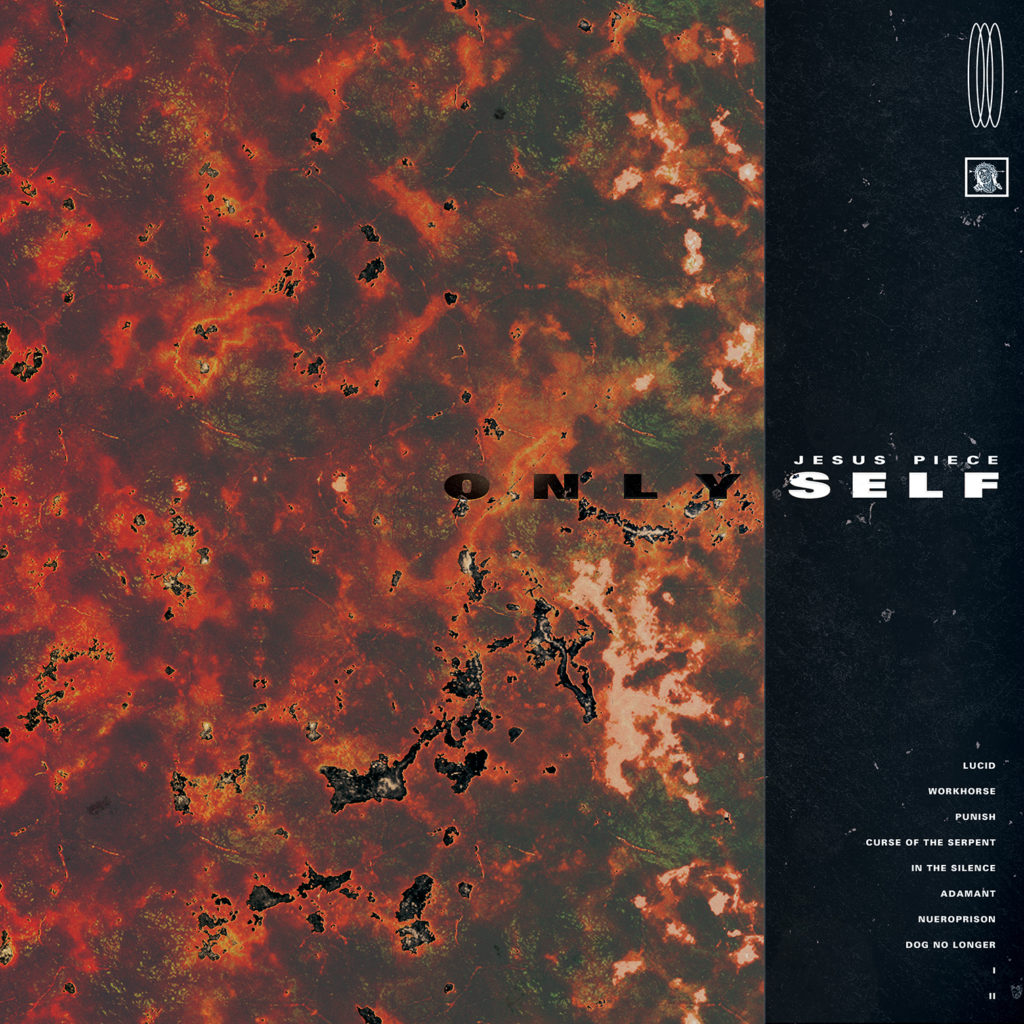 https://twitter.com/jesuspiecehc
https://www.instagram.com/jesuspiecehc
https://jesuspiecehc.bandcamp.com
http://www.southernlord.com
http://southernlord.bandcamp.com
http://twitter.com/twatterlord
https://www.facebook.com/SLadmin