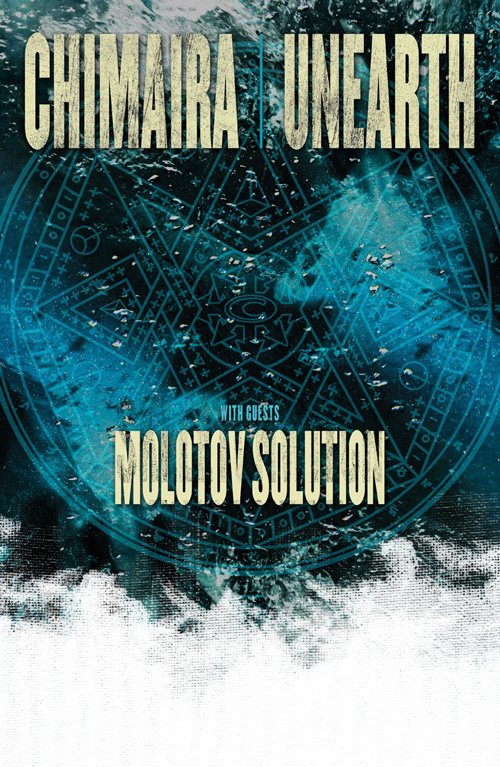 Since the band's genre defining release The Oncoming Storm, UNEARTH has continuously crisscrossed the globe, becoming one of the hardest – and most consistent – touring bands in all of hard rock. With Darkness in the Light, their fifth full-length, the quintet have delivered their most honest, powerful, and compelling statement to date, driving a fist into the collective gut of every image-obsessed metal band currently cluttering up the landscape, and setting a new standard when it comes to marrying precision brute force and exhilarating melody.
Earning themselves Top 200 Billboard Chart entries for all four of the band's Metal Blade releases (The Oncoming Storm, III: In the Eyes of Fire, The March, and Darkness in the Light), UNEARTH is once again prepared to take the world by storm when they hit the road this fall with Cleveland, Ohio's Chimaira. The tour will be joined by Athens, Ohio's Skeletonwitch and Las Vegas, Nevada's Molotov Solution.
Jägermeister, the brand that's synonymous with music, has a long history of supporting bands, both from a local and basement level to national amphitheater acts. The brand has spent almost two decades developing artists and has seen many go from obscurity to the top of their fields. "Both bands symbolize the attitude that Jägermeister shares with hard rock and metal music," says Bill Henderson, Senior Vice President of Marketing and Advertising at Sidney Frank Importing Company, Inc. "Chimaira and UNEARTH have both worked with our brand for several years and it's great that we can continue the relationship with this tour."
"We are incredibly pleased to announce this fall's Jägermeister tour in North America," says Trevor Phipps of UNEARTH. "We will be supporting our new album Darkness In the Light and are anxious to play more tracks from that album. Hitting the road with us will be our old friends in Chimaira, Skeletonwitch and soon to be new friends in Molotov Solution. We would like to thank Jägermeister for supporting this tour and we look forward to seeing you all on the road! Let's make this a fall tour to remember!!! Cheers!!!"
Tickets will be on sale to the general public starting September 23 through each venue's ticketing outlet. Please check local listings or UNEARTH's website HERE for more details.
Jägermeister presents UNEARTH/CHIMAIRA tour
with Skeletonwitch & Molotov Solution:
11/16/2011 Webster Theatre – Hartford, CT
11/17/2011 The Chance – Poughkeepsie, NY
11/18/2011 Starland Ballroom – Sayreville, NJ
11/19/2011 Wally's Pub – Hampton Beach, NH
11/20/2011 JAXX – Springfield, VA
11/21/2011 The Orange Peel – Asheville, NC
11/22/2011 Lincoln Theater – Raleigh, NC
11/23/2011 House Of Blues – Myrtle Beach, SC
11/25/2011 Revolution – Ft. Lauderdale, FL
11/26/2011 State Theatre – St. Petersburg, FL
11/27/2011 Freebird Live – Jacksonville, FL
11/29/2011 Emo's – Austin, TX
11/30/2011 Diamond Ballroom – Oklahoma City, OK
12/01/2011 Sunshine Theater – Albuquerque, NM*
12/02/2011 Mesa Theater & Club – Grand Junction, CO
12/03/2011 The Black Sheep – Colorado Springs, CO*
12/04/2011 Top Deck – Farmington, NM
12/05/2011 The Marquee Theatre – Tempe, AZ*
12/07/2011 Glass House – Pomona, CA*
12/08/2011 Knitting Factory – Reno, NV
12/09/2011 Knitting Factory – Boise, ID
12/10/2011 Knitting Factory – Spokane, WA*
12/16/2011 Wheelhouse – Cedar Falls, IA
12/17/2011 The Barrymore Theater – Madison, WI
12/18/2011 The Intersection – Grand Rapids, MI
* Skeletonwitch will not be appearing on these dates
"Darkness in the Light is a maelstrom of melodic riffs, screamy shouts and enough noodling to keep Guitar Hero nerds happy. But it's not chasing maidens and slaying dragons; Unearth have enough of the '90s straight-edge hardcore scene still left in their blood to give the lyrics an impassioned warrior cry against corrupt politics and wavering faith. 4/5" — Alternative Press Magazine
"strong, dynamic songwriting…it highlights Unearth's strengths superbly." — Decibel Magazine
"Meet metalcore's AC/DC, a band who consistently showcase what the genre can deliver." — Total Guitar Magazine (UK)
"…faster and fiercer…" — Revolver Magazine
"Hot Damn! This is the best record I've heard this year." — PureGrainAudio.com
"Unearth have found the perfect distillation of their sound, and in doing so deliver their defining moment. 4/5" –Kerrang Magazine
"…crushing, catchy, and exhilarating." — Metal Hammer Magazine
"…this album takes the best elements from every album released so far and pushes them to their limits… UNEARTH's writing at its finest. 9/10″ — Ultimate-Guitar.com
"UNEARTH have never let their fans down before, and their new album, Darkness in the Light, is no exception." — MetalSucks.net
"Tight riffing, varying from technical pedal-style patterns to twin-harmony Maiden/At the Gates worship, plus all the brutally chugging breakdowns, will surely serve to inspire many a karate kick in the pits come tour time." — Fangoria Magazine
"The music hits like a baseball bat to the kneecap and the guitar work from Ken Susi and Buz McGrath is the best to date by the duo." — About.com Heavy Metal
"…absolutely jaw dropping…" — HeavyBlogIsHeavy.com
" Darkness in the Light penetrates through you with this array of melodic tones that seamlessly melts with the aggressive metal assaults and guitar work that is blistering." — TheDailyRock.com
"…their most powerful statement to date, slamming their proverbial fists into the head of the listener, track after track." — TheMetalDen.com
http://unearth.tv
http://www.facebook.com/unearthofficial
http://www.youtube.com/unearthofficial
http://twitter.com/unearthofficial
http://www.myspace.com/unearth