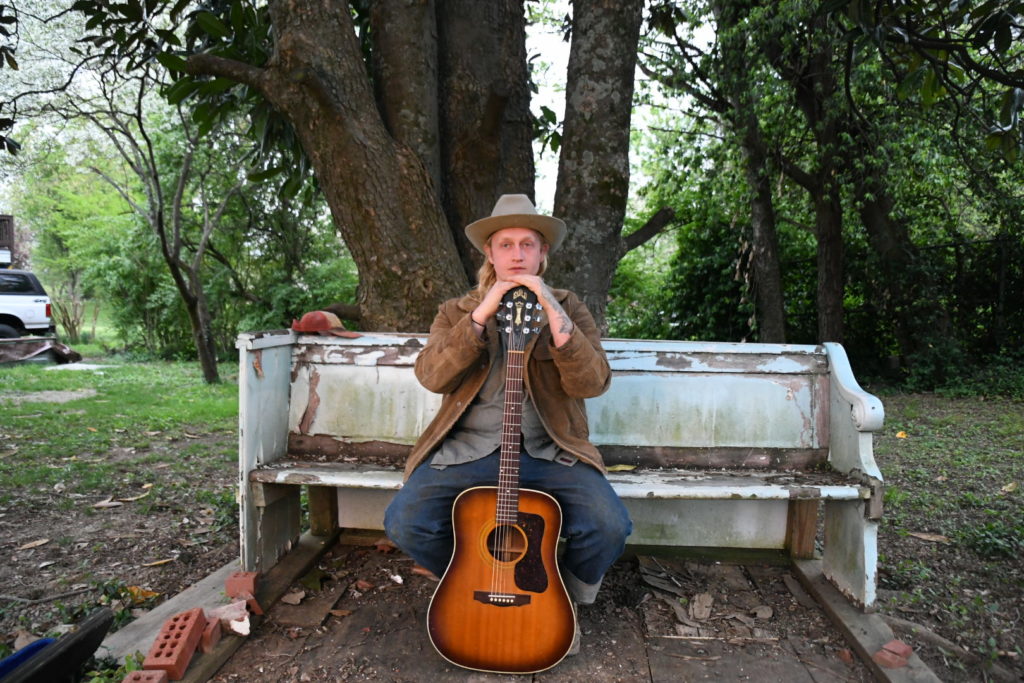 photos by Ericka Poore
Anti-Corporate Music presents the tenth title in their acclaimed intimate outdoor performance singer/songwriter series, The Magnolia Sessions, this time by Nashville-based country/blues/folk artist IVAN MACLEOD. In conjunction with the album's digital release today, the single "Brokenhearted Dementia Blues" has been premiered through The Sleeping Shaman.
The Magnolia Sessions launched in September 2020, showcasing bluegrass, country, folk, and singer/songwriter acts in an intimate outdoor setting at the Anti-Corporate Music/Black Matter Mastering headquarters in Nashville, Tennessee. Releasing an album on the first Friday of each month since then, the series has spawned albums from Matt Heckler, Jason Dea West, Johno Leeroy, Cristina Vane, Nick Hans, Casper Allen, Jeff Loops, Angela Autumn, and Austin Stambaugh, all of which instantly attracted listeners from the scene's passionate fanbase, and most of which have debuted on the Billboard Bluegrass Charts. Each installment features a different artist, some with additional guest musicians, who performs a live album of sorts, recorded outdoors by a large magnolia tree, as originally seen in Lost Dog Street Band's "September Doves" video for GemsOnVHS several years ago.
With IVAN MACLEOD's contribution, which marks the final installment in the Year One The Magnolia Sessions series, Anti-Corporate Music and Black Matter Mastering's Dan Emery, who engineers and produces the recordings, writes, "Ivan's was the first session that I recorded, despite it being the last release from the 2020 sessions. This was the maiden voyage/beta test of The Magnolia Sessions; I had built the binaural mic that captures the ambience three days before we recorded. I chose Ivan as the first recording because he is a close friend and I knew that if I fucked everything up, he would forgive me, but I feel secure in saying that the recordings have been a success. It was very hot the night we recorded this, and Ivan pulled it off a little too easily; I believe he only did one retake. The entire session was finished, and I was striking mics within forty-five minutes. I am eternally grateful that people have given this unorthodox recording project the attention and respect that they have. I hope to continue doing this for many years to come."
MACLEOD reveals, "Most of these songs took about two years to write. I work slow, and always have for the things that I've considered important. Only a small number of people close to me and a few people in a few bars around Nashville, who had an attention span slightly more expansive than what was in front of them have heard them. Previously, I've always considered any creative work to be a process of coping, and that's what it was for a long time, and why these have never seen the light of day before now. When I got myself to the studio to record this session, I was rolling cigarettes from the butts in my ashtray and wearing the last shirt which fit me. I wasn't striving, or even aiming for anything close to perfection, and I think that's what I like best about these recordings. Each one was one or two takes, and I see them as snapshots of a moment in time, nowhere near perfect, but sincere. I still think about the body of work as mainly a means of coping, but now I see another important part of this whole process: validation. These songs are time served."
The Sleeping Shaman writes with the IVAN MACLEOD track premiere, "With his distinctive sound and style of raw, no nonsense dark folk and country, he truly captures what, the now critically acclaimed, The Magnolia Sessions is all about with these intimate outdoor live recordings."
Stream IVAN MACLEOD's "Brokenhearted Dementia Blues" now via The Sleeping Shaman at THIS LOCATION.
Earlier this week, The Sleeping Shaman also ran a feature on The Magnolia Sessions with engineer/curator Dan Emery and series alumni Matt Heckler HERE.
The Magnolia Sessions titles are available directly through Anti-Corporate Music's webshop HERE.
Marking the final title in The Magnolia Sessions' Year One series, the recordings for Year Two are already underway. Watch for the next series to kick off late this Summer.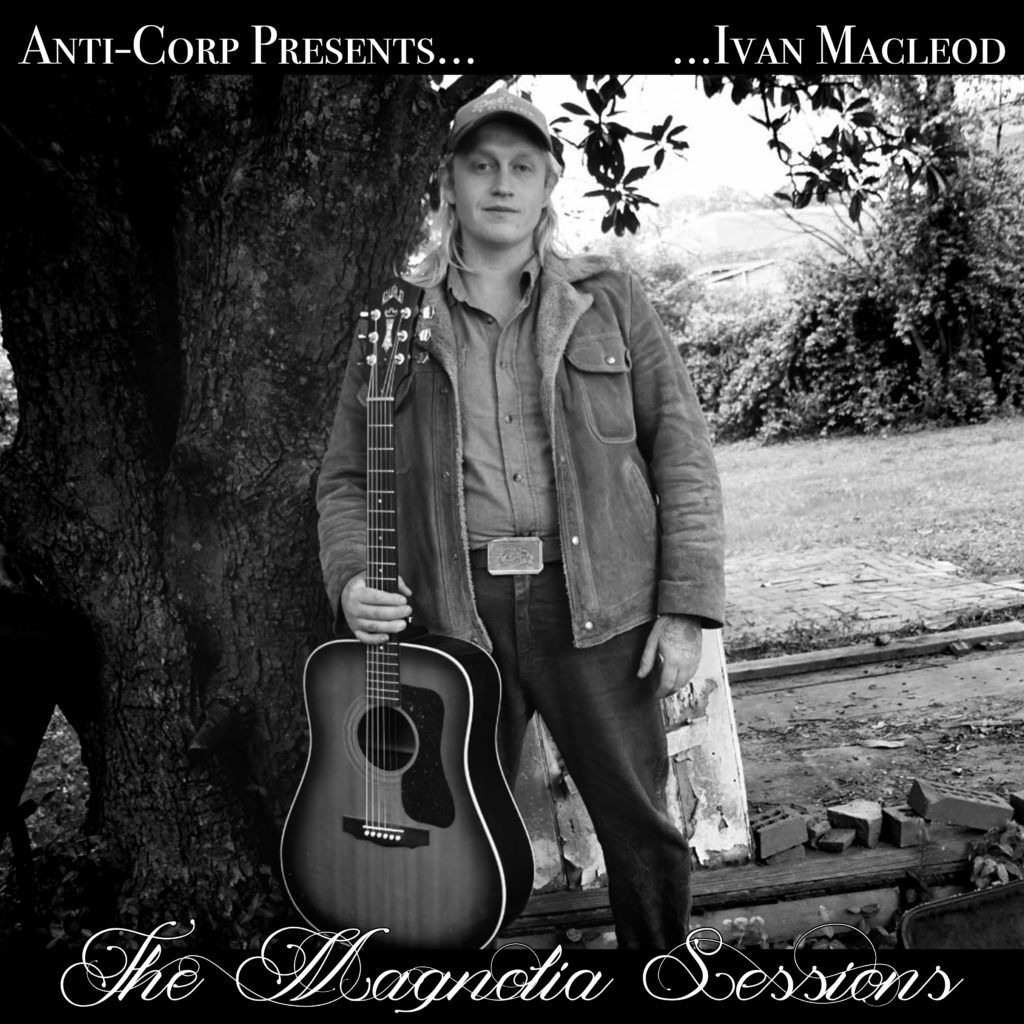 IVAN MACLEOD – The Magnolia Sessions Track Listing:
1. Sick By Sandy
2. Brokenhearted Dementia Blues
3. Dogs And Walls
4. Charley
5. Time And Again
6. Jubilee Bridge
7. Waiting For The Hard Times To Go
IVAN MACLEOD is a Nashville native, whose musical career started while he was still in his teens. Known initially as a drummer, he has played with numerous acts including spending years recording and touring with the Lost Dog Street Band. After a brief hiatus from the stage, Ivan has returned as a solo artist playing dark folk music about loss, isolation, and heartache. Citing pioneers such as Guy Clark, Blaze Foley, and Jim Ringer as influences, he is drawing from a deep well of inspiration and creating his own brand of traditional American country and blues.
https://www.instagram.com/ivan.macleod
http://anticorporatemusic.com
http://facebook.com/anticorpmusic
http://www.blackmattermastering.com
https://www.facebook.com/blackmattermastering
https://www.instagram.com/black_matter_mastering