With the release of KAMELOT's ninth studio album Poetry For The Poisoned freshly released just this past Tuesday, guitarist Thomas Youngblood will be available for phone interviews to North American writers next week! Slots are available:

Wednesday, September 22nd, between 10am and 4pm EST
Thursday, September 23rd, between 12pm and 6pm EST
Interested parties should contact Earsplit right away with your best available time(s) within the scheduled slots. Also include your phone number and backup number if available.
We're announcing a brand new contest coinciding with the release of the new album… The KAMELOT Poisoned Pen Contest: http://www.kamelot.com/site/news/kamelot-poisoned-pen-contest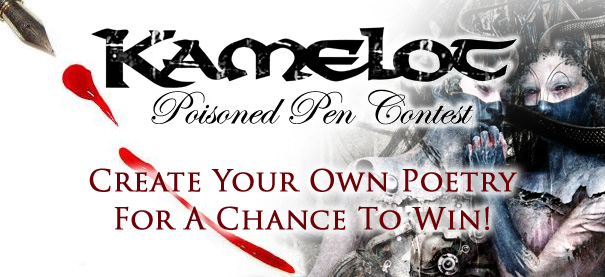 All you have to do is enter your own poetry for a chance to win! Create any form of poetry you wish, and the topic can be anything KAMELOT related; a song, an album, what the band's music means to you… The authors of the band's top 5 favorites will receive a Poetry For The Poisoned t-shirt, a signed poster, and more! Here's your chance to win some cool stuff and have some creative fun at the same time. Submit your entries to: poetry@kamelot.com. Please only one entry per person. If you submit more under different names you will be disqualified. Contest will end on September 30, 2010 and we will select the winners soon after.
Also be on the lookout for details on the KAMELOT Pick and Play contest in the following weeks.
Poetry For The Poisoned is the premier release for KAMELOT's own newly formed label KAMELOT Media Group (KMG Recordings). For this momentous release, the band chose to team up with longtime allies Thomas Ziegler of DisManic Distribution/E1 and Gunter Ford of Knife Fight Media. The massive preorder for the album via Amazon.com were the highest ever for KAMELOT! Recorded at Gate Studios in Wolfsburg, Germany with producers Sascha Paeth and Miro, the album features appearances by Simone Simons (Epica), Gus G. (Ozzy Osbourne, Firewind), Björn "Speed" Strid (Soilwork) and Jon Oliva (Savatage, Jon Oliva's Pain). The album is being made available in three versions; standard jewel case CD edition, digipak CD with bonus DVD and a 2xLP gatefold vinyl edition.
"It's not often that albums of this nature grab you from the very first listen, but Poetry For the Poisoned certainly did… 4.5/5" – Sea Of Tranquility
"…a good, deep, and slightly melancholy power/progressive metal album that rests on the strength of the songwriting and the cool, confident skill of each band member, rather than relying on instrumental masturbation or cheesy cliches. 4.25/5" – Stereokiller
"With Poetry For The Poisoned, Kamelot have found the right blend of emotive and heady heaviness." – Brave Words & Bloody Knuckles
"…full of the band's trademark elements: soaring vocals, cascading melodies, tight musicianship, creative songwriting and melodic dynamics… a powerful mix of progressive elements, modern rock and, of course, power metal. 4/5" – About.com: Heavy Metal
"…Poetry for the Poisoned proves that Kamelot both merges and transcends genres for a truly progressive musical experience. 5/5" – Dangerdog.com

"…a record that will please fans of their traditional sound as well as newcomers who wish to be taken by the addictive poison that runs through the band's veins. 9/10" – Myglobalmind.com
http://www.kamelot.com
http://www.myspace.com/kamelot
http://www.poetryforthepoisoned.com
http://www.knifefightmedia.com