In support of his first solo acoustic album Adrift, the legendary Scott "Wino" Weinrich (The Obsessed, Saint Vitus, Spirit Caravan, The Hidden Hand, Shrinebuilder, Premonition, etc.) will be available for phone interviews with North American writers this week.
Wino will be available this Friday, February 4th from 12pm – 3pm EST and then again on Monday, February 7th from 4pm – 7pm EST. Interested parties should get in touch with your best available time slot and a backup time as well as your phone number right away.
Adrift is set for North American release on respected German label Exile On Mainstream Records March 8th, 2011, the label now distributed domestically by E1. A limited edition vinyl version of the album featuring extended liner notes and more is was also released in the U.S. on January 18th by Volcom Entertainment.
As previously announced, Wino will also hit the road this month on a short acoustic tour with longtime friend and Shrinebuilder band mate Scott Kelly of Neurosis. Sponsored by BrooklynVegan, the tour will venture through California, Texas, Illinois, Massachusetts, Maryland and New York, showcasing both legendary artists in solo, acoustic mode.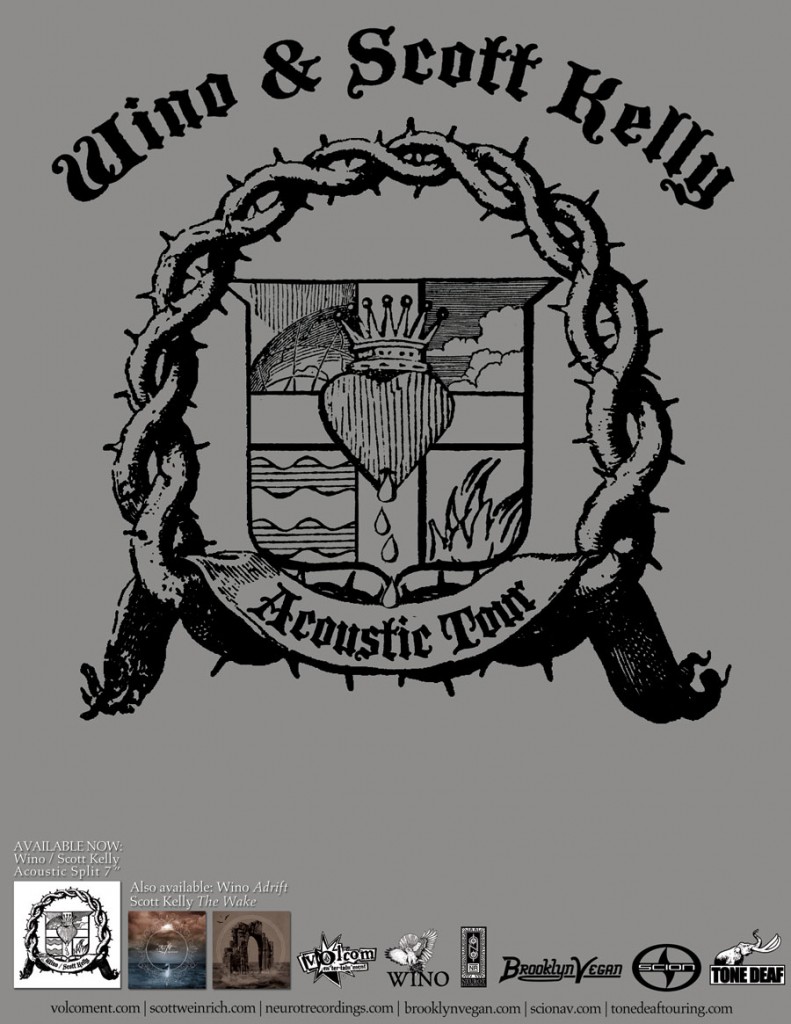 Wino/Scott Kelly February 2011 Tour:
2/05/2011 Viper Room – Hollywood, CA Buy Tix
2/07/2011 Casbah – San Diego, CA Buy Tix
2/08/2011 Emo's – Austin, TX Buy Tix
2/09/2011 Abbey Pub – Chicago, IL Buy Tix
2/10/2011 Great Scott – Allston, MA Buy Tix
2/11/2011 Sonar – Baltimore, MD w/ Darsombra Buy Tix
2/12/2011 Mercury Lounge – New York, NY w/ Man's Gin Buy Tix
"Wino, like Lemmy, is a lifer who couldn't do anything but make music and tour even if he wanted to, and Adrift is an album that faces that reality with stoicism and power. 4/5" – All Music Guide
"As principal figures in American doom go, Wino has probably contributed to the genre more than any other single figure, and on Adrift, he moves carefully into this new territory and despite any missteps, ultimately lives up to his pedigree in terms of both songwriting and performance." – The Obelisk
"Wino sings of emotions and problems that we all have. His have stories have a larger feel because he has been on bigger stages than most of us. But "Adrift" shares the sad, pissed, hopeful ground of his fans, who ought to embrace this, as anyone fond of hard-edged acoustic honesty." – Music Emissions
"…Adrift is a lush, melodic masterpiece, akin to Jar Of Flies and Book Of Shadows, with acoustic playing every bit as dark, layered and exciting as his electric work. 4.5/5" – Metal Underground
"…here's to Adrift; a classy and engaging record which attaches itself to listener heart and soul, never letting go for a second. Rating: A" – Metal Army America
http://www.scottweinrich.com
http://www.mainstreamrecords.de