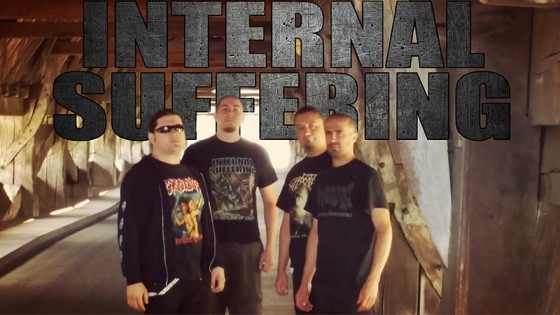 Unique Leader Records is very pleased to announce the re-signing of long-running brutal
death metal behemoths, INTERNAL SUFFERING.
Comments the band in a collective statement, "We are stoked to announce that we have resigned with Unique Leader! We are all very proud to be again a part of a label that has released some of the finest extreme death metal albums in history from bands such as Deeds Of Flesh, Decrepit Birth, Disgorge, Pyrexia, Internal Bleeding, Disavowed, Hour Of Penance, Aeon, Beheaded, Psycroptic and Spawn Of Possession, just to name a few. This is the beginning of a new chapter for us. We would like to thank Erik Lindmark and all the staff at Unique Leader for welcoming us back into their incredible roaster. Few other labels can touch their legacy when it comes to high quality brutal death metal. We'll be starting the recording sessions this Winter. We look forward to previously undreamed-of levels of brutality, speed and intensity with this new record. Stay tuned for more details!"
Spawned in 1996, INTERNAL SUFFERING recently relocated from their homebase in Pereira, Columbia to Madrid, Spain. Notorious for their apocalyptic brand of brutal, blasting, technically proficient death metal, the band's bestial discography includes four full-lengths: 2000's Supreme Knowledge Domain (Repulse Records), 2002's Chaotic Matrix (Displeased Records), 2004's Choronzonic Force Domination (Displeased Records) and 2006's Awakening of the Rebel (Unique Leader Records), the last two of which featured the production prowess of extreme metal sound-wizard Erik Rutan (Hate Eternal/ex-Morbid Angel). A maniacal work ethic and thirst to spread their audio peril globally has allowed INTERNAL SUFFERING the opportunity to ransack stages throughout the US, Europe and Asia along the iconic likes of Cannibal Corpse, Sodom, Incantation, Exodus and Origin, among many more. The band has also graced the bills of some of the most important extreme metal festivals in the world including the Maryland Deathfest, Extreme Fest, Neurotic Death Fest, Barroselas Metal Fest, Tokyo Death Fest, Bangkok Deathfest, Fuck The Commerce Fest, Obscene Extreme Festival and Kaltenbach Open Air Fest as well as an appearance last year at the massive Rock At The Park. Among the most populated open air fests in Latin America, Rock At The Park draws over 100,000 headbangers annually!
INTERNAL SUFFERING will release their long-awaited fifth studio album via Unique Leader Records in 2015. Details to be unveiled in due time.
http://www.facebook.com/InternalSuffering
http://www.facebook.com/UniqueLeaderRecords
http://www.twitter.com/UniqueLeaderRec
http://www.youtube.com/uniqueleaderrecords