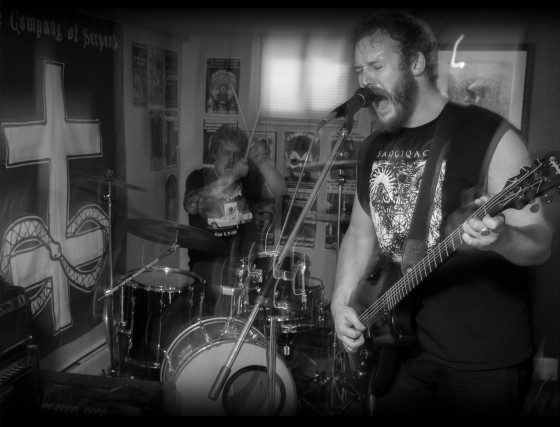 Merging In Light is the forthcoming EP from Denver doom duo, IN THE COMPANY OF SERPENTS. Produced, mixed and mastered by Dave Otero (Cephalic Carnage, Catheter, Nightbringer, Primitive Man etc.) at Flatline Audio in Denver, Colorado, Merging In Light spews forth over twenty rumbling minutes of bottom-heavy, riff-sodden, fuzzed out cheerlessness. In celebration of its official unveiling, now just forty-eight hours away, today the band offers up opening rager, "Breed, Consume, Die" for communal worship.
Comments IN THE COMPANY OF SERPENTS, "'Breed, Consume, Die' is basically about how we're shoehorned as a society into this paradigm where we're expected to constantly work, and spend what little time we have to ourselves consuming dispensable bullshit that does nothing to enrich our lives. If we don't conform to that mold or approach to life, we're labelled as dead weight, so we all end up chasing that carrot on a stick while anything of value in our lives is whittled down to nothing."
Cherish the teachings of "Breed, Consume, Die" now streaming at the official IN THE COMPANY OF SERPENTS BandCamp page HERE.
And if you missed it, get down with your low-end with "Third Mind" still consuming the airwaves of Revolver at THIS LOCATION as well as ten-minute closing psalm, "A Union Of Opposites," still streaming at Cvlt Nation at HERE.
Championed for exhibiting, "an aura of sonic darkness and evil," by Zero Signal Magazine, Merging In Light boasts artwork by renowned illustrator Sam Turner, (Sleep, Speedwolf et al) and will be released independently on limited 12″ colored vinyl with an etched B-side. The two ouroboros serpents forming the Vesica Piscis symbol on the front and back cover will be done in UV spot gloss on the jacket, so it will have the appearance of glossy black against matte black. Additionally, 100 of the 500 records pressed will have a haze of black set against a milky, semi-translucent white, and will also come with a printed slipmat available. The remaining 400 will be white vinyl.
IN THE COMPANY OF SERPENTS's Merging In Light will be released Sunday, December 21st, 2014, the Winter Solstice, at THIS LOCATION.
"The music is tank-like in the roll of its mechanics, the guitar and bass chords so distorted and sludgy that it seems like an experiment in the most efficient means of sonic spinal compression, the drum strikes so powerful that they come down like a pile-driver on concrete. The effect is near-cataclysmic. But oh man, the groove is so dominant – these are neck-grabbing songs that will bend your head up and down to their will." – No Clean Singing
"The three songs rumble along with menacing intent, chock full of monstrous, dark riffs and plodding drums… in the end a really enjoyable homage to Black Sabbath, Saint Vitus, Electric Wizard, and Sleep." — Sea Of Tranquility
"…heavier than damn near anything you've ever heard…" – Hard Rock Revolution
http://www.facebook.com/InTheCompanyOfSerpents
http://www.inthecompanyofserpentsdoom.bandcamp.com