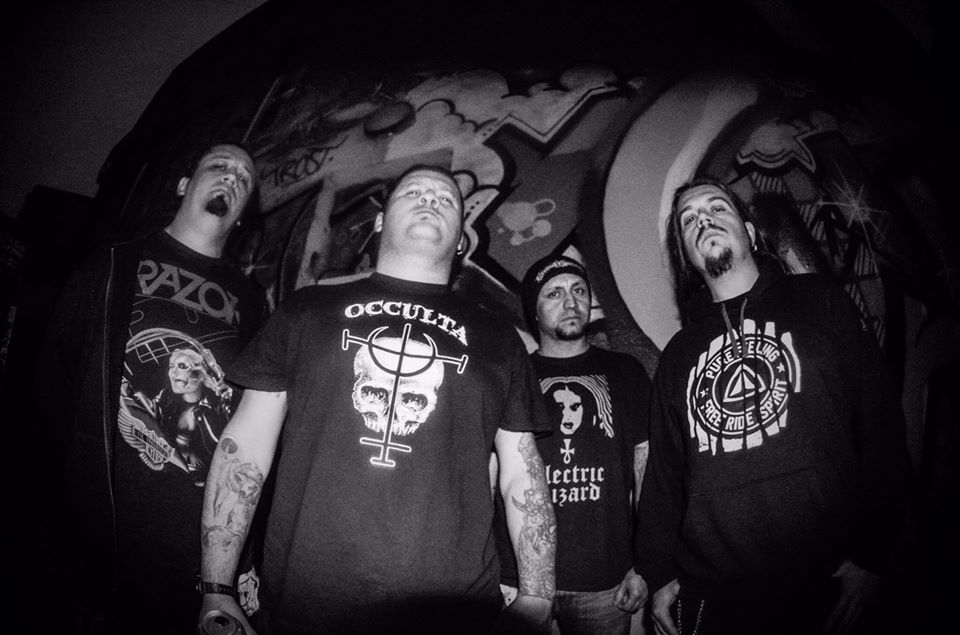 "…a technically eye-popping performance that may leave you breathless and mangled beyond recognition." – No Clean Singing
Today, long-running brutal death metal unit, INTERNAL SUFFERING, drops the punishing fruits of their Cyclonic Void Of Power full-length upon the masses. Captured at 16th Cellar Studios in Rome (FleshGod Apocalypse, Hour Of Penance, Hideous Divinity, etc.) by Italian death metal mastermind Stefano Morabito (Eyeconoclast, ex-Hour Of Penance), Cyclonic Void Of Power spews forth the band's traditionally fast yet chaotic and wildly technical brand of sonic malevolence. A concept album divided into three separate chapters, Cyclonic Void Of Power follows the mystical, mythological and magic chaotic universe the band has explored on previous outings into far more complex realms.
In celebration of its release, No Clean Singing is currently hosting a stream of the record in all its malicious divinity noting, "There aren't many bands anywhere who can operate at the absolutely blistering pace of this one, and even fewer who use their skills so expertly to create death metal that's both chaotically ferocious and yet machine-precise. And while the pure head-scrambling adrenaline rush you get from listening to this brutally decimating cyclone of power is reason enough to take the plunge on the new album, INTERNAL SUFFERING also manage to generate an atmosphere of inhuman horror that blankets their sonic conflagration like a poisonous fog."
Hear Cyclonic Void Of Power RIGHT HERE.
INTERAL SUFFERING's Cyclonic Void Of Power is out now via Unique Leader in CD, vinyl and digital formats. Order yours at THIS LOCATION.
In a positive investigation of the record, Burning Ambulance places frontman Fabio Marin, "somewhere between Cannibal Corpse's George 'Corpsegrinder' Fisher and Deicide's Glen Benton, his ability to shift between a low gurgling roar and a blast-furnace like exhale-bellow particularly indebted to the latter man," further elaborating, "Guitarist Diego Alonso whips up a minor tornado of riffs and high-speed zipping squeals, shifting seamlessly from low-end rumbles to mid-range table-saw sounds as Garcia and drummer Wilson Henao keep the music grounded and drive it forward, respectively." Dead Rhetoric calls Cyclonic Void Of Power, "A solid pick-me-up of sonic brutality," while Angry Metal Guy notes, "If you're a fan of no-frills, light-speed brutality, Cyclonic Void Of Power won't disappoint." Gushed Stereogum upon their premiere of "Unleash The Antarctic Colossus," "Cyclonic Void Of Power… runs deeper than the typical blast of brutal death metal… these ten songs plus one cold Lovecraftian ode form a conceptual whole. Tracks are sprinkled with lines like 'Cosmic cataclysms, empyrean catastrophes/ State of duality!' And the music matches that hinted-at abundant harvest of lyric-sheet exclamation points, smartly, catchily, stacking riff atop riff atop riff… INTERNAL SUFFERING's confidence and comfort with the material is a key contributing factor… It sounds human. This quality really shines in 'Unleash The Antarctic Colossus' back half when [drummer Wilson 'Brigadier'] Henao, after already spending three minutes beasting through a forearm workout that would be the envy of peak Mark McGwire, just goes for it. Turbo engaged, double bass and snare start a-rolling at ludicrous speed. Where other BDM outfits might practice this sort of impulsive adrenaline rush out in favor of robotic, logical precision, INTERNAL SUFFERING, keeping with its career-long hunt for that next gear philosophy, uses it as a centerpiece. And the impact hits harder because super human feats sound cooler when actual humans are performing them. That's why …Power… runs deeper: For all of its impossible shredding, it's relatable. It's recognizable."
Spawned in 1996, INTERNAL SUFFERING relocated from their home base in Pereira, Columbia to Madrid, Spain. Notorious for their apocalyptic brand of brutal, blasting, technically proficient death metal, the band's bestial discography includes four full-lengths: 2000's Supreme Knowledge Domain (Repulse Records), 2002's Chaotic Matrix (Displeased Records), 2004's Choronzonic Force Domination (Displeased Records), and 2006's Awakening Of The Rebel (Unique Leader Records), the last two of which featured the production of extreme metal sound-wizard Erik Rutan (Hate Eternal/ex-Morbid Angel). A maniacal work ethic and thirst to spread their audio peril globally has allowed INTERNAL SUFFERING the opportunity to ransack stages throughout the US, Europe, and Asia along the iconic likes of Cannibal Corpse, Sodom, Incantation, Exodus, and Origin, among many more.
http://www.facebook.com/InternalSuffering
http://www.facebook.com/UniqueLeaderRecords
http://www.twitter.com/UniqueLeaderRec
http://www.youtube.com/uniqueleaderrecords