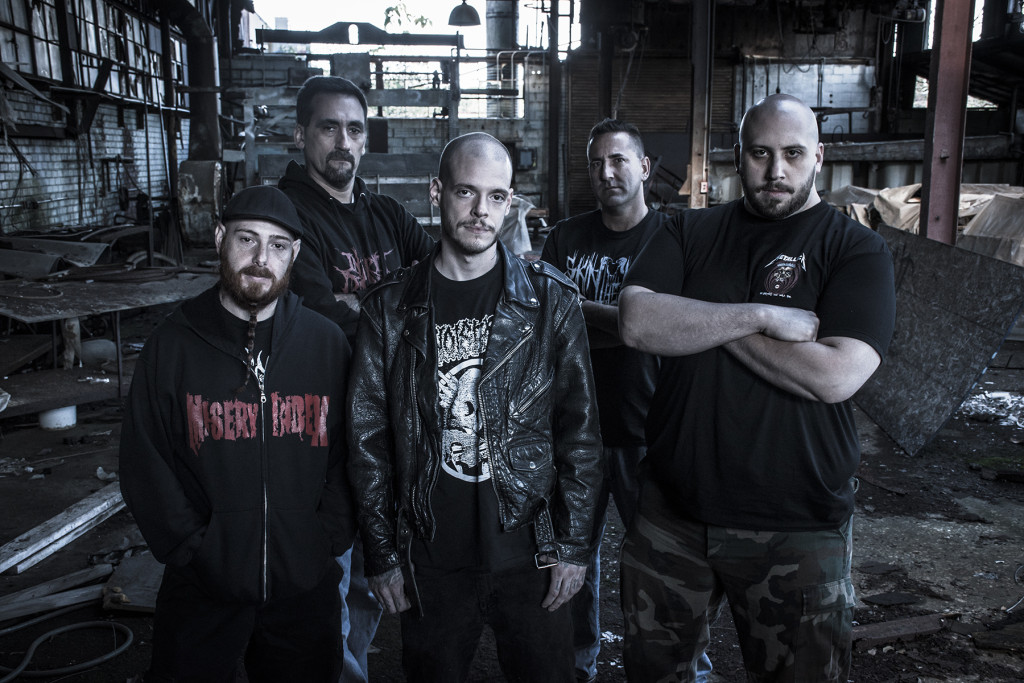 "…we think it's only appropriate that we do this tour, continue with the band, and continue to release music in Bill's memory, and in the memory for all those metalhead men and women who have fallen." – INTERNAL BLEEDING
On April 20th, INERNAL BLEEDING drummer and veteran FDNY firefighter Bill Tolley passed away after falling five stories from a rooftop while battling a two-alarm apartment fire in Queens, New York. The tragedy touched family, friends, his bandmates, the city of New York, and the worldwide metal community.
Many fans expressed concerns as to whether INTERNAL BLEEDING would continue and more specifically, whether they would still take part in the upcoming Strike Of The Empire US tour with Vader.
"Bill was having trouble getting all the vacation time needed to complete the tour, so we had a backup drummer in place and ready to go. He will be filling in," wrote the band on their official Facebook page late last week. "Bill would want it no other way. When we were discussing the problems with his vacation, he told Chris [Pervelis] something along the lines of, 'You've gotta do it, bro. Fuck it, no matter what happens, INERNAL BLEEDING needs to go on. You gotta do it, asshole.' So we think it's only appropriate that we do this tour, continue with the band, and continue to release music in Bill's memory, and in the memory for all those metalhead men and women who have fallen. There is no other way. Metal is our life. Our love. Our passion. And to our fans, you are family: we don't leave family hanging. We got your back, because you always had ours. Our backup drummer will be announced soon. Out of respect to Bill, please don't ask. Love and metal always: Chris, Shaun, Chris, and Joe"
The Strike Of The Empire US tour will commence on May 27th in Spartanburg, South Carolina, and run through June 16th in New York City, New York. Additional support will be provided by Sacrificial Slaughter, Voices Of Ruin, and Micawber.
INTERNAL BLEEDING w/ Vader, Sacrificial Slaughter, Voices Of Ruin, Micawber:
5/27/2017 Ground Zero – Spartanburg, SC
5/28/2017 Brass Mug – Tampa, FL
5/29/2017 Masquerade – Atlanta, GA
5/30/2017 Siberia – New Orleans, LA
5/31/2017 Acadia – Houston, TX
6/01/2017 Curtain Club – Dallas, TX
6/03/2017 Blu Phoenix – Albuquerque, NM
6/04/2017 Club Red – Phoenix, AZ
6/05/2017 Malones – Santa Ana, CA
6/06/2017 Oakland Metro – Oakland, CA
6/07/2017 Brick By Brick – San Diego, CA
6/08/2017 Las Vegas Death Fest – Las Vegas, NV
6/09/2017 Metro – Salt Lake City, UT
6/10/2017 Bluebird Theatre – Denver, CO
6/11/2017 Riot Room – Kansas City, MO
6/13/2017 High Noon Saloon – Madison, WI
6/14/2017 Reggies – Chicago, IL
6/16/2017 Webster Music Hall – New York City, NY
INTERNAL BLEEDING's digital single, "Final Justice" was released just one day after Tolley's passing. The track serves as a teaser from the band's forthcoming full-length, Corrupting Influence. While filled with all the hooks, slams, and grooves you've come to expect from the band, the track is more focused, sophisticated, and sharper, than anything they're released previously.
No Clean Singing initially premiered the track noting, "It's now impossible to listen to the song and watch the video without thinking about [the] tragedy (and the original video has been modified since yesterday to include a remembrance and a dedication). Yet it's also a fitting tribute to Bill Tolley and his important role in creating the legacy of this band that obviously meant so much to him for so many years. There's a lot of visceral power in 'Final Justice,' and it captures the kind of immediacy, energy, and head-wrecking punch that you feel in a live performance."
Read more " at THIS LOCATION and view "Final Justice" below:

"Final Justice" is available now via Unique Leader at THIS LOCATION and via iTunes HERE.
INTERNAL BLEEDING released their Imperium full-length released via Unique Leader in 2015. Produced by the band and Joe Cincotta at Full Force Studio (Suffocation, Dehumanized, Mortal Decay) in Ronkonkoma, New York and engineered by Cincotta and Derek Boyer, Imperium offers up ten pulverizing tracks including a trilogy featuring guest appearances by Suffocation's Terrance Hobbs and Frank Mullen as well as former INTERNAL BLEEDING throat Frank Rini.
http://www.facebook.com/internalbleeding
http://www.Internal-Bleeding.com
http://www.uniqueleader.com
http://www.facebook.com/UniqueLeaderRecords