National Public Radio today unfurls a brand new track from Richmond, Virginia doomsmiths INTER ARMA, with the opening track to the band's Relapse debut Sky Burial. "The Survival Fires" comes immediately alive with some of the most straightforward blackened blasting found on the multi-faceted album, yet overall reverberates with the pulsating, organic, earthmoving doom surge the band so expertly perpetuates.
INTER ARMA also released the album's fifth track "'sblood" now playing at the Relapse Youtube channel.
In hardly more than two weeks from now, INTER ARMA will take the sonic destruction of the songs on Sky Burial out to the masses on an upcoming North American assault alongside Brooklyn savages Mutilation Rites. The three-week venture will take the bands through the Midwest and into Austin, Texas for several performances throughout 2013's SXSW fiesta, just as Sky Burial will be hitting stores for its March 19th North American street date. The tour then breaks into the Southwest and includes a stop in Tijuana, Mexico before pummeling north, up the West Coast and back into the Midwest.
INTER ARMA Tour w/ Mutilation Rites:
3/10/2013 Cobra Lounge – Chicago, IL
3/11/2013 Fubar – St Louis, MO
3/12/2013 Jackpot Music Hall – Lawrence, KS
3/13-3/16/2013 SXSW – Austin, TX
3/18/2013 War Room – El Paso, TX
3/19/2013 Chasers – Phoenix, AZ
3/20/2013 Moustache Bar – Tijuana, Mexico
3/21/2013 Slidebar – Fullerton, CA
3/22/2013 Mayas – Corona, CA
3/23/2013 Rock City – Camarillo, CA
3/24/2013 DNA Lounge – San Francisco, CA
3/25/2013 Colony – Sacramento, CA
3/26/2013 Highline – Seattle, WA
3/27/2013 The Shakedown – Bellingham, WA
3/28/2013 Rotture – Portland, OR
3/29/2013 The Shredder – Boise, ID
3/30/2013 Burt's Tiki Lounge – Salt Lake City, UT
3/31/2013 Aqualungs – Denver, CO
4/01/2013 Vaudeville Mews – Des Moines, IA
4/02/2013 Medusa – Minneapolis, MN
4/03/2013 High Noon – Madison, WI
4/04/2013 Franks Power Plant – Milwaukee, WI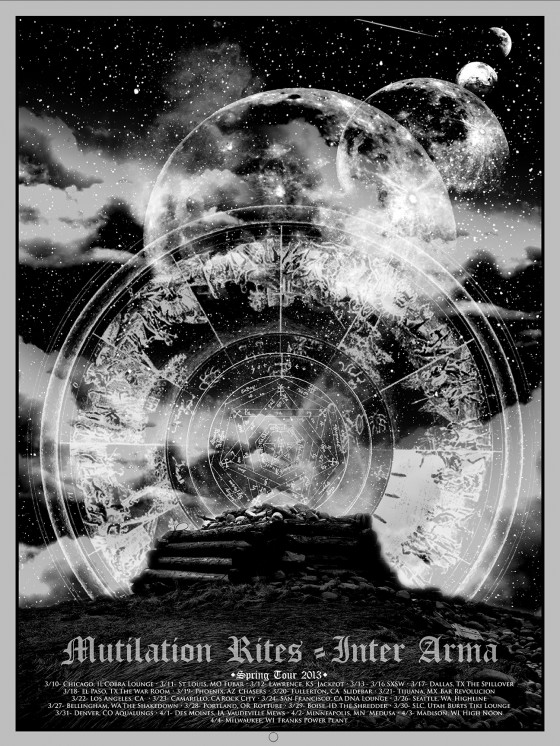 https://www.facebook.com/INTERARMA
http://interarma.bigcartel.com
http://www.relapse.com
http://relapserecords.bandcamp.com
http://www.facebook.com/RelapseRecords