As the massive fifteenth edition of the NEW ENGLAND METAL & HARDCORE FESTIVAL continues to expand, the legendary event is pleased to welcome the coming of Paganfest! The annual caravan, notorious for its wealth of folk-loving, mead-swilling, Pagan-centric musical exports, this year features Finnish folk metal heroes/headliners Ensiferum, alongside Faroe Islands natives Týr, Dutch Pagan metallers Heidevolk, Norway's Trollfest and California thrashers Helsott. Paganfest will be making a stop at The Palladium on April 20th.
Additionally, the founders of the NEW ENGLAND METAL & HARDCORE FESTIVAL are proud to add GreenVans as official sponsors of the event. Founded in 2008 by musicians for musicians, GreenVans offers eco-friendly affordable, reliable and safe tour transportation and are a reoccurring sponsor of NEMHF. For more info, go to THIS LOCATION.
As previously announced, NEMHF has partnered with F.Y.E. to offer a VIP Flyaway package! One lucky winner will get two (2) VIP passes to the festival as well as airfare and hotel accommodations. F.Y.E stores are currently offering an assortment of pummeling metal CDs for $9.99, each on a NEMHF endcap. Any purchase of these titles will receive a free NEMHF CD Sampler featuring tracks from Hatebreed, Holy Grail, Shadows Fall, Continents, Sister Sin and many more!
Enter to win the contest and grab some great metal CDs from F.Y.E. at THIS LOCATION.
THE NEW ENGLAND METAL & HARDCORE FESTIVAL is celebrating its 15th Anniversary at the historic Worcester Palladium. The festival takes place April 19th, 20th and 21st with a special pre-fest party in the upstairs room at the Palladium on April 18th. Since 1999, the festival has showcased a vast array of metal and hardcore acts across two stages, while also providing merchandising and promotional areas for record labels and other vendors.
Check out the array of ticket packages and the full festival lineup RIGHT HERE.
Continuous updates will be made and coverage opportunities for the NEW ENGLAND METAL & HARDCORE FESTIVAL are available via Earsplit PR, an official sponsor of this year's event.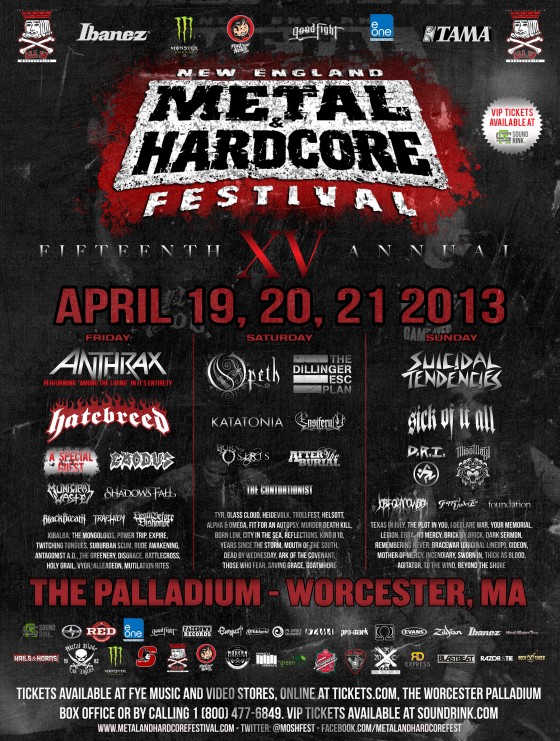 http://metalandhardcorefestival.com
https://www.facebook.com/metalandhardcorefest
https://twitter.com/moshfest
http://www.massconcerts.com