Instrumental noise/doom project INSECT ARK will support Finland's Oranssi Pazuzu on a North American fall tour. The journey will begin on October 10th in Chicago, Illinois and run through October 19th in Atlanta, Georgia with additional INSECT ARK performances to be announced in the weeks to come. See confirmed dates below.
INSECT ARK w/ Oranssi Pazuzu:
10/10/2019 Reggies – Chicago, IL
10/11/2019 El Club – Detroit, MI
10/12/2019 Velvet Underground – Toronto, ON
10/13/2019 Le Ritz – Montreal, QC
10/14/2019 Sonia – Boston, MA
10/15/2019 Le Poisson Rouge – New York, NY
10/16/2019 Underground Arts – Philadelphia, PA
10/17/2019 Metro Gallery – Baltimore, MD
10/18/2019 Kings – Raleigh, NC (late show)
10/19/2019 529 – Atlanta, GA
Formed in late 2011 in New York City, INSECT ARK is the solo project of Dana Schechter (bass, lap steel guitar, synthesizers). An alluring fusion of horror-film soundtracks, psychedelic doom, and atmospheric noise, INSECT ARK's intensely visual music weaves interludes of fragile beauty with crushing passages of swirling doom, spinning like a backwards fever dream.
A busy 2018 included the release of a full-length LP Marrow Hymns on Profound Lore Records, European and North American tours, a recording residency at modular synth mecca EMS Stockholm, and fest appearances at Roadburn, Basilica Soundscape, Northwest Terror Fest, and more. Now in Summer 2019, the composing of a new album is almost complete with heavy touring in fall 2019/spring 2020 for
the US and Europe scheduled.
From its inception, INSECT ARK has been about creating music that transports, both physically, and psychologically. Schechter made three solo INSECT ARK records (Collapsar 7″, Long Arms 10″, Portal/Well LP). In 2015, drummer/analog electronics builder Ashley Spungin joined the project, and together they made 2018's Marrow Hymns and toured extensively as a duo/band.
As of July 2019, INSECT ARK returns to the primary model of Schechter working as a solo artist, with live and studio collaborations on a per-project basis. Bridging the gap between experimentation and song form, a heavy focus is on composition, but INSECT ARK is still very much a live experience, with emphasis on live instrumentation of bass, lap steel, drums and synths, using intricate live analog looping techniques to achieve a monster "wall of sound" with only one or two people on stage.
A mind-bending animated video piece accompanies live shows – also made by Schechter, who works as a video artist in the film business – completing the experience to envelop and crush the senses.
Schechter has worked as a collaborator for studio / stage with M. Gira's Angels of Light, Zeal & Ardor, Wrekmeister Harmonies, Gnaw, Bee and Flower, Gifthorse, and more.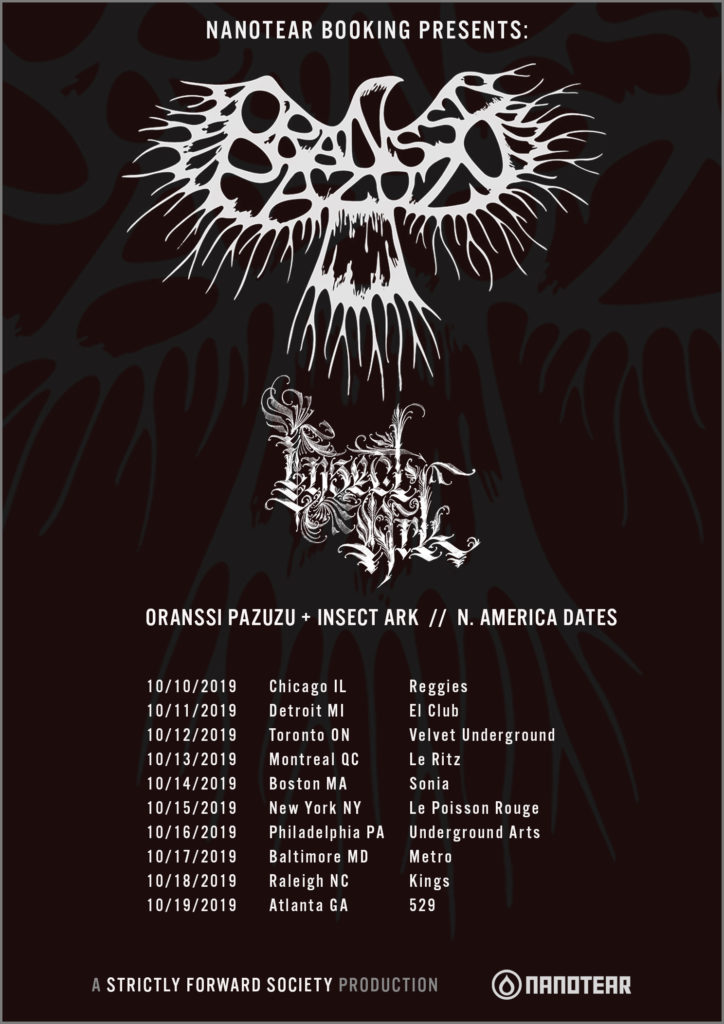 http://www.insectark.com
http://www.facebook.com/InsectArk
http://www.insectark.bandcamp.com
http://www.profoundlorerecords.com
http://www.facebook.com/profoundlorerecords
http://www.profoundlorerecords.bandcamp.com