Invisible Oranges is currently streaming 666-Pack, the impending new full-length from Austrian crossover thrashers INSANITY ALERT, in its fiery entirety! Writes the esteemed blog, "INSANITY ALERT party like it's 1989, give or take a few years. The Austrian band had their self-titled 2014 debut reissued by Season Of Mist in March of last year, but their upcoming release 666-Pack sees not only yore-friendly riffs but even the pop culture references are a throwback. They reference Milli Vanilli, MC Hammer, '8-Bit Brutality,' and, um, Slayer… Although the longest song is the whiplash-inducing ode to Transformers "Dark Energon," the average song runs about ninety seconds. There is nothing subtle about what motivates them: INSANITY ALERT likes beer ('Why So Berrious?'), pot ('Two Joints'), GI Joe ('Cobra Commander'), and the thrash metal and crossover pioneered three decades ago."
Stream 666-Pack alongside a commentary on the band's all-time favorite thrash and crossover records at THIS LOCATION.
And if you missed it, view the band's previously issued videos for "The Body Of The Christ Is The Parasite" and "All Mosh / No Brain" below.
666-Pack was produced and mixed by Toni "Meloni" Loitsch (Die Toten Hosen, Silbermond, H-Blockx) at Nautilus Sounds Studio, mastered by Dan Randall (Municipal Waste, Toxic Holocaust, Ghoul, Cannabis Corpse) at Mammoth Sound Mastering and comes wrapped in the gruesome cover creation of Mark Riddick (Rotting Christ, Horrendous, Revocation, etc.).
INSANITY ALERT's 666-Pack will be released on January 25th on CD, LP, and digital formats via Season Of Mist. For preorder options, visit THIS LOCATION.
Hailed for their, "screeching solos, huge guitar riffs, and a battery assault of drums, all providing vocalist Heavy Kevy the chance to shriek his brains out in a massively effective way," by Punk News, INSANITY ALERT has confirmed a string of festival and headlining dates for 2019 with more to be confirmed in the coming weeks. The run sees the band making appearances at Tauanus Metal Fest, Vienna Metal Meeting, Aargh Festival, Obscene Extreme, Headache Inside Festival, and more. See all confirmed dates below.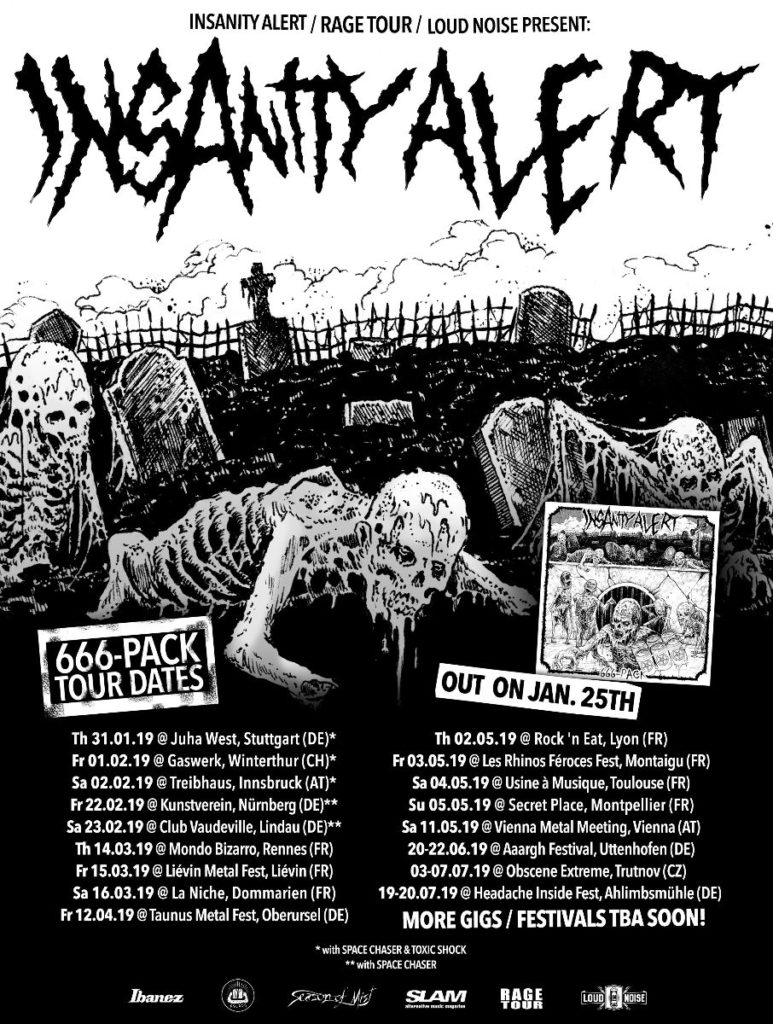 INSANITY ALERT:
1/31/2019 Juha West – Stuttgart, DE
2/01/2019 Gaswerk – Winterthur, CH
2/02/2019 Treibhaus – Innsbruck, AT
2/22/2019 Kunstverein – Nürnberg, DE
2/23/2019 Club Vaudeville – Lindau, DE
3/14/2019 Mondo Bizarro – Rennes, FR
3/15/2019 Liévin Metal Fest – Liévin, FR
3/16/2019 La Niche – Dommarien, FR
4/12/2019 Taunus Metal Fest – Oberursel, DE
5/02/2019 Rock 'N Eat – Lyon, FR
5/03/2019 Les Rhinos Féroces Festival – Montaigu, FR
5/04/2019 Usine À Musique – Toulouse, FR
5/05/2019 Secret Place – Montpellier, FR
5/11/2019 Vienna Metal Meeting – Vienna, AT
6/20/2019 Aargh Festival – Uttenhofen, DE (Exact Date TBA)
7/03/2019 Obscene Extreme – Trutnov, CZ (Exact Date TBA)
7/19/2019 Headache Inside Festival – Ahlimbsmühle, DE (Exact Date TBA)
Forged in Innsbruck in 2011 and influenced by the likes of SOD, DRI, Suicidal Tendencies, Nuclear Assault, Bones Brigade, Municipal Waste, and Toxic Holocaust, members of INSANITY ALERT are the kind of people who know what to bring to a party: a big dose of humor with a dash of darkness, party tunes, and a six pack. It's these ingredients that make up the basis of the band's third full-length. A relentless, twenty-one-track ripper, 666-Pack brings the classic spirit of speed metal's salad days back with savage metal precision. Ultra-catchy riffs, vicious vocals, and empowering gang vocals are packed into short, sharp rapid-fire attacks delivering everything great about thrash in spades.
"…a record that speaks to the enduring fun of thrash metal and one that also shows a clear understanding of the long-term potential of the genre." — Metal Injection
"…the music is super fun, and the parody stuff is creative gold." — Indy Metal Vault
"INSANITY ALERT have become experts in crafting immense and blistering fun that translates incredibly well to the stage." — Distorted Sound
"…a very fun and hard-hitting thrash record that is guaranteed to bring the mosh no matter the circumstances." — Two Guys Metal Reviews
"…a one-two punch assault of crossover thrash mixed with elements of grindcore!" – Metal Nexus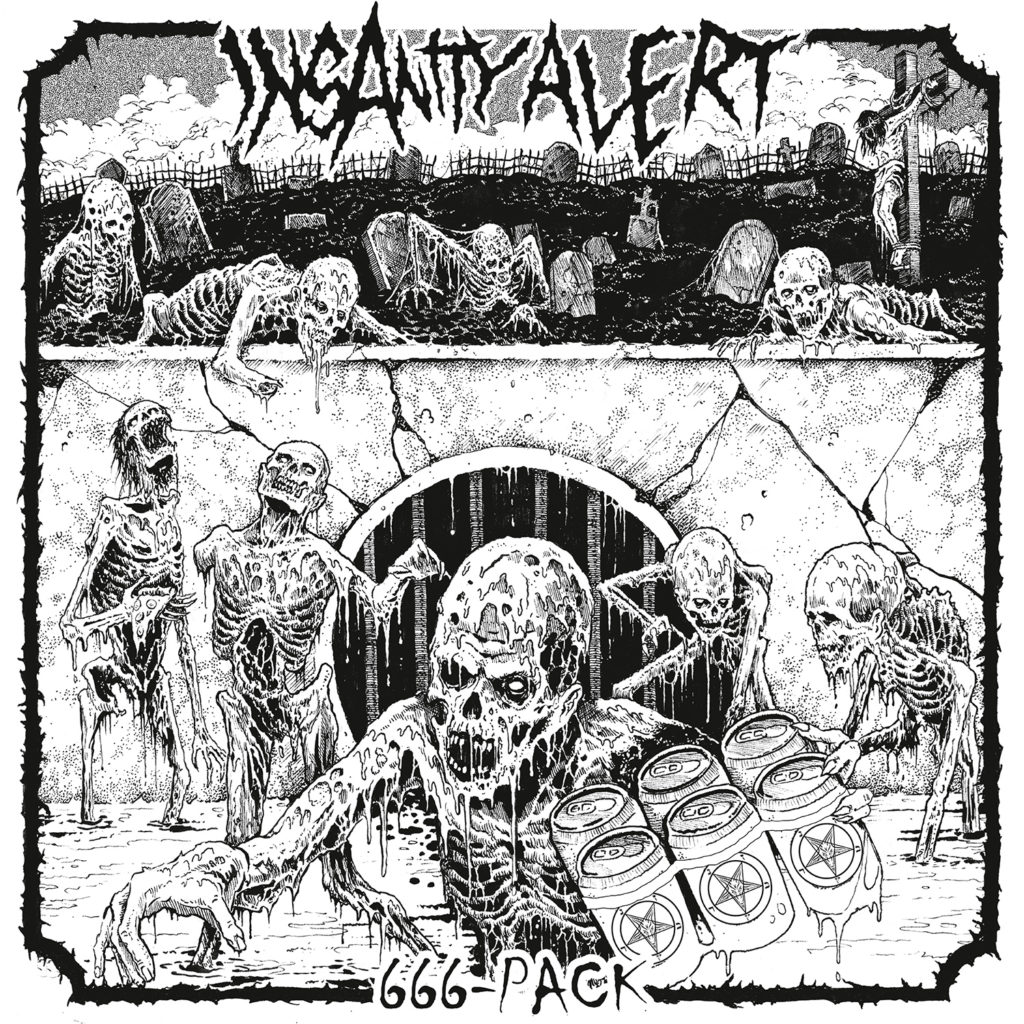 http://www.facebook.com/insanityalert/
http://twitter.com/insanityalert
http://www.instagram.com/insanityalert
http://www.season-of-mist.com
http://www.facebook.com/seasonofmistofficial
http://www.instagram.com/seasonofmistofficial
http://twitter.com/SeasonofMist