Detroit's favorite noise rock eccentrics CHILD BITE are currently penning their as-yet-untitled fifth full-length, slated for release later this year via Housecore Records. Writing with the assistance of several previous CHILD BITE drummers as well as new collaborators, the band will utilize the percussive expertise of Shane Hochstetler (Call Me Lightning, Zebras), who performed with CHILD BITE on their last two tours with Unsane, for the final studio recording which is set to take place at Electrical Audio in Chicago Illinois this April under the production prowess of Steve Albini (Nirvana, The Jesus Lizard, Neurosis).
CHILD BITE will be road testing some of the new songs during a weekend of Midwest shows with Pittsburgh's Microwaves and Baltimore's Multicult. These will be the only CHILD BITE shows in North America for the first half of the year.
Comments CHILD BITE frontman Shawn Knight, "We're furiously writing tons of song ideas, jamming with various drummer buds, trying to put our best foot forward on this Albini album. We've just been in tour mode for the past couple years, so we had to put the brakes on shows for the entire winter in order to focus on the task at hand. But, when we heard that our good friends Multicult and Microwaves were planning a tour, we decided to crash a portion of it and test out some of these as of now still unwritten, new songs."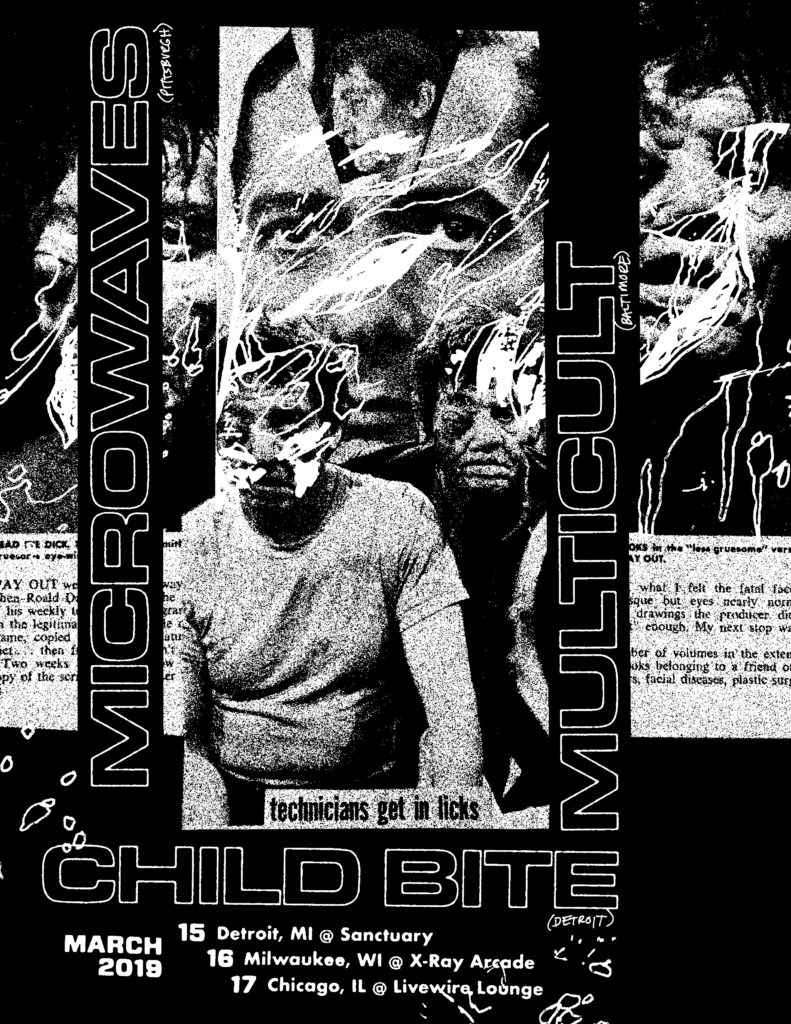 CHILD BITE w/ Microwaves, Multicult:
3/15/2019 Sanctuary – Detroit, MI
3/16/2019 X-Ray Arcade – Milwaukee, WI
3/17/2019 Livewire Lounge – Chicago, IL
CHILD BITE is an American noise rock/hardcore punk/heavy metal band formed in 2005 in Detroit, Michigan. The band's core members are founding vocalist Shawn Knight and long-time bassist Sean Clancy. CHILD BITE has released four full-length albums and ten EPs over the past twelve years, all featuring artwork by Shawn Knight. Their most recent offering, the two-disc Burnt Offerings anthology, features twenty-four tracks of rarities and covers recorded between 2010-2017. To date, CHILD BITE has played nearly nine-hundred shows throughout Europe and North America, including tours supporting acts such as Down, Voivod, Negative Approach, Superjoint, Poison Idea, and Unsane as well as a month-long Australian tour with labelmates King Parrot.
Stream Burnt Offerings: Covers And Rarities 2010 – 2017 at the Housecore Bandcamp page at THIS LOCATION. For physical orders, visit the Housecore Store HERE.
http://www.childbite.com
http://www.facebook.com/childbite
http://www.thehousecorerecords.com
http://www.thehousecorestore.com
http://www.facebook.com/housecorerecords