"Everyday life and everyday assholes will bring a person to its limits. Take a break and mosh shit up!" — INSANITY ALERT on "All Mosh / No Brain"
Austrian crossover thrashers INSANITY ALERT will release their new full-length, 666-Pack, on January 25th via Season Of Mist.
Forged in Innsbruck in 2011 and influenced by the likes of SOD, DRI, Suicidal Tendencies, Nuclear Assault, Bones Brigade, Municipal Waste, and Toxic Holocaust, INSANITY ALERT are the kind of people who know what to bring to a party: a big dose of humor with a dash of darkness, party tunes, and a six pack. It's these ingredients that make up the basis of the band's third full-length. A relentless, twenty-one-track ripper, 666-Pack brings the classic spirit of speed metal's salad days back with savage metal precision. Ultra-catchy riffs, vicious vocals, and empowering gang vocals are packed into short, sharp rapid-fire attacks delivering everything great about thrash in spades.
666-Pack was produced and mixed by Toni "Meloni" Loitsch (Die Toten Hosen, Silbermond, H-Blockx) at Nautilus Sounds Studio, mastered by Dan Randall (Municipal Waste, Toxic Holocaust, Ghoul, Cannabis Corpse) at Mammoth Sound Mastering and comes wrapped in the gruesome cover creation of Mark Riddick (Rotting Christ, Horrendous, Revocation, etc.).
INSANITY ALERT's 666-Pack will be released on CD, LP, and digitally. For preorder options, visit THIS LOCATION.
Sample "Welcome To Hell" as well as the band's recently-issued video for "All Mosh / No Brain" below.
666-Pack Track Listing:
1. Thirstkiller
2. The Body Of The Christ Is The Parasite
3. All Mosh / No Brain
4. Cobra Commander
5. Saturday Grind Fever
6. Echoes Of Death
7. Windmilli Vanilli
8. Stop….Slammertime!
9. Why So Beerious?
10. Mosh Mosh Mosh
11. One-Eye Is King (In The Land Of The Blind)
12. Welcome To Hell
13. Two Joints
14. Chronic State Of Hate
15. I Come / I Fuck Shit Up / I Leave
16. A Skullcrushin' Good Time
17. The Ballad Of Slayer
18. Demons Get Out!
19. 8 Bit Brutality
20. Death By Wrecking Ball
21. Dark Energon
Hailed for their, "screeching solos, huge guitar riffs, and a battery assault of drums, all providing vocalist Heavy Kevy the chance to shriek his brains out in a massively effective way," by Punk News, INSANITY ALERT has confirmed a string of festival and headlining dates for 2019 with more to be confirmed in the coming weeks. The run sees the band making appearances at Tauanus Metal Fest, Vienna Metal Meeting, Aargh Festival, Obscene Extreme, Headache Inside Festival, and more. See all confirmed dates below.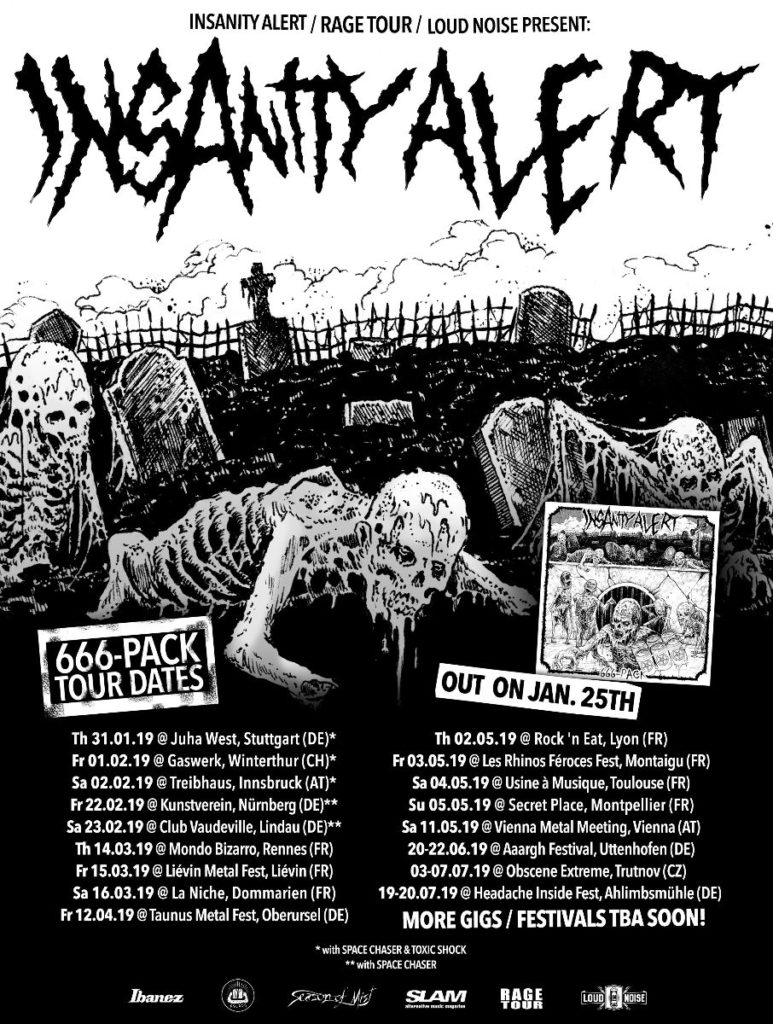 INSANITY ALERT:
12/26/2018 Metallic X-Mas – Munich, DE
1/31/2019 Juha West – Stuttgart, DE
2/01/2019 Gaswerk – Winterthur, CH
2/02/2019 Treibhaus – Innsbruck, AT
2/22/2019 Kunstverein – Nürnberg, DE
2/23/2019 Club Vaudeville – Lindau, DE
3/14/2019 Mondo Bizarro – Rennes, FR
3/15/2019 Liévin Metal Fest – Liévin, FR
3/16/2019 La Niche – Dommarien, FR
4/12/2019 Taunus Metal Fest – Oberursel, DE
5/02/2019 Rock 'N Eat – Lyon, FR
5/03/2019 Les Rhinos Féroces Festival – Montaigu, FR
5/04/2019 Usine À Musique – Toulouse, FR
5/05/2019 Secret Place – Montpellier, FR
5/11/2019 Vienna Metal Meeting – Vienna, AT
6/20/2019 Aargh Festival – Uttenhofen, DE (Exact Date TBA)
7/3/2019 Obscene Extreme – Trutnov, CZ (Exact Date TBA)
7/19/2019 Headache Inside Festival – Ahlimbsmühle, DE (Exact Date TBA)
INSANITY ALERT:
The Dave Of Death – guitar, choreography
Don Melanzani – drums, percussion
Heavy Kevy – vocals, propaganda
MC Brownnose – bass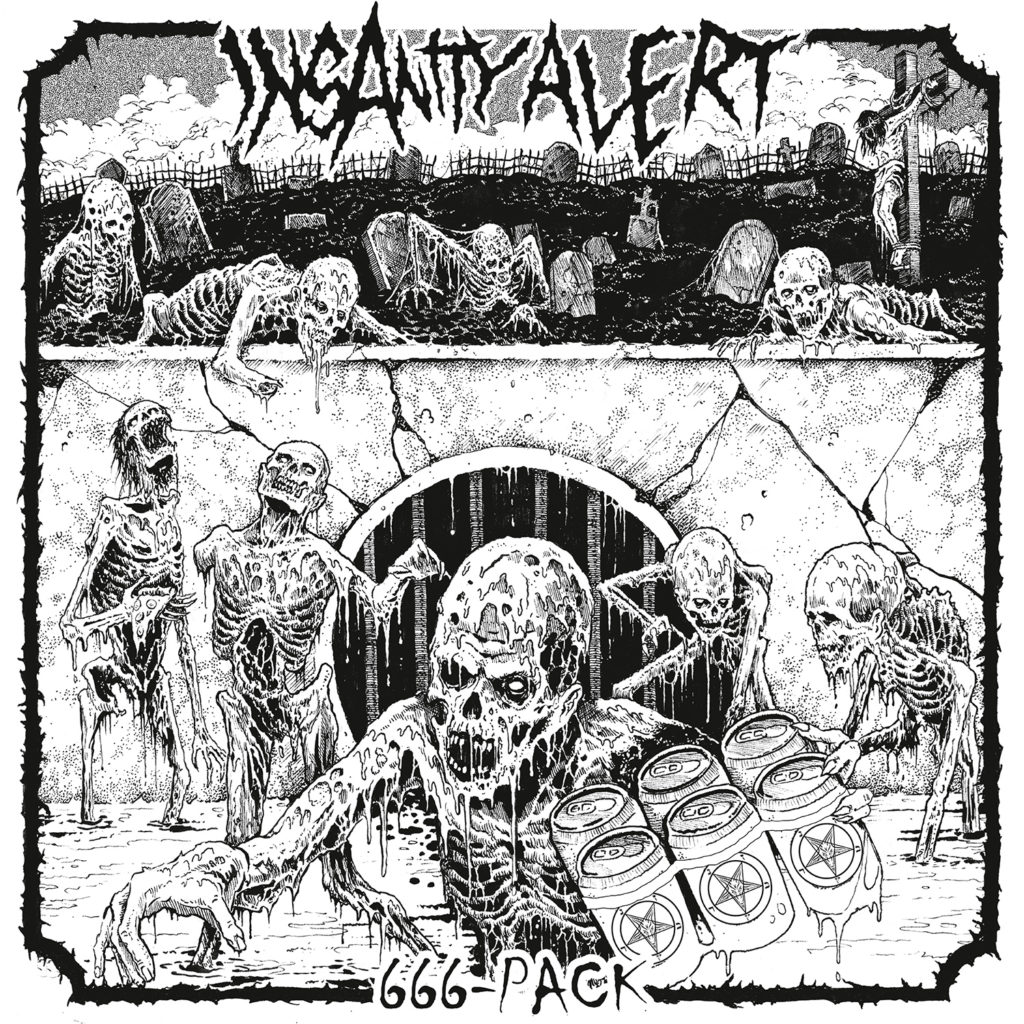 http://www.facebook.com/insanityalert/
http://twitter.com/insanityalert
http://www.instagram.com/insanityalert
http://www.season-of-mist.com
http://www.facebook.com/seasonofmistofficial
http://www.instagram.com/seasonofmistofficial
http://twitter.com/SeasonofMist