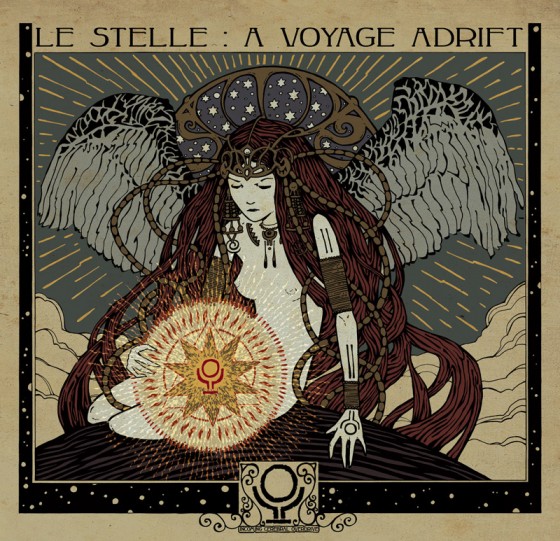 Italian riffmanglers INCOMING CEREBRAL OVERDRIVE are organizing to swarm the senses of forward-thinking extreme music fans the world over with their third LP, Le Stelle: A Voyage Adrift, this May via Supernatural Cat Records. Showcasing the progressively-charged act's unique methodological bombast with nearly 50 minutes of unclassifiable aggro-technical metallic thunder, even more focused yet equally as potent as their previous releases, Le Stelle: A Voyage Adrift is an album that will elevate the band from the cult depths they've roamed over recent years, its laser-induced riffs and neck-snapping time signatures will brand the name INCOMING CEREBRAL OVERDRIVE into the brains of all who endure the journey of the ten tracks on the LP.
Supernatural Cat have prepared a teaser for Le Stelle: A Voyage Adrift to give some brief insight into what the album beholds as it nears official release, now officially confirmed for worldwide release on May 7th. Get your first audio/visual sampling of the record here:
INCOMING CEREBRAL OVERDRIVE have will undertake a live excursion in preparation of the album's release through the second half of April, as direct support for Ufomammut, who are releasing Le Stelle: A Voyage Adrift on their own Supernatural Cat Records, as with ICO's previous LP Controverso.
INCOMING CEREBRAL OVERDRIVE April Euro Tour:
4/18/2012 Etnoblog – Trieste, Italy w/ Ufomammut
4/19/2012 Kapu – Linz, Austria w/ Ufomammut
4/20/2012 Feierwerk – Munich, Germany w/ Ufomammut
4/21/2012 Desertfest – Berlin, Germany w/ Ufomammut
4/22/2012 Burgerweeshuis – Deventer, Netherlands w/ Ufomammut
4/24/2012 The Garage – London, England w/ Ufomammut
4/26/2012 Magasin 4 – Brussels, Belgium w/ Ufomammut
4/27/2012 TBA
4/28/2012 Haus der Jugend – Freiburg, Germany w/ Ufomammut
4/29/2012 TBA
4/30/2012 Lochness Pub – Riva del Garda, Italy
http://www.myspace.com/incomingcerebraloverdrive
http://www.incomingcerebraloverdrive.com
http://www.supernaturalcat.com
http://www.facebook.com/pages/SUPERNATURALCAT/73791529788