New York City experimental black metal tacticians, IMPERIAL TRIUMPHANT, will release their long-awaited new full-length this March via Italy-based Aural Music's Code666 imprint.
Titled Abyssal Gods, the band's second long player was captured at Solitude Studios in Pennsylvania and Amy Mills Studios (Couch Slut, Epistasis) in New York , mixed and mastered by Colin Marston (Gorguts, Krallice, Nader Sadek, Atheist, Origin etc.) at Menegroth, The Thousand Caves in New York and boasts the apocalyptic cover craftings of Andrew Tremblay (Deadbots, Downlow'd, Deathface etc.). Focused on urban decay and the imminent extinction of mankind, IMPERIAL TRIUMPHANT's Abyssal Gods serves as the follow-up to the band's critically applauded, 2013-released Goliath EP and contains ten punishingly traumatic odes of strategically composed black-addled mayhem bedecked in angular riff incursions, bestial vocal tirades and an overall air of disease, dread and looming disaster as well as a guest appearance by Bloody Panda's Yoshiko Ohara and more.
In celebration of the record's impending unveiling, today Decibel Magazine heaves forth apocalyptic third movement, "Dead Heaven." Elaborates founder/main composer, Ilya Ezrin, "Although we are proud to be born in such a renown place, Abyssal Gods as a whole addresses New York City as a cancer of the world and the absolute fist of the universe. 'Dead Heaven' is the psalm of the end of the world. It deals with the universal deconstruction and celestial collapse. The lyrics were actually inspired by the observatory space lecture scene in Rebel Without A Cause."
Hear the sounds of a dying planet, as curated by IMPERIAL TRIUMPHANT, at THIS LOCATION.
Abyssal Gods Track Listing:
1. From Palaces of the Hive
2. Abyssal Gods
3. Dead Heaven
4. Celestial War Rape
5. Opposing Holiness
6. Krokodil
7. Twins
8. Vatican Lust
9. Black Psychedelia
10. Metropolis
In related news, IMPERIAL TRIUMPHANT will bring their infernal psalms to the stage alongside Canadian black metal heathens, Thantifaxath, on a near-two-week run of live incursions this Spring. The march will begin at Saint Vitus in Brooklyn, New York and storm its way through ten cities, with the tour coming to close at Baltimore at the Maryland Deathfest. The band will also play a one off show at The Acheron in Brooklyn, New York next month with additional live debauchery to be announced in the weeks to come.
IMPERIAL TRIUMPHANT:
2/20/2015 The Ahceron – Brooklyn, NY w/ Mountain God, Hercyn [info]
w/ Thantifaxath:
5/10/2015 Saint Vitus Bar – Brooklyn, NY
5/11/2015 Rockin Buffalo Saloon – Buffalo, NY
5/13/2015 Quarters – Milwaukee, WI
5/14/2015 5th Quarter Lounge – Indianapolis, IN
5/15/2015 Live Wire Lounge – Chicago, IL
5/17/2015 Carabar – Columbus, OH
5/19/2015 TBA – Knoxville, TN
5/20/2015 The Earl – Atlanta, GA
5/21/2015 The Brass Mug – Tampa, FL
5/24/2015 Maryland Death Fest – Baltimore, MD
Once commended by No Clean Singing for, "a sickening scintillation of the surreal and the sadistic that together conjure an evocative glimpse into hell," IMPERIAL TRIUMPHANT has been orchestrating vanguard black metal since 2005. Citing an eclectic palette of influences that includes everything from Deathspell Omega to Polish post-serialism composer Krzysztof Penderecki, the band features members of investigational death metal contortionists, Pyrrhon as well as instrumental rock collective Secret Chiefs 3 and New York death metal legion Malignancy
Abyssal Gods will be released in North America on March 10th, 2015 via Aural Music/Code666. Preorders to be announced shortly.
IMPERIAL TRIUMPHANT Personnel:
Ilya Ezrin – Guitars/Vocals/Orchestration
Erik Malave – Bass
Kenny Grohowski – Drums
Alex Cohen – Drums
Additional players:
M. Gorelick – Guitar Solo
Yoshiko Ohara – Female Choir
R.K. Halvørson – Male Choir
Andy Ezrin – Piano
Valerie Kuehne – Cello
Amy Mills – Trumpet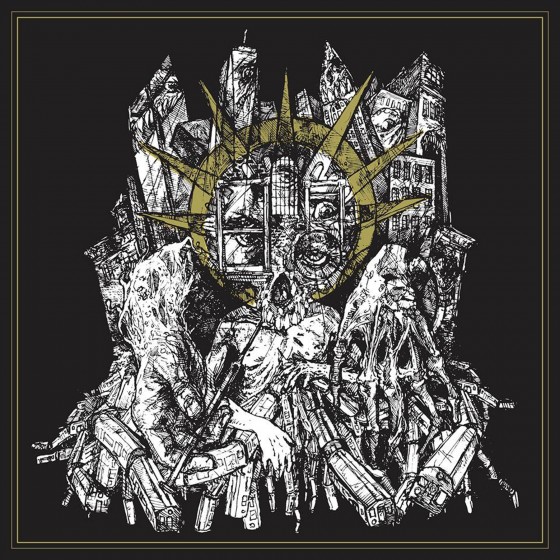 http://www.facebook.com/imperialtriumphant
http://www.auralmusic.com