Collected Atrocities 2005-2008, the demoralizing 2xCD early works collection from the torturous Dutch black/noise metal executioner Mories performing as GNAW THEIR TONGUES, is now just a week from release via Crucial Blast Records, and The Quietus today reintroduces a previously out-of-print track in commemoration of the impending street date. Initially unveiled on the limited For All Slaves… A Song Of False Hope CD, released in 2009 via Burning World Records, the more than eight-minute decimation of "A Fiery Deluge" is once again available for public intoxication, its waves of clanking bass and sweltering noise aiding the plodding electronically-manipulated chaos amidst a backdrop of exasperated cries of torment.
Witness the renaissance of GNAW THEIR TONGUES' incinerating, "A Fiery Deluge," at THIS LOCATION.
Also from Collected Atrocities 2005-2008, the previously unavailable track "Slaves" is playing at Sound Colour Vibration RIGHT HERE, and the re-unleashed "Glorification Of Rats" from the 2007-released Prefering Human Skin Over Animal Fur release HERE.
Collected Atrocities 2005-2008 is set for release on February 3rd; preorders for the 2xCD package including a massive color booklet and more are available, including a t-shirt bundle. Check out the detailed packaging through a new Youtbe vid-ad HERE and place orders for physical product HERE and the digital HERE.
Having only begun performing these cruel anthems live in the past several years, Mories will bring GNAW THEIR TONGUES and side-project, Aderlating, stateside for the very first time in 2015, with several new performances confirmed. The first stateside live set will take place at this year's Maryland Deathfest in Baltimore, as GNAW THEIR TONGUES takes the stage alongside Adversarial, Demoncy and Tsjuder at Ram's Head Live on Saturday, May 23rd. Several days later, GTT will invade NYC to take part in the 6th bi-annual, multiple-day Apex Fest, with the venue, dates and final lineup to be announced in the coming days. The news of these new live actions comes in addition to the recent announcement of the band's upcoming inclusion on the inaugural California Deathfest, initiated by the creators of Maryland Deathfest, October 9th through 11th in Oakland alongside Ævangelist, Antediluvian, Autopsy, Disma, Ghoul, Impaled, Loss, Noothgrush and Worship.
GNAW THEIR TONGUES Live:
5/23/2015 Ram's Head Live – Baltimore MD @ Maryland Deathfest [info]
10/09-11/2015 Oakland Metro – Oakland, CA @ California Deathfest [info]
Now in its tenth year, Dutch avant-black/doom entity, GNAW THEIR TONGUES has been infecting the underground with a uniquely disturbing brand of chaotic heaviness. Fusing together malevolent, rumbling doom with rabid, noise-damaged aggression and blasts of fearsome orchestral power and industrial pandemonium, and draping these lurching, hellish dirges in an oppressive atmosphere thick with horror and despair, the intensely nightmarish music of GNAW THEIR TONGUES defies easy categorization. The construction and execution of these hymns is the work of sole architect and madman, Mories, also known for other destructive output with Cloak of Altering, Pyriphlegethon, De Magia Veterum, Aderlating, Mors Sonat, Pompidou, Dimlit Hate Cellar and others. Before the debut An Epiphanic Vomiting Of Blood LP in 2007, GNAW THEIR TONGUES crawled into the black metal/industrial underground via a number of EPs which quickly went out of print, and are now sought after by fans of the band's abject blackened horror. Collected Atrocities 2005-2008 is a new double CD anthology that gathers together essential, out-of-print early recordings from the band that span the first three years of GNAW THEIR TONGUES's existence, compiling the Prefering Human Skin Over Animal Fur, Horse Drawn Hearse and For All Slaves… A Song Of False Hope EPs, the material from the Static Hymnal compilation, and other rarities from the bowels of the GTT archive.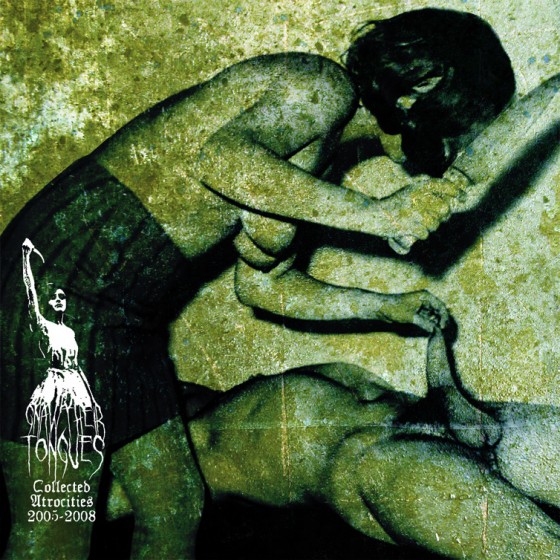 http://www.gnawtheirtongues.com
http://gnawtheirtongues.bandcamp.com/
http://www.facebook.com/pages/Gnaw-Their-Tongues/128655237208690
http://www.crucialblast.net
http://www.facebook.com/CrucialBlast
http://crucialblast.bandcamp.com