Experimental black metal architects, IMPERIAL TRIUMPHANT, are preparing to bring their twisted audio conjurings to the stage on a near-two week run of live abrasions alongside Canadian black metal heathens, Thantifaxath. The caravan of chaos will launch its sonic demolition at Saint Vitus Bar in Brooklyn, New York this Sunday, May 10th and pillage its way through eleven more cities, coming to a close at the Sidebar in Baltimore, Maryland on May 24th.
Comments the band, "We are excited to poison the lands of our country with the psychedelic threnody to heaven that is the IMPERIAL TRIUMPHANT."
IMPERIAL TRIUMPHANT w/ Thantifaxath:
5/10/2015 Saint Vitus Bar – Brooklyn, NY
5/11/2015 Rockin Buffalo Saloon – Buffalo, NY
5/13/2015 Quarters – Milwaukee, WI
5/14/2015 5th Quarter Lounge – Indianapolis, IN
5/16/2015 TBA – Pittsburgh, PA
5/15/2015 Live Wire Lounge – Chicago, IL
5/17/2015 Carabar – Columbus, OH
5/18/2015 Al's – Lexington, KY
5/19/2015 Poison Lawn – Knoxville, TN
5/20/2015 The Earl – Atlanta, GA
5/21/2015 The Brass Mug – Tampa, FL
5/24/2015 Sidebar – Baltimore, MD * no Thantifaxath
IMPERIAL TRIUMPHANT has been orchestrating vanguard black metal since 2005. Citing an eclectic palette of influences that includes everything from Deathspell Omega to Polish post-serialism composer Krzysztof Penderecki, the band features members of investigational death metal contortionists, Pyrrhon as well as instrumental rock collective Secret Chiefs 3 and New York death metal legion Malignancy. The band will be touring in support of their pulverizing Abyssal Gods full-length, released earlier this year via Italy's Code666.
Captured at Solitude Studios in Pennsylvania and Amy Mills Studios (Couch Slut, Epistasis) in New York and mixed and mastered by Colin Marston (Gorguts, Krallice, Nader Sadek, Atheist, Origin etc.) at Menegroth, The Thousand Caves, also in New York, Abyssal Gods channels its ire through ten harrowing hymns of meticulously-composed black-torn mayhem adorned in angular riff invasions, bestial vocal tirades, dissonant atmospheres and an overall air of dread, disease and looming disaster. The record includes guest choral chants from Bloody Panda's Yoshiko Ohara as well as male choral vocals by RK Halvørson in the track 'Krokodi' (sung completely in Russian).
In an 8/10 review of the record, Decibel issues, "The New York-based urban futurist quartet's second full-length showcases their capacity for coaxing maximal results from minimal budgets even more effectively than 2013's Goliath EP… Abyssal Gods comes out of the gate like Aosoth embracing their inner Portal, with guest guitarist Max Gorelick's unhinged war metal solo (no way you'd guess he's Kenny G's offspring) heralding the arrival of founder, guitarist, vocalist and principal songwriter Ilya Ezrin's lush gutturals," furthering, "From Caterpillar-treaded death/doom ('Dead Heaven,' 'Twins') to otherworldly choral interludes (hither and yon), by way of Cecil Taylor-flavored closer 'Metropolis,' the album covers nearly as much ground as the town that inspired it." Meat Mead Metal concurs, "It's furious and fascinating, always twisting and turning itself into a brand new beast. IMPERIAL TRIUMPHANT have succeeded in injecting a sense of unseen danger into their work, and you're going to be on the edge of your seat as you're moved by the drama and kept alert in case you need to run for your life." Adds The Metal Observer, "…it really is hard to articulate just how goddamned unsettling Abyssal Gods is. That these guys specialize in metal ripped straight from the maw of hell was already abundantly clear on Abominamentvm (2012) and the Goliath EP (2013), but it's on Abyssal Gods that they well and truly spread their creative wings by barreling headlong into some of the most discordant and structurally complex black metal this side of Deathspell Omega."
Sample the trauma of Abyssmal Gods, still streaming in full at Cvlt Nation at THIS LOCATION.
Abyssal Gods is available via Aural Music/Code666 at THIS LOCATION.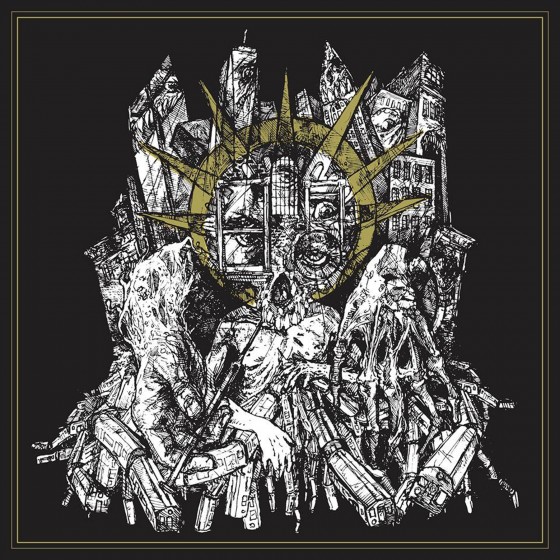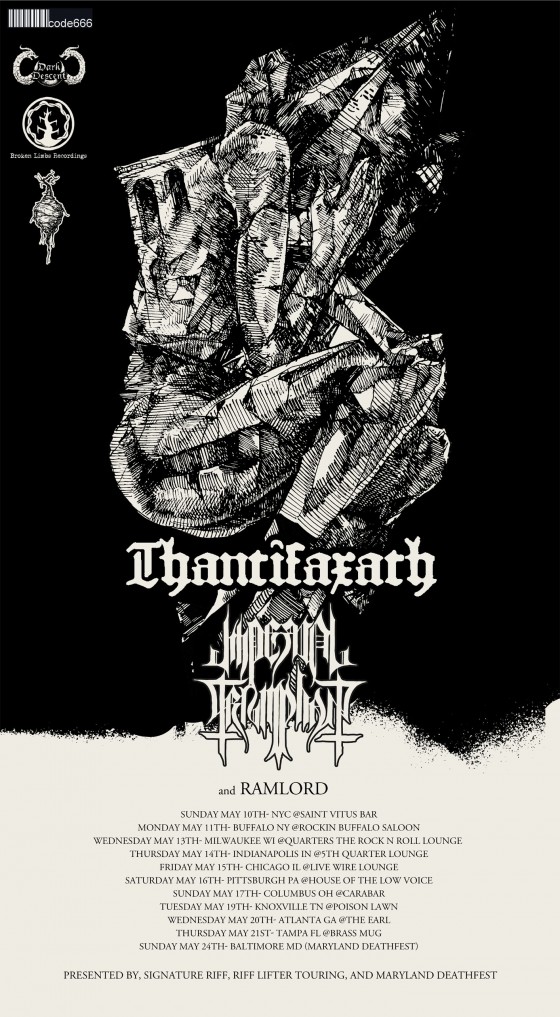 http://www.facebook.com/imperialtriumphant
http://www.auralmusic.com