Chicago plague-bringers, IMMORTAL BIRD, kick off their US headlining tour this evening in Denver. The tour will level fifteen stages in nine states and includes a stop at Southwest Terror Fest IV this weekend coming to a close on October 30th in Minneapolis. IMMORTAL BIRD will be joined by Colombian Necktie as well as Metal Blade recording artists Secrets Of The Sky on select dates.
IMMORTAL BIRD continues to tour in support of their critically-adored Empress/Abscess full-length, released earlier this Summer via a collaborative effort with Broken Limbs Recordings (vinyl/cassette) and the band's own Manatee Rampage Recordings (CD/digital). Recorded by Pete Grossmann (Weekend Nachos, Harms Way, Dead In The Dirt) at Bricktop Recording in Chicago, Illinois and mixed and mastered by Colin Marston (Gorguts, Krallice, Nader Sadek, Atheist, Origin etc.) at Menegroth, The Thousand Caves in Queens, New York, Empress/Abscess is a vexing sound excursion through the very bowels of human existence. Picking up where 2013's lauded Akrasia EP left off, the record delves deeper into an audio cesspool of desolation, wrath, and overall suffering and with its members having sharpened their skills both as individual musicians and as a functioning unit, the final outcome is nothing short of terrifying.
IMMORTAL BIRD:
10/12/2015 Mutiny – Denver, CO
10/13/2015 Flux Capacitor – Colorado Springs, CO
10/14/2015 Duke City Sound – Albuquerque, NM
10/16/2015 Southwest Terror Fest – Tucson, AZ w/ Sleep, Brothers Of The Sonic Cloth, Dropdead, Xibalba, Landmine Marathon, more…
10/19/2015 Soda Bar – San Diego, CA w/ Colombian Necktie
10/20/2015 Perez Tire – Los Angeles, CA w/ Colombian Necktie
10/21/2015 The Golden Bull – Oakland, CA w/ Secrets Of The Sky
10/22/2015 Starlite Lounge – Sacramento, CA w/ Secrets Of The Sky
10/23/2015 Wandering Goat – Eugene, OR
10/24/2015 High Water Mark – Portland, OR w/ Secrets Of The Sky
10/25/2015 The Highline – Seattle, WA w/ Secrets Of The Sky
10/26/2015 The Valley – Tacoma, WA
10/27/2015 Black Sparrow Tattoo Club – Billings, MT
10/28/2015 Latitude 44 – Sioux Falls, SD
10/30/2015 Eagles 34 – Minneapolis, MN
Empress/Abscess is available now on vinyl and cassette HERE and on CD and digitally HERE.
"There is some serious venom in this music." – Bearded Gentlemen
"…a densely layered meditation on anger and abuse, and an equally challenging collage of extreme music sub-genres." – Invisible Oranges
"IMMORTAL BIRD takes everything intoxicating about their debut – nasty, nasty vocals, an ethereal aesthetic deftly intertwined with machine-like, grinding precision, and pure musicality – and expounds on them tenfold while taking their sound on new and imaginative flights." – Metal Insider
"Thoroughly engrossing from start to finish, Empress/Abscess is an impressive display of genre-mashing that others simply dream of attaining…" – Dead Rhetoric
"…a raging slab of sludgy blackened deathgrind that signals another step forward towards potential greatness in years to come." – Teeth Of The Divine
" If the band's goal was to drag the listener across the hot sticky pavement of some dystopian Epcot Center of aggro styles, mission-fucking-accomplished." – Dusted Magazine
"…there's definitely something incredible going on here and it's fundamental to the future of heavy metal music." – The Grim Tower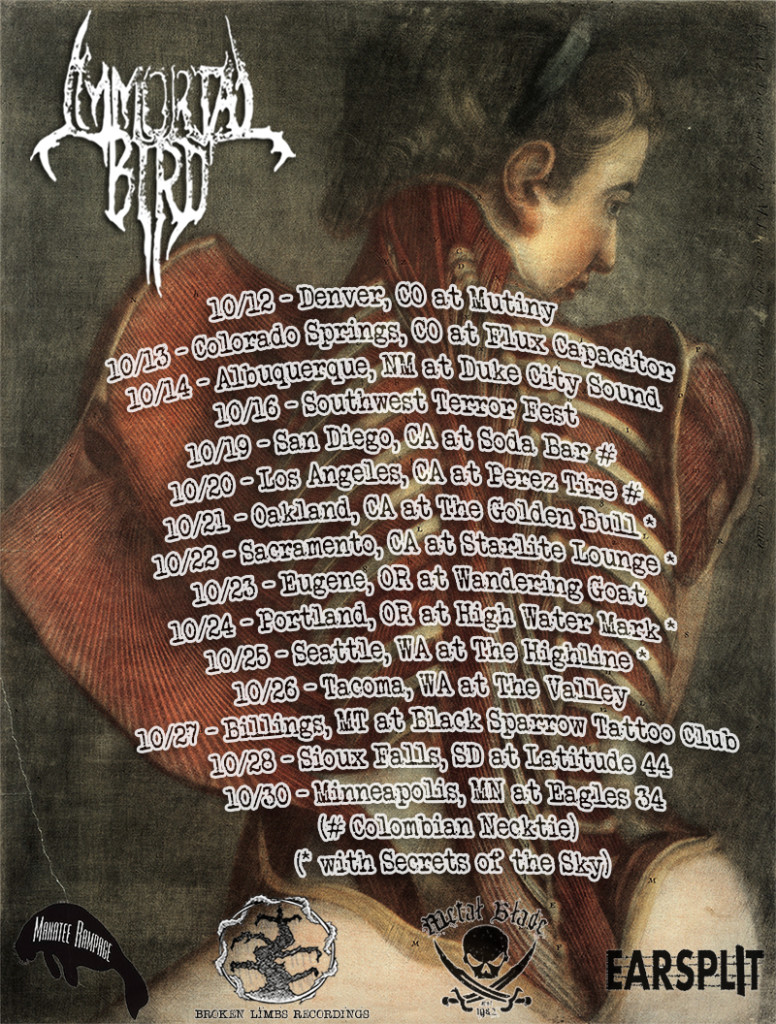 http://www.facebook.com/immortalbirdband
http://www.facebook.com/brokenlimbs