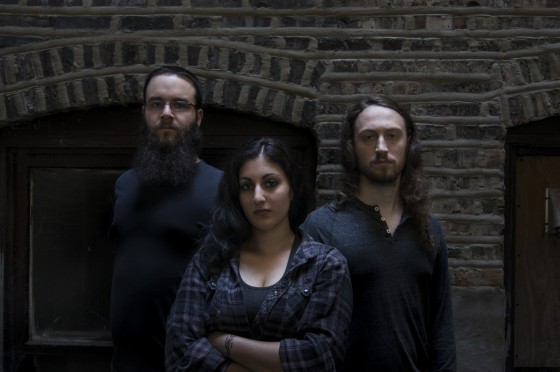 Chicagoan blackened death/thrash day-ruiners, IMMORTAL BIRD, will bring their odes of deviance and decay to the stage next month on a short rash of North American live incursions.
Set to initiate on October 15th, 2014 on their home turf at the Cobra Lounge, IMMORTAL BIRD will pillage their way through nine metropolises sharing the stages with Pyrrhon, Krieg and Dead Congregation on select dates. The tour follows the band's recent takeover of Tampa's Southern Darkness Fest last month and marks their first time ever performing on Canadian soil.
Relays vocalist/drummer Rae Amitay: "Our little road trip to St. Louis with Mortals in July and our not-so-little road trip to Tampa for Southern Darkness Fest made us want to go out for a bit longer this Fall. We've been writing a lot of material for our new album and we're looking forward to taking some of it on the road before we record. Plus, we all want to see some of that famed New England Fall foliage. Nothing says 'kvlt as fvck' like hot apple cider and sweater weather."
IMMORTAL BIRD Autumn 2014 Tour:
10/15/2014 Cobra Lounge – Chicago, IL at Cobra Lounge w/ Pyrrhon, Artificial Brain
10/16/2014 Coach & Horses – Windsor, ON
10/17/2014 Duffy's Tavern – Toronto, ON
10/18/2014 Sammy's Patio – Revere, MA
10/20/2014 Saint Vitus – Brooklyn, NY w/ Dead Congregation, Mausoleum, Pissgrave, Svart Crown
10/21/2014 Millcreek Tavern – Philadelphia, PA w/ Krieg
10/22/2014 Skid Row Garage – York, PA w/ Krieg
10/23/2014 Howlers – Pittsburgh, PA
10/24/2014 Carabar – Columbus, OH
IMMORTAL BIRD continues to tour in support of their maniacal Akrasia EP, released late last year via .Closed Casket Recordings. Recorded at Lo-Tech Laboratories by unsung Windy City audio magician Jeff Ziolo, mixed by Kurt Ballou (Converge, Isis, High On Fire, Skeletonwitch) at Godcity Studio, and mastered by Brad Boatright (Sleep, From Ashes Rise, Nails, All Pigs Must Die) at Audiosiege, Akrasia thrusts forth four disparaging hymns of hate, gracefully consuming grimness and psychosomatic anguish all led by the punishing vocal ambushes of Amitay (Thrawsunblat). Nearly twelve months since its official descent, the EP continues to earn critical accolades from respected media outlets both stateside and abroad. Decibel Magazine calls Akrasia, "dark and twisting," while Invisible Oranges commends the EP's, "inward-looking cosmopolitan ugliness that sometimes evokes a less-patient version of early Castevet." Elsewhere the sentiment echoes. The Chicago Reader applauds the band's, "…sick and greasy black metal that does an admirable job inventing the sound of a mind tearing itself apart," in a 10/10 rating This Is Not A Scene applauds Akrasia's "…nineteen minutes of metal greatness," while Metalbandcamp.com likens the band to a, "death metal Ludicra."
Check out a recent in-depth interview with Amitay courtesy of Invisible Oranges HERE as well as some vicious live footage of the band performing "The Pseudoscientist" below.
Akrasia is out NOW via Closed Casket Recordings. Order your copy today at THIS LOCATION.
"The Pseudoscientist" by IMMORTAL BIRD from Skeleton Crew Media on Vimeo.