Blackened death grind unit IMMORTAL BIRD will close out the year with a short run of live dates this Fall with Philadelphia sludge quintet Witching. The trek begins November 29th in Columbus and makes its way to Brooklyn, Philadelphia, and Washington, concluding on December 3rd in Pittsburgh.
Comments vocalist Rae Amitay of the band's return to the road, "It's a short and sweet run with some of the best people we know. We've been writing our new album, but we've missed touring, of course. Closing out the year with these shows will be motivating as we head into 2022 — we are cautiously optimistic about our plans and hope to be playing a lot more."
IMMORTAL BIRD w/ Witching:
11/29/2021 Ace Of Cups – Columbus, OH
11/30/2021 Saint Vitus Bar – Brooklyn, NY
12/01/2021 Kung Fu Necktie – Philadelphia, PA
12/02/2021 Atlas Brew Works – Washington, DC
12/03/2021 Black Forge II – Pittsburgh, PA
IMMORTAL BIRD will be touring in support of their Thrive On Neglect full-length, released in July of 2019 through 20 Buck Spin. With a multi-layered sound running the gamut from pummeling grind and death metal to dissonant blackened metal, angular noise, and complex hardcore, IMMORTAL BIRD defies simple categorization. The band's compositions fuse into strikingly savage songs, vast in their scope and more than the sum of their disparate parts, merging the progressive and destructive into a maelstrom of raging fire. Rae Amitay's seething vocal exorcisms and targeted lyrical aggression provide the connective tissue holding the stylized violence together. Featuring the punishingly heavy production work of Dave Otero (Archspire, Cattle Decapitation, Khemmis), ideally suited for IMMORTAL BIRD's tumultuous arrangements and orchestrated chaos, Thrive On Neglect takes the perilous road of musical diversity and commands it with a bloodthirsty rage.
IMMORTAL BIRD's Thrive On Neglect is out now on CD, LP, and digital formats. For physical orders, go to THIS LOCATION. Find digital orders at the 20 Buck Spin Bandcamp at THIS LOCATION.
"… a take-no-prisoners-and-add-no-filler kind of record; each song is loaded with a sense of urgency and notes don't feel wasted or unnecessary. Vocalist Rae Amitay is on fire on Thrive On Neglect, delivering each line with a throat-shredding tone that matches her bandmates' furious playing. There's something for everyone here: blackened, blasting insanity, crushing down-tuned parts and even a few opportunities for quiet introspection." – Decibel Magazine
"There is an undeniable element of danger that the band is able to capture, almost as if they themselves don't know what's coming next, whether it be a violent tempo change, a burst of dissonance or a hardcore-infused transition into a blackened dirge." – Metal Injection
"A band making beautiful music for a broken sort of person." – Kerrang's 50 Best American Metal Bands From The Last Decade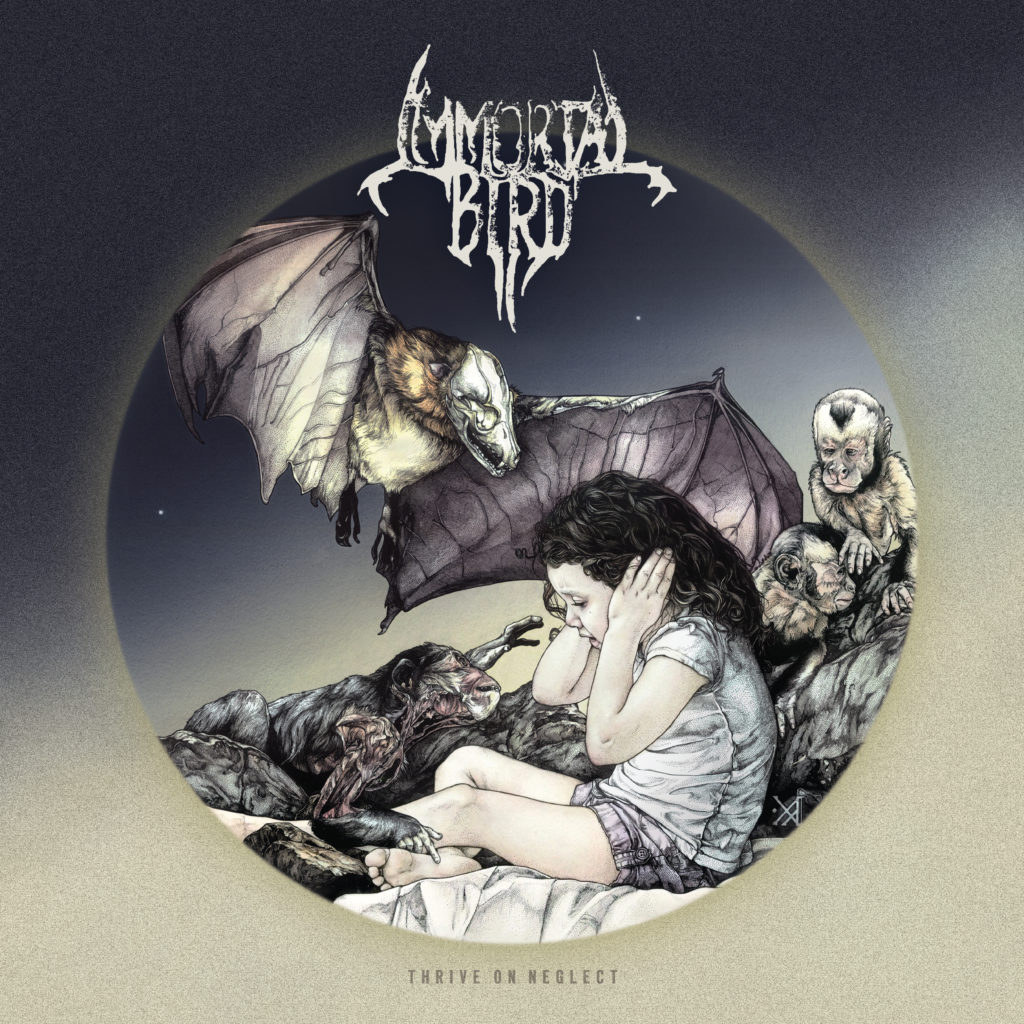 http://www.facebook.com/immortalbirdband
http://www.20buckspin.com
http://www.facebook.com/20buckspin
http://www.twitter.com/20buckspinlabel
http://www.listen.20buckspin.com