Underground death doom cult ILSA is pleased to debut the official video for "Old Maid." Directed by Jeffrey Sisson (Exhumed, Gruesome), the track comes by way of the band's recently released Corpse Fortress full-length and is currently playing now courtesy of Revolver Magazine.
Issues the esteemed publication, "The black-and-white clip, which appears to be inspired by the Salem witch trials, features a dour day at the gallows complete with witches, spells, heathens, beheadings, and even a hanging. It's a cruel reminder of the brutal history of our past, as well as an excellent excuse to hear a positively merciless steamroller of a track flatten everything in its path. Fans of Celtic Frost, Hellhammer, Cianide, Integrity, Coffins, Eyehategod, and more are gonna love this."
ILSA released Corpse Fortress via Relapse in March. Recorded by Kevin Bernsten (Full Of Hell, Code Orange, Magrudergrind, Integrity) in Baltimore, Maryland at Developing Nations, Corpse Fortress delivers nine tracks forged in filth with dense layers of emotionally draining sludge, murky, primordial doom, and feedback-laden, crusty death metal. Corpse Fortress is easily the rawest, most abhorrent, and nasty album in ILSA's decade-long career and the perfect soundtrack for the initiated miscreants of this rapidly dying orb.
Corpse Fortress is available now on CD, LP, deluxe LP and digital formats via Relapse Records. Physical packages are available via Relapse.com HERE and digital downloads via all retail outlets HERE.
In related news, ILSA will join Missouri-based doom trio Fister for a short run of US/Canadian live dates this fall. The tour begins November 16th in San Diego, California and ends November 22nd in Vancouver, British Columbia. ILSA will also perform select shows in the coming weeks with Monolord and All Pigs Must Die. See all confirmed dates below.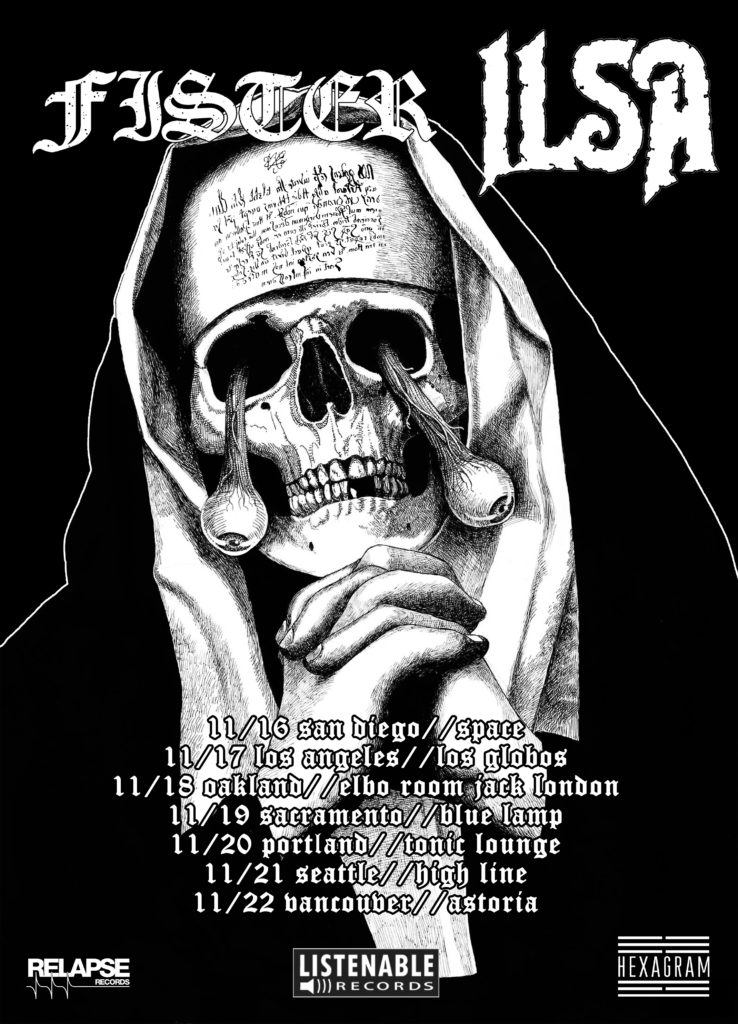 ILSA:
9/05/2018 The Middle East – Cambridge, MA w/ Monolord
9/08/2018 Metro Gallery – Baltimore, MD w/ All Pigs Must Die
9/10/2018 Saint Vitus Bar – Brooklyn, NY w/ Monolord
9/11/2018 Kung Fu Necktie – Philadelphia, PA w/ Monolord
w/ Fister:
11/16/2018 Space – San Diego, CA
11/17/2018 Midnite Communion V @ Los Globos – Los Angeles, CA
11/18/2018 Elbow Room Jack London – Oakland, CA
11/19/2018 Blue Lamp – Sacramento, CA
11/20/2018 High Water Mark – Portland, OR
11/21/2018 The Highline – Seattle, WA
11/22/2018 Astoria – Vancouver, BC
Formed in 2008, Washington, D.C.-based sextet ILSA has wasted no time in spreading its unique brand of cloying, compelling, death/doom throughout the underground and beyond. Ever since the release of their debut full-length The Maggots Are Hungry (Odium Generis Humani), ILSA has lived and breathed a raw musical lifestyle, producing nearly one effort every year, including three additional full-length LPs and three splits with like-minded extreme metal comrades Coffins, Seven Sisters Of Sleep, and Hooded Menace. Each release features the detailed black and white artwork of drummer Joshy Brettell, who also drums in the legendary hardcore act Integrity. The band has shown just as much ambition on the live circuit as well, performing at numerous festivals including Maryland Deathfest and various shows with Windhand, Noothgrush, Full Of Hell, Magrudergrind, and many others. After the May 2015 release of the band's fourth album, The Felon's Claw (A389 Recordings), ILSA signed to Relapse Records for their impending fifth album, Corpse Fortress. No Gods; No Masters.
"Corpse Fortress rides hard along the crumbling path trodden by down-tuned degenerates like Autopsy, Bolt Thrower, Asphyx, and crust punk heavyweights Antisect and Anti Cimex, and is crowned with a warm, wooly guitar tone that's pure rotten filth, a subterranean low end, and strained, shredded vocals." – Noisey
"…the filthiest of modern doom's foul misanthropes…" – Pitchfork
"…a glacially paced, heavily fuzzed-out crusher, featuring melodic leads and near infinite playability. It's mean and relentless, much like the band's new LP Corpse Fortress." – Revolver on "Long Lost Friend"
"…a superb experience because it offers riveting song technicality and grand emotion…Their blend of death, doom, and sludge creates a cosmic atmosphere of dread and mystery – grabbing audiences and dragging them into a profound darkness." – Metal Injection
"The D.C band's fifth full length finds them continuing to hammer skulls in with the sheer density of their blown out brand of sludge. Dirty and squealing with feedback, something about their sound has always felt streetwise. This sense of danger makes me picture them waiting for a knife fight in the back alley of the club." – Cvlt Nation
"…one of most sinister sludge records that you'll get to hear." – Itdjents
http://www.facebook.com/ILSADC
http://www.instagram.com/ilsadoom
http://www.twitter.com/Ilsa_DC
http://www.relapse.com
http://www.relapserecords.bandcamp.com
http://www.facebook.com/RelapseRecords
http://www.twitter.com/RelapseRecords