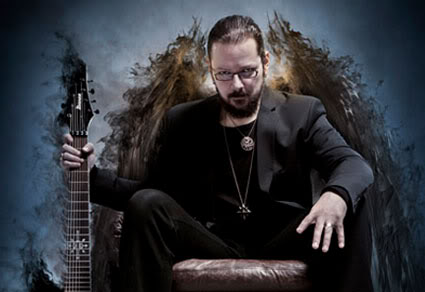 Former Emperor vocalist/guitarist IHSAHN will make his first American solo appearance at ProgPower USA, scheduled September 14-17 at Center Stage in Atlanta. Confirmed by festival organizer Glenn Harveston, IHSAHN replaces Arcturus on the Friday evening lineup of the popular music festival. Tickets are nearly sold out; fans are encouraged to buy tickets now.
IHSAHN comments, "I am very excited to get the opportunity to play at ProgPower. My backing band, Leprous, played the festival last year and had a fantastic time. Given the nature of my solo-material, I believe this festival will be a great place to present it live. I have already performed at several festivals/shows in Europe in 2009/2010 and will do a few more this year."
IHSAHN's performance is expected to include selections from all three solo albums – The Adversary (2006), Angl (2008) and his most recent, After (2010). "As compelling as Emperor's best," says Decibel in a review of After in their February 2010 issue. Continuing, the magazine notes, "IHSAHN sounds as fresh as he did fifteen years ago, but with the hindsight of a grown man." Revolver called the album, "brimming with classical, goth, prog, and eighties-metal passages."

After completes IHSAHN's planned trilogy of initial recordings. The album showcases the Norwegian icon with drummer Asgeir Mickelson (Spiral Architect), bassist Lars K. Norberg (Spiral Architect), and saxophonist Jorgen Munkeby (Shining). Currently at work on his fourth album, IHSAHN confirms he is eighty percent done with the songwriting and is planning for a mid-2012 release.
Spellemann (Norwegian Grammy) Award Nominee IHSAHN (born Vegard Tveitan) began playing music at a very early age. As a teenager, his friendship with Tomas Haugen (a.k.a. Samoth) would trigger the start of his music career — one that to date includes over fifty individual recordings, five high-profile Emperor European tours (the band reaching US shores on only three occasions) and the respect of fans and peers worldwide. In mid-2009, IHSAHN gave his first live performance in Oslo supporting Opeth.
IHSAHN is endorsed exclusively by Ibanez Guitars, Line 6, Steinberg and Blackstar Amplification.
Tickets for ProgPower USA are available now via Ticketmaster.
http://www.ihsahn.com
http://www.candlelightrecordsusa.com
http://www.progpowerusa.com