West Coast atmospheric sound conjurors, IDES OF GEMINI, will bring their sonic rituals to the stage this Spring supporting indie folk rock trio, Mountain Goats. Slated to commence on April 2nd, 2015 in Nashville, Tennessee, the journey will coil its way through seventeen cities coming to a close April 23rd, 2015 in Millvale, Pennsylvania.
"We are beyond thrilled to be going on tour with Mountain Goats this Spring," IDES OF GEMINI guitarist J. Bennett says. "And we're honored that John Darnielle and his bandmates chose to bring us along for the ride. I can't think of another bill that's quite like this one, so I've gotta give them huge props for taking a chance on us and doing something different."
IDES OF GEMINI w/ Mountain Goats:
4/02/2015 Mercy Lounge – Nashville, TN
4/03/2015 Grey Eagle – Asheville, NC
4/04/2015 The Jinx – Savannah, GA
4/07/2015 Cat's Cradle – Carrboro, NC
4/08/2015 9:30 Club – Washington, DC
4/09/2015 Webster Hall – New York, NY
4/11/2015 City Winery – New York, NY
4/12/2015 City Winery – New York, NY
4/13/2015 Union Transfer – Philadelphia, PA
4/14/2015 House of Blues – Boston, MA
4/16/2015 Bogart's – Cincinnati, OH
4/17/2015 Majestic Theatre – Detroit, MI
4/18/2015 Vic Theatre – Chicago, IL
4/19/2015 Cedar Cultural Center – Minneapolis, MN
4/21/2015 Headliners – Louisville, KY
4/22/2015 Wexner Center – Columbus, OH
4/23/2015 Mr. Smalls Theatre – Millvale, PA
IDES OF GEMINI features Bennett, drummer Kelly Johnston-Gibson and the haunting vocal prowess of singer/bassist Sera Timms, also of West Coast dark-psych conjurors Black Mare. The trio will be touring in support of their critically championed Old World New Wave full-length released in September via Neurot Recordings. Captured at Valley Recording in Burbank, California, engineered and mixed by Chris Rakestraw (Danzig) and mastered by Grammy award winning producer Matt Hyde (Slayer), Old World New Wave offers up nine tracks of dark, mesmerizing soundscrapes. Bearded Gentlemen Music crowns the record "…an enjoyable dream-doom filled sonic journey from start to finish," while Noisey notes, "…there's enough droney doom on [Old World New Wave] to make you feel like you're stuck in David Lynch's dreams." Invisible Oranges gushes, "IDES OF GEMINI has a knack for atmosphere, for creating a world of sound and inviting the listener in. Their music has the feel of a classic horror film: all psychology, no fake blood or cheap startles. If there's a goth revival afoot in metal culture – and, given last year's releases by In Solitude, Beastmilk and others, there's certainly an argument to be made for that – then IDES OF GEMINI is among its most evocative front-runners." Adds Decibel, "A stark blend of black metal-derived guitar riffs, rigid, martial beats, and the haunting, gothic vocal harmonies of bassist Sera Timms and drummer Kelly Johnston-Gibson, this album washes over the listener, feeling simultaneously comforting and unsettling. Better yet, there are moment that see the band exploring more hook-oriented material… which makes you wonder just how much the band's 2013 tour with Ghost B.C. had an effect on them."
IDES OF GEMINI's Old World New Wave is out NOW on CD and digitally via Neurot Recordings and on vinyl via SIGE Records. For CD orders, point your browser HERE and for T-shirt bundles, point your browser to THIS LOCATION.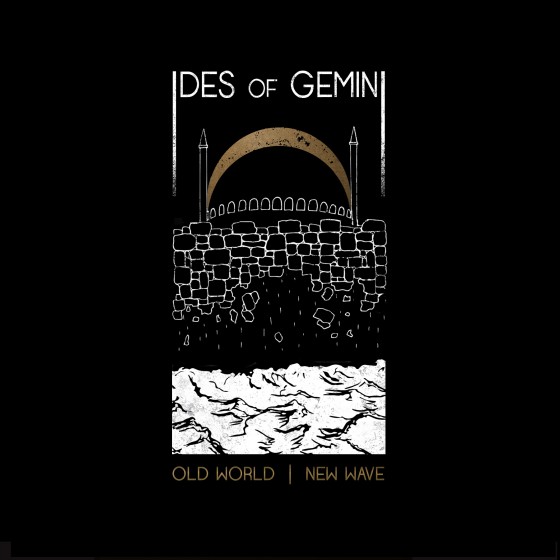 http://www.idesofgemini.blogspot.com
http://www.facebook.com/IdesofgeminI
http://www.idesofgemini.bandcamp.com
http://www.neurotrecordings.com
http://www.facebook.com/neurotrecordings