While Brooklyn-based FASHION WEEK is currently plowing through the Southeastern US in pre-release support of their debut album, Prêt-à -Porter, the track "Chorusace" has been revealed through a wild video, hosted by American Aftermath. The band's caustic tones are delivered in the rawest form possible for the visual delivery of the track; performed live right on the streets of New York City in the dead of Winter.
Go batshit in the streets with FASHION WEEK's "Chorusace" video RIGHT HERE.
Album opener "Fendi Bender" was released exclusively through Revolver HERE.
France's Solar Flare Records will release Prêt-à -Porter on 12″ vinyl and all digital formats on February 23rd. Preorders for both physical versions which include digital downloads have been made available HERE and both versions in a t-shirt bundle HERE.
FASHION WEEK's Southeastern US run with Austin-based Skyacre is now underway, as the tour raids Huntsville tonight, then continues through this Sunday, March 15th. A week later, the band will join Primitive Weapons supporting the ongoing Whores and Retox tour at trusted Brooklyn liquor/speaker cabinet, Saint Vitus Bar, on Saturday, February 21st, the gala now stolen by FASHION WEEK as their Prêt-à -Porter record release show.
FASHION WEEK Tour Dates:
2/10/2015 Copper Top – Huntsville, AL w/ Skyacre
2/11/2015 Eisenhouser – Murfeesboro, TN w/ Skyacre
2/12/2015 Springwater – Nashville, TN w/ Skyacre
2/13/2015 M.F. Metal Music – Little Rock, AR w/ Skyacre
2/15/2015 The Yeti – Tulsa, OK w/ Skyacre
2/21/2015 Saint Vitus Bar – Brooklyn, NY *record release show w/ Retox, Whores, Primitive Weapons
The FASHION WEEK sect unites a lovingly scummy cast of NYC amp-heads who have collectively deafened many humans through work with Jarboe, Man's Gin, Nakatomi Plaza, Go Deep, Family, Vampillia and many more this millennium, who within this unit, dispatch a brew of belligerence that remains somewhat unclassifiable, although elements of an awesome host of influences course through the somehow cohesive creations. Engineered by Andrew Schneider (Cave In, Unsane, East Of The Wall), eight scathing works jam a half-hour of dynamic, grunge and noise-soaked, metallic freakout on Prêt-à -Porter, the entire album throwing enough twists, turns and surprises at the listener than a blindfolded pogo-stick excursion through a field of landmine-lined trampoline pits. One minute it sounds like Mudhoney took a wrong turn into a meat grinder at Quicksand's joint, the next, it's Botch fighting Bloodlet for wonkiest bass and most corrosive vocals, and when the really pretty clean vocal and piano passages slip on in, all bets are off.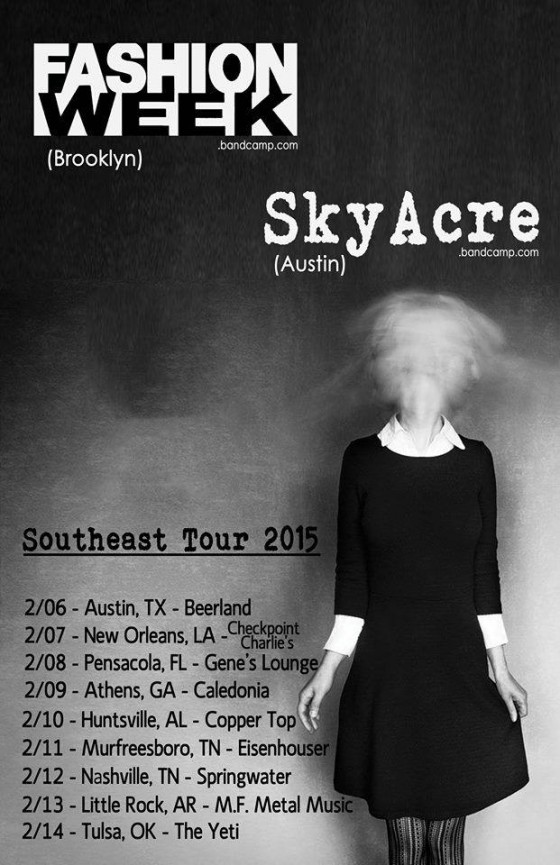 http://www.facebook.com/FashionWeekBand
http://fashionweek.bandcamp.com
http://www.solarflarerds.com
http://facebook.com/solarflarerecords
http://solarflarerds.bigcartel.com