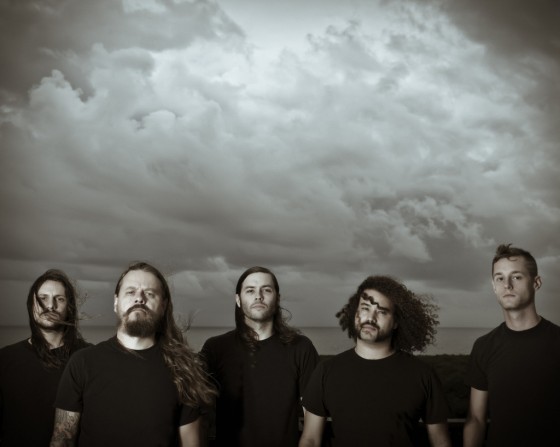 Brooklyn sludge rock ensemble HULL will ring in the New Year with an appearance on The Learning Channel's Cake Boss: The Next Great Baker this Monday, January 16, 2012 at 9:00PM EST. The Cake Boss: The Next Great Baker is a TLC series hosted by Buddy Valastro, the star of his own reality series, Cake Boss. The show features contestants participating in challenges that test their baking and decorating skills.
Commented guitarist/vocalist N. Palmirotto: "We received this email from a production manager from the TV show, The Next Great Baker, a Cake Boss spin off, asking us if we would like to perform on the show. It was during the time that the Big Four were in town, and Megadeth were originally asked to perform for Mauro's birthday — Mauro Castano is the Cake Boss' right-hand man and brother-in-law — as he was always a big metalhead back in the day, but Megadeth couldn't do it for whatever reason. HULL was mentioned at a board meeting, and low and behold, they contacted us. We showed up in Hoboken on a rainy afternoon to a huge production. They had us set up and perform on top of two box trucks while the contestants displayed their best attempts at metal-themed birthday cakes. It was truly a one of a kind experience, and we are very much looking forward to Episode 8, Headbanging Bakers, on January 16th."
For more info on the show, point your browser to the official website HERE.
HULL recently unleashed their Beyond The Lightless Sky opus, which continues to earn critical praise from fans and media alike. Released via The End Records, Beyond The Lightless Sky was co-produced by Brett Romnes, mixed by Billy Anderson (Sleep, Neurosis, Melvins, et al).and features guest appearances by vocalist Jarboe, keys/ambiance by Fade Kainer(Batillus/Jarboe/Inswarm ) and cello by Joe Merolla with artwork by Tamara Waite-Santibanez.
"Beyond The Lightless Sky doesn't stay in one place for too long; instead, it veers between motorcycle-revving D-beat, bog-trawling doom, sinister black metal, Neurosis drum-offs and hypnotic passages that gnash like a venom-dripping cousin to the final Isis album." — Village Voice
"While drawing from the thunder of Isis and early Mastodon, the band also creeps in soaring melodies that border on Torche territory." — Brooklyn Vegan
"Headbanging, growling, deliciously downtuned stoner metal. Hull s three guitar attack achieves maximum sludgery, bashing your skull into the wall with a sledgehammer and smearing your brains across the floor." – Metalsucks
"HULL are well-educated in the school of metal, proving themselves to be as equally adept at Melvins-derived abstract, skull-crushing sludge as they are at proggy-guitar workouts or spiraling thrash-cum-punk riffs…" — The Skinny
"…a determined and significant release, and one thoroughly deserving of a lot more visibility in the realms of heaving, epic metal." — Pop Matters
"…immense and nimble; ponderous and powerful…" — Exclaim
"The balance is still there between traditional ebbing post rock builds and hues and epic mountainous crescendos, but when HULL put their foot on the pedal its much more gravel than sludge." — Teeth Of The Divine/Roadburn.com Album Of The Day
"They do have the sludge/post-metal spine, and that's important, but their willingness to bloom beyond is what should keep HULL special and relevant well into the future." — Metal Maniacs
"There is a fantastic amount of riffs you're going to want to repeatedly hear on this record. Couple that with some guitar solos that come out of nowhere and fit like gloves with the album's songwriting and its layered vocal approach, and you've got a hell of a ride." — Slug
"…one damn fine record." — Doomantia
"…the best stoner/psych/doom releases of 2011." — Holy Grail From Hell
http://www.listn.to/HULL
http://www.facebook.com/hull666
http://www.hullorhighwater.comhttp://www.sonicbids.com/hull