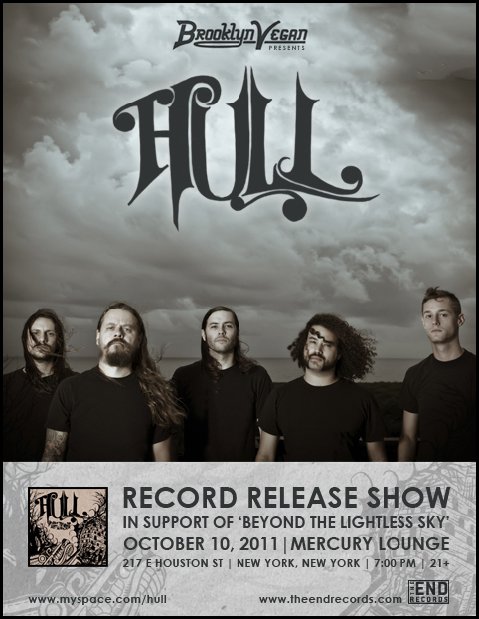 In celebration of their upcoming Beyond The Lightless Sky full-length, set for North American release on October 11, 2011 via The End Records, Brooklyn sludge rock ensemble HULL will play a special record release party on October 10 at The Mercury Lounge in New York City.
What: HULL Beyond The Lightless Sky Record Release Party
When: October 10, 2011
Where: Mercury Lounge
Doors: 7:00pm
Further info at THIS LOCATION
In related news, Metal Injection recently posted an exclusive behind-the-scenes look at the creation of HULL's "Beyond The Lightless Sky" video. If you missed it the first time, check out the "making of" video footage HERE.
Hailing from the streets of Brooklyn, New York, HULL has yet again emerged with a creation to outlive the ages with latest saga, Beyond The Lightless Sky. Digging further into the past, the Mayan epic takes the listener through a division of two brothers and the struggles that they are faced with. One finds salvation amongst the stars and the wisdom of a stranger, while the other is mesmerized with the bloodthirsty belief of sacrifice and self mutilation. In silence lies a realm that exists outside the plane of fear.
Beyond The Lightless Sky features guest appearances by vocalist Jarboe, keys/ambiance by Fade Kainer (Batillus/Jarboe/Inswarm ) and cello by Joe Merolla with artwork by Tamara Waite-Santibanez (http://nogutsandnoglory.blogspot.com). Pre-order Beyond The Lightless Sky HERE.
"…a concept album for the ages." — Metal Army America
"Beyond The Lightless Sky, doesn't stay in one place for too long; instead, it veers between motorcycle-revving D-beat, bog-trawling doom, sinister black metal, Neurosis drum-offs and hypnotic passages that gnash like a venom-dripping cousin to the final Isis album." — Village Voice
http://www.facebook.com/hull666
http://www.hullorhighwater.com
http://www.sonicbids.com/hull
http://www.myspace.com/hull