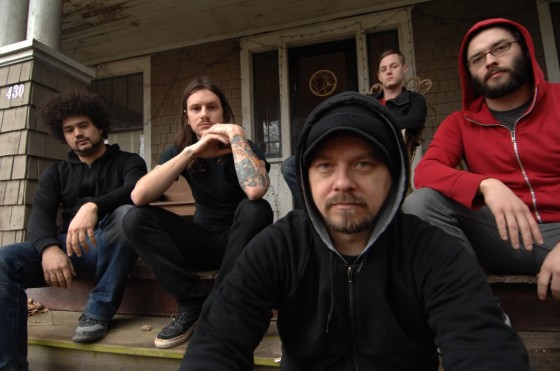 This past March, Brooklyn-based progressive sludge rock ensemble, HULL, completed a two-week tour with post-doom troupe Batillus. The journey included gigs with some crushing bands, a near shut downs due to "the aural strain" the band reportedly levied upon one unsuspecting neighborhood, running from cops, good food, guns, ATVs, some chest-caving appearances at this year's SXSW and so much more.
Reads a snippet from their well-documented adventure: "I noticed one of the cops was coming after me. Although my first instinct was to protect the cavalry, my next instinct was to run from the possibility of going to jail and ruining our SXSW. Next thing I knew, I was hiding out in a random garage in bumfuck Ft. Worth…"
Check out the band's entire tour diary — which includes photos and random video footage — at Decibel Magazine's website HERE.
HULL are gearing up to release the follow-up to their critically-acclaimed Sole Lord debut, issued via The End Records in 2009. Their sophomore full-length will be co-produced by Brett Romnes (who played drums on their pummeling Viking Funeral EP) and mixed by Billy Anderson (Sleep, High On Fire, Neurosis, Eyehategod, Melvins, et al). Stay tuned for further details…
"Sole Lord is fucking epic." — The Dreaded Press
"Sole Lord is an exercise in grandiosity that never feels drawn out, and one of the most promising debuts of the year so far." — Metal Injection
"Hull is a dirty brand of machinery; that deep inhalation of dope smoke conjuring up a thousand visions of a world greater than ours. Fiery sloth metal, yes…but progressive star driven as well. " — Inside Heavy
http://www.myspace.com/hull
http://www.hullorhighwater.com
http://www.facebook.com/hull666
http://www.sonicbids.com/hull
http://scienceofsilence.tumblr.com