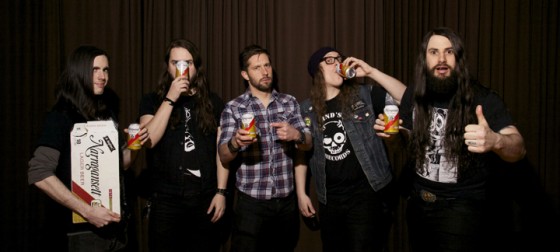 Today mega music portal Loudwire offers up an exclusive premiere of "Your Hell Begins" from Providence sound terrorists HOWL! The latest track of metallic deviance comes courtesy of the band's forthcoming new full-length, Bloodlines. Fittingly crowned "deliciously vicious" by MetalSucks, the followup to the band's critically lauded Full Of Hell debut was recorded at the infamous Planet Z Studio in Hadley, Massachusetts with Chris "Zeuss" Harris (Soulfly, Crowbar, Municipal Waste, 3 Inches Of Blood et al) and delivers 40 ravaging minutes of riff-soaked, auditory antagonism recommended for fans of Mastodon, Lamb Of God, Kingdom Of Sorrow, Baroness, Kylesa and the like.
Notes Loudwire of the "straight-up banger" of a track: "Holding onto their atmospheric doom and sludge roots, HOWL throw a bit of death metal into the mix with the track, pounding away with pummeling aggression"
Adds the band in a collective statement: "'Your Hell Begins' is like a meth-driven unicorn blasting your ass with a shit-covered horn; it's hard, fast, and dirty."
Get ass blasted with "Your Hell Begins" HERE.
And if you missed it, check out "With A Blade" streaming at Revolver Magazine RIGHT HERE. The ten-track Bloodlines will see North American release via Relapse Records on April 30th, April 26th in Germany, Benelux and April 29 in the UK and rest of Europe. Preorder packages are available HERE.
"….this is the type of galloping, growling, grot-filled effort you expect from a Motorhead shirt wearing metal band. No hyphens necessary." – Decibel
"…packs an almighty punch and features an ever-changing dynamic within track tempos. 4/5" – Terrorizer
"If Full of Hell was a tsunami, this album is a sniper attack." – Alternative Control
"If you are looking for ten tracks of superior metal, incorporating doom, trad, modern southern styles and more- don't hesitate to pick this one up. Good band, great album." — Sludgelord
http://www.facebook.com/HowlHeavyMetal
http://www.relapse.com
http://relapserecords.bandcamp.com
http://www.facebook.com/RelapseRecords