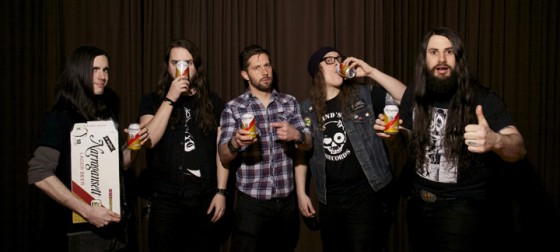 Bloodlines, the latest long player from Rhode Island audio arsonists, HOWL, drops in North America today courtesy of Relapse Records! Recorded at the infamous Planet Z Studio in Hadley, Massachusetts with Chris "Zeuss" Harris (Soulfly, Crowbar, Municipal Waste, 3 Inches Of Blood et al), Bloodlines belts out 40 unforgiving minutes of deliciously lead-footed, brutalic dirgery.
Described by the band simply as, "the child of sweet southern riffs and a dirty gorilla with big dirty gorilla balls," Bloodlines continues to raise eyebrows globally for its thunderous riffing and primal urgency. "Bloodlines features enough powerful riffs and angry attitude to sate the mainstream, while the underground will dig the overall feeling of doom and hatred. Did I mention the utterly stellar songwriting?," gushes Ghost Cult in an 8/10 review of the record while Decibel notes, "This is the type of galloping, growling, grot-filled effort you expect from a Motörhead shirt wearing metal band. No hyphens necessary." American Aftermath says Bloodlines, "is the equivalent of being punched repeatedly in the gut with brass knuckles and then pushed down the mouth of an active volcano," Metal Kaoz raves, "HOWL do an amazing work moving from heavy to doom metal never crossing to another genre such as death metal due to the vocals, and as such they avoid the detrimental choices of other American bands that mix genres and eventually fail," and The Sludgelord declares, "If you are looking for ten tracks of superior metal, incorporating doom, trad, modern southern styles and more, don't hesitate to pick this one up. Good band, great album." Elsewhere Terrorizer commends the record for packing,"… an almighty punch and features an ever-changing dynamic within track tempos," Nefarious Realm gushes, "Bloodlines is genre defying, doom laden, thrashy, and filled with groove," Alternative Control boasts , "If [debut album] Full of Hell was a tsunami, this album is a sniper attack," while The Bone Reader concludes, "The passing of time has not dulled the blade, but it has altered its course. After lashing out wildly with their previous works, HOWL now strike boldly with surgical precision."
In related news, the latest Relapse Records podcast features song picks and a special interview with HOWL throat Vincent Hausman. Check it out via Metal Injection HERE.
Team HOWL is currently putting the finishing touches on a new music video for "Demonic," directed by Connor Owens . In the meantime, sever your ears to Bloodlines, currently streaming in its entirety at MetalSucks HERE. Order your copy of Bloodlines HERE.
"…deliciously vicious…" – MetalSucks
http://www.facebook.com/HowlHeavyMetal
http://www.relapse.com
http://relapserecords.bandcamp.com
http://www.facebook.com/RelapseRecords