"This tour is going to be so loud, you can hear us from the next venue." — HORSENECK
California post-hardcore/sludge eccentrics HORSENECK — featuring within its ranks current and past members of Will Haven and Chelsea Wolfe — will kick off a short West Coast tour late next month. The Mini-Van Hell Ride trek will commence on June 24th in Los Angeles, California and run through July 1st in Reno, Nevada. Additionally, the band will play a special show this Saturday with Whores in Sacramento, California with future live exhibitions in the plotting stages.
"HORSENECK is embarking on an eight-stop Heavy Trip world tour which is contained almost entirely in California," issues the band of their latest excursion. "Booze, blues, and dudes (and a chick) are gonna riff up California (and Nevada). This tour is going to be so loud, you can hear us from the next venue. Come see us at a stop near you, the mini-van might make it."
Check out the band's hilarious tour trailers below.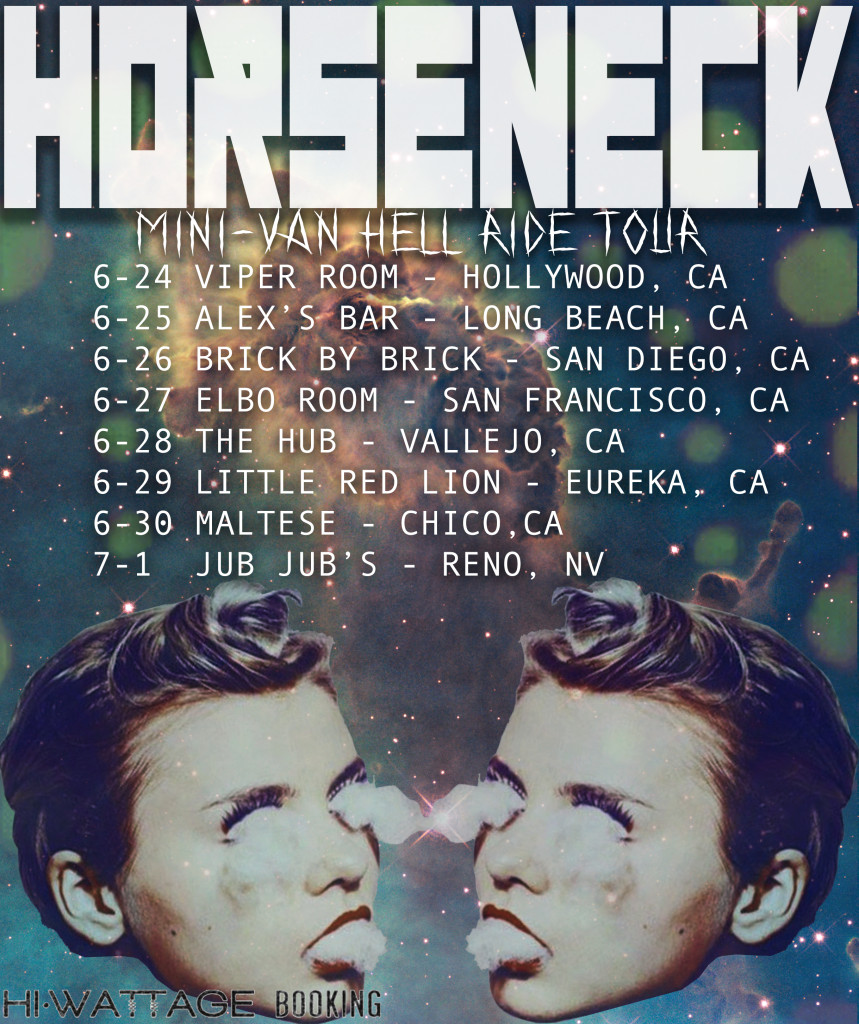 HORSENECK:
6/03/2017 Starlite Lounge – Sacramento, CA w/ Whores, Wrong, Bummer
6/24/2017 Viper Room – Los Angeles, CA
6/25/2017 Alex's Bar – Long Beach, CA
6/26/2017 Brick by Brick – San Diego, CA
6/27/2017 Elbo Room – San Francisco, CA
6/28/2017 The Hub – Vallejo, CA
6/29/2017 Little Red Lion – Eureka, CA
6/30/2017 Maltese – Chico, CA
7/01/2017 Jub Jubs – Reno, NV
HORSENECK will be touring in support of their Heavy Trip full-length, unleashed independently earlier this year. Captured by Lance Jackman (Will Haven) at The Dock, mixed by Scott Evans (Kowloon Walled City) at Antisleep Studios, and mastered by Carl Saff (Big Business, Helms Alee, Russian Circles) at Saff Mastering, the record is out now on CD, cassette, and digital formats.
Heavy Trip is available for purchase at THIS LOCATION.
Decibel Magazine notes of the record, "Album opener 'Bird Worried' features an organ, bluesy guitar parts and a combination of clean and harsh vocals. It highlights HORSENECK's biggest strength on Heavy Trip – their music isn't what might be expected and it can be silly, but they bring it together well. There are more aggressive cuts on the album too, like 'Lester Vitalis' and 'No Gods,' that rely on thicker, fuzzier riffs but HORSENECK never fail to deliver something memorable." Svbtterranean hails "…a catchy and heavy release that is extremely fun to listen to," further lauding HORSENECK's balance of, "hard rock with heavy, bruising sludge." Riffs Or GTFO concurs championing a, "fantastic record throughout… The songs are unique, and never feel like the band is stuck in a formula. The compositions are tight and although varied, never disjointed. The production on this album is exactly what's needed. It is heavy, not overly processed, and the mix allows all of the instruments and sounds to intermingle naturally – even with such dense arrangements." Altwire gushes, "Heavy Trip isn't just a solid album but it feels like a statement of intent that rock 'n' roll is still very much alive…. The album is heavy, catchy and above all else, it's fun and a genuine pleasure to listen to," while Outlaws Of The Sun notes, "Heavy Trip is an album that more than lives up to its name as it's a heavy, psychedelic trip and one that will appeal to fans of The Melvins, Queens Of The Stone Age, Indian Handcrafts, and Red Fang the most… Heavy Trip is perhaps one of the strangest and most addictive records you'll hear this year."
From the depths of the unknown canyon comes a rock force that has undeniable power and style. Steeped in ancient tradition and ritualistic sacrifices this force continually bludgeons the masses who are compelled to witness them. Their heavy riffs continually snap the necks of anyone sent to challenge them. The wild thunder broom undertones growl from on high, and will never be denied. Powerful rhythms shake the very ground they walk on, and those who are lucky enough to witness this spine crushing quartet will undoubtedly never be the same. Anthony the riff Lord, Lennon the bass wizard, Lance the heaviest of shred, and Jess the power thwack and thud will always leave your neck barely able to hold your head up. HORSENECK, shredders and defenders of the rock!
http://www.horseneck.bandcamp.com
http://www.facebook.com/horseneckmusic
http://www.instagram.com/horseneck666