Today Decibel Magazine offers up the exclusive track premiere of "When The Ghouls Feed," from San Antonio blackened death metal horde, HOD. The latest anthem of irreverence comes by way of the band's recently unleashed three-song The Uncreated demo. With a recording lineup featuring guitarist Necron, vocalist Vladibeer Reebs, bassist T.A., and drummer Dennis Sanders, The Uncreated was recorded by Dennis Munoz (Solstice) and Stuart "Batlord" Laurence (Agony Column/Ignitor) and serves as a brutal, filth-ridden precursor to HOD's forthcoming Book of the Worm full-length.
Proclaims Reebs of The Uncreated, "This demo isn't just HOD's return to the frontlines. It's the first assault of a whole new war and siege! It's time for HOD to take our rightful place upon the throne. And those that survive The Uncreated will be consumed in the chaos and death brought forth by the Book of the Worm. We are here from the shadows. And we came to destroy. Fuckin' metal!"
Adds Decibel, "Consider HOD 2013 to be the snake eating itself and a bigger snake eating the smaller snake, a kind of infinite (and horrifically malign) Ouroboros."
Sample "When The Ghouls Feed" at THIS LOCATION.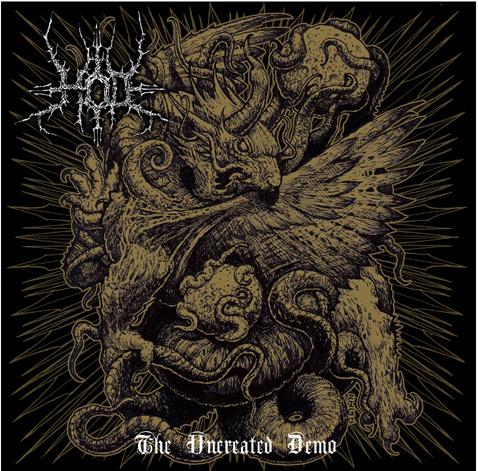 The Uncreated Track Listing:
1. Beneath The Mountains Of The Scorpions
2. I Am Destroyer
3. When The Ghouls Feed
The Uncreated will be limited to 100 CDs and 125 cassettes available at shows and through the band's official Bandcamp Page.
Additionally, HOD will bring their sonic blasphemy to the stage with a handful of live takeovers in March and April including a slot on the Masters of Death Fest in Houston alongside brutal luminaries including Incantation, Master, Divine Eve and more with further assaults to be announced in the weeks to come.
HOD Live Assaults 2013:
3/13/2013 The Korova – San Antonio, TX w/ Marduk, Moonspell, Inquisition, Death Wolf, The Foreshadowing, Plutonian Shore
3/22/2013 The Korova – San Antonio, TX w/Imprecation, Burial Shroud, Plutonian Shore, Goatcraft, LaSanche
3/23/2013 Masters of Death Fest @ BFE Rock Club – Houston, TX w/ Incantation, Master, Divine Eve, Imprecation, Sacrificial Slaughter, Blaspherian, Fisthammer, Nodens, Oath of Cruelty [info]
4/20/2013 Fitzgerald's – Houston, TX w/Warmaster, Demoniacal Geuflection, Brimwylf
6/01/2013 The Korova – San Antonio,TX w/ w/Abigail (Japan), Speedwolf, Full Of Hell, Gehemma, Sturmgewehr
HOD Lineup 2013:
Vladibeer Reebs – vocals
Carl "Lord Necron" Snyder – guitar
Trans Am – bass
Danny Blackwolf – guitar
Del – drums
"These three songs are some of the best I've heard from the US death metal scene in years, maybe ages. The opener 'Beneath The Mountain Of The Scorpions' starts off fast, with black metal inspired riffing and a raw vocal delivery with tones of (old) Darkthrone style. Accompanied by the great, crushing sound, it is hard to escape from the sheer power of the riffs. Great stuff here! Then we hear 'I Am Destroyer'- the title is a manifesto! Barely two minutes of (mainly) high speed brutality de luxe! Finally comes 'When The Ghouls Feed,' which also kills with the power of the riffs. But it is not only pure Death Metal – HOD have lots of influences from old school black metal as well, and the blend is perfect. Add great musicianship and a well-balanced mix and you get the best demo in ages." – Voices From The Darkside
http://hodmusic2.bandcamp.com/album/the-uncreated-demo
http://www.reverbnation.com/hodtheband
https://www.facebook.com/pages/Hod/118127951554999?ref=ts&fref=ts