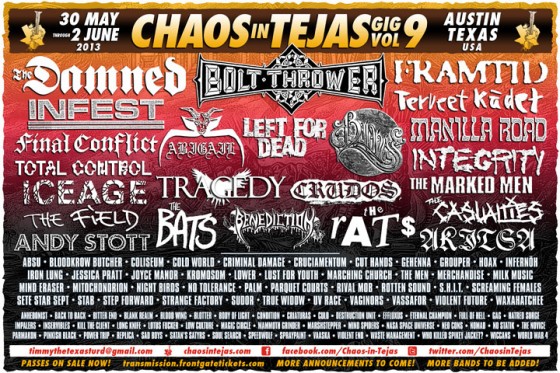 San Antonio blackened death horde HOD were recently added to the annual Chaos In Tejas fest supporting death metal icons, Benediction. The assault will take place on May 30th at Red 7 [inside stage] in Austin, Texas. Bodies will be mangled. Souls will be torn.
Comments the band: "We look forward to smashing your skulls and burning your souls all weekend long. Everyone get you asses to Texas and raise some hell! We also will be playing in San Antonio on June 1 with Abigail and Speedwolf at the Korova. So as you can see it will be an insane weekend for the state of Texas."
HOD Live Assaults 2013:
5/30/2013 Chaos in Tejas @ Red 7 [inside] – Austin, TX w/ Benediction, Power Trip, Bitter End Pinkish Black [more info]
6/01/2013 The Korova – San Antonio, TX w/Abigail (Japan), Speedwolf, Full Of Hell, Gehenna, Sturmgewehr
6/29/2013 Fitzgerald's – Houston, TX w/ Dead Horse
11/12/2013 Limelight – San Antonio, TX w/ Witchtrap
HOD recently unleashed three new hymns of iniquity in by way of The Uncreated Demo. Recorded by Dennis Munoz (Solstice) and Stuart "Batlord" Laurence (Agony Column/Ignitor) The Uncreated Demo features the recording lineup of guitarist Necron, vocalist Vladibeer Reebs, bassist T.A., and drummer Dennis Sanders and serves as a disease-ridden apocalyptic precursor to the band's forthcoming Book of the Worm full-length. "This demo isn't just HOD's return to the frontlines," notes Reebs. "It's the first assault of a whole new war and siege! It's time for HOD to take our rightful place upon the throne."
Bow down and worship to the sounds of "Beneath The Mountains Of The Scorpion," which previously premiered via Invisible Oranges HERE as well as "When The Ghouls Feed" courtesy of Decibel Magazine at THIS LOCATION.
"Consider HOD 2013 to be the snake eating itself and a bigger snake eating the smaller snake, a kind of infinite (and horrifically malign) Ouroboros." – Decibel
"…a thrashing charge of hybridized black and death metal that's as dynamic and technically impressive as it is primally appealing." – No Clean Singing
"These three songs are some of the best I've heard from the US death metal scene in years, maybe ages." – Voices From The Darkside
"Right from the beginning…the band pummels the listener with straight ahead death metal insanity… an absolutely stellar demo that really whets the appetite for more from the band." – Sea Of Tranquility
"If you like intense and fresh music, look no further and pick up a copy of The Uncreated. HOD is a band with a monster sound that is both brutal and very well crafted, something that is rare these days…" – Infernal Masquerade
"…three death metal songs that are delivered with venom…" – Lords Of Metal
http://hodmusic2.bandcamp.com/album/the-uncreated-demo
http://www.reverbnation.com/hodtheband
https://www.facebook.com/pages/Hod/118127951554999?ref=ts&fref=ts